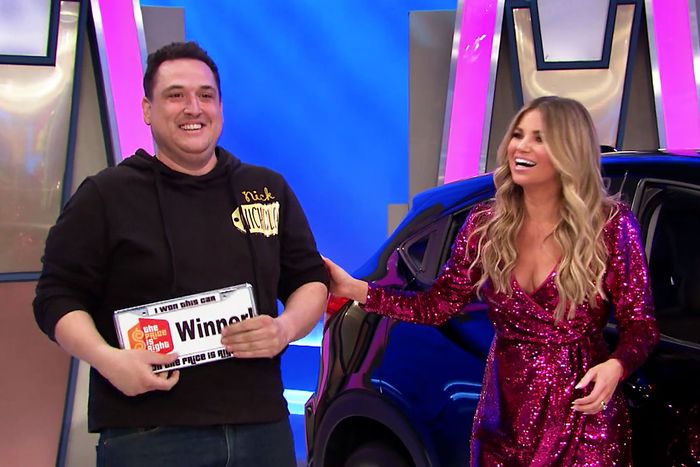 We have a winner!
Photo: CBS
The comedy-podcast universe is ever expanding, not unlike the universe universe. We're here to make it a bit smaller, a bit more manageable. There are a lot of great shows, and each one has a lot of great episodes, so we want to highlight the exceptional, the noteworthy. Each week, our crack team of podcast enthusiasts and specialists and especially enthusiastic people will pick their favorites. We hope to have your ears permanently plugged with the best in aural comedy.
Get Rich Nick - The Price Is Right Part 2
Nick Turner and Nick Vatterott are determined to make money by learning the ins and outs of every get-rich-quick scheme they can. Luckily for listeners, they're generous enough to share their findings on Get Rich Nick. Some of their schemes are more applicable than others, such as a Task Rabbit gig, which opens up numerous opportunities in many locations. Others, like their plan to get on a game show, offer more of a vicarious vacation for those of us who don't live in Los Angeles. The Nicks, of course, diligently prepared for this feat, spending the entirety of last week's episode gathering information from former The Price Is Right contestants before heading to Bob Barker Studio themselves. And guess what? Turner wins a car! While the episode could have quickly devolved into a beep-beep-toot-toot parade of brag, the Nicks stick to their mission and chronicle all the incredible ups and downs of the game-show taping. The podcast starts to slow down when it focuses on the taxes that accompany the car, but goes from zero to 60 when we discover that while Turner was signing paperwork, Vatterott was dodging a parking-lot fight. It's the equal but opposite surreal moments the Nicks experienced this week that will have you in stitches. —Becca James
Listen: Spotify | Apple | Website
Two Old Queens - RAIDERS OF THE LOST ARK with Ryan Stanger
Three stars of the extended Jon Gabrus podcast universe collided this week when Ryan Stanger (Action Boyz, The Dumbbells) joined Mark Rennie and John Flynn to talk about "underrated cult film" Raiders of the Lost Ark. Now boasting a rating scale up to 4,000, Two Old Queens' quest to find the gayest movie ever has evolved into a quest to develop a rating system that requires the most detailed spreadsheets ever. Stanger's enthusiasm for practical effects and sauna gossip are a perfect match for the discussion. The movie falls short in categories like having gay characters, makeover montages, and cheer-worthy cameos (besides C-3PO), but excels in dramatic lighting, camp factor, and nontraditional murder weapons. The most nontraditional murder weapon of them all — the titular Ark — sparks Rennie to mock God Herself, asking, "Here's a giant gold chest and don't look at it? Well then don't make a giant gold chest with two birds on it. How are you not gonna look at that?" Despite Steven Spielberg's best efforts, Raiders' gay score falls somewhere between Pulp Fiction and Submarine, far below longtime champ Muppets Take Manhattan. Harrison Ford's impressive glow inspires Stanger to add "tan" to the ever-evolving rating scale. —Mark Kramer
Listen: Spotify | Apple | Website
The Guilty Feminist - Belonging with Yassmin Abdel-Magied and special guest Mariam Khan
Although British comedian and writer Deborah Frances-White hosted this live episode of her podcast at King Place in London last summer, it only dropped this week. Her two guests, Yassmin Abdel-Magied and Mariam Khan, are both feminists, writers, and Muslim. And although there are some delicious laughs in this installment, the opening bit alone ("I'm a feminist, but …") shows the sense of humor the host and her guests have developed around what can often be a sticky subject. Everyone gets their own chance to shine and showcase their perspective on the matter of feminism, and in the case of the guests, the degree of difficulty presented when mixing in growing up Muslim. Abdel-Magied is from Australia, which added yet another wrinkle to her experiences coming into her own as a young woman … who decided to jump into the female-sparse profession of engineering. Khan is editor of the essay anthology It's Not About the Burqa, which features a piece by Abdel-Magied, who gets some running gags out of how she was unprepared for a video interview she did responding to ill-informed comments former Prime Minister David Cameron had made about Muslim women. ("I was wearing the most unfortunate headscarf that day. And the video only got about 12 million hits!") They hit a few serious tones along the way, yet host Frances-White's wry manner moves the conversation along in a light-hearted way. —Marc Hershon
Listen: Spotify | Apple | Website
Throwing Shade - LIVE from Brooklyn with Cole Escola 
Throwing Shade live shows are always a joyous affair, usually with some sort of choreographed song and dance, updates on Bryan Safi and Erin Gibson's personal lives, and talk of the latest 'ssues (pronounced "shoes," short for issues — keep up). This live episode from Brooklyn finds Bryan and Erin divided on the issue of Wegman's; on the one hand "Honey, groceries are alive and well," but on the other, they'd like to rename it "Anna Frankenstein's." Erin leads the audience in a deeply cathartic and primal witch's curse of "abundant misfortune" on the souls of Steve King, Ryan Magers, Mike Pence, Prince Andrew, Trump, and Plácido Domingo, amongst other terrible men. Bryan gets an opportunity to whip out his Wizard of Oz "Munchkin Rap" and perform a monologue from the play Nuts, and special guest Cole Escola performs a spirited "Rose's Turn"/"Everything's Coming Up Roses" to cap off a night of talk about mending relationships with problematic moms. —Rebecca Alter
Listen: Spotify | Apple | Website
Conversations with People Who Hate Me - Peloton Husband
A product from the Welcome to Night Vale family, this non-narrative, non-fictional podcast hosted by creator Dylan Marron has brought a truly novel dash of cold water to the often rabid world of social-media interchanges. In this week's episode, he brings together (via Skype) an actor named Sean who appeared in last year's controversial Peloton ad on TV as the husband who gifts his wife with the company's stationary bicycle, alongside Tom, who posted a pretty in-your-face comment about Sean on Twitter. The comment was actually in reference to an interview Sean had done in Psychology Today about the ad. Before their curated chat with Marron, Sean had not seen the tweet, so Tom actually has to do the thing most people would never do if not for the anonymity of the web: Read his own blistering message in real time to the person he was tweeting about. Sean takes it all in stride ("It was just an acting job for me — I was on camera for, like, five seconds!") and Tom backs down from his position a bit, especially when host Marron realizes that the tweet was in response to the perception Tom got from the PT story headline, and not the story itself. It turns out to be very entertaining when people choose to face the target of their in-the-moment tweet. —Marc Hershon
Listen: Spotify | Apple | Website
Other Podcasts We're Listening To:
What's Eating You - I Love This For You With Iliana Inocencio
Listen: Spotify | Apple | Website
Air Buds - POD STAR WEEKEND - LIVE FROM LA
Listen: Spotify | Apple | Website
Monster Party – Dana Gould: Horror TV Vol. 2
Listen: Apple | Website
WTF – Juliette Lewis
Listen: Spotify | Apple | Website
Got a comedy podcast recommendation? Drop us a line at comedypodcasts@vulture.com.