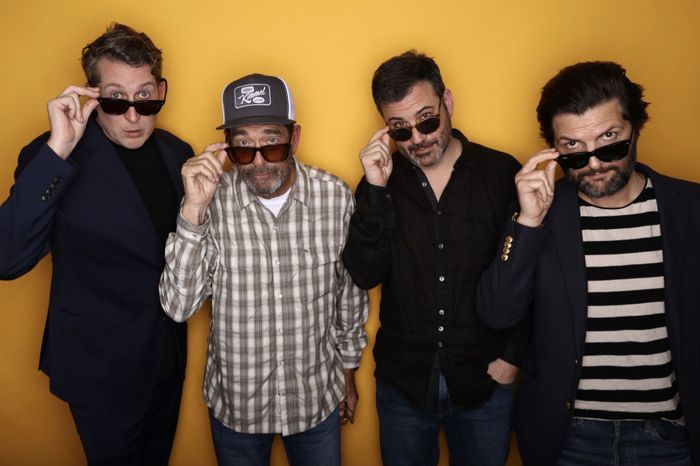 The comedy-podcast universe is ever expanding, not unlike the universe universe. We're here to make it a bit smaller, a bit more manageable. There are a lot of great shows, and each one has a lot of great episodes, so we want to highlight the exceptional, the noteworthy. Each week, our crack team of podcast enthusiasts and specialists and especially enthusiastic people will pick their favorites. We hope to have your ears permanently plugged with the best in aural comedy.
Youey Talkin' Huey 2ey Me? - Huey Lewis, Jimmy Kimmel
Another rare, precious Wednesday gift: an unannounced installment in the U Talkin' U2 to Me? franchise dropped this week, and if you want to hear Huey Lewis on a podcast but don't want to listen to last week's You Made It Weird, this episode is for you. Youey Talkin' Huey 2ey Me? begins as ever with a solid half-hour of Scott Aukerman and Adam Scott catching up on unrelated topics like butt doubles (should be called "butt quadruples" given the number of cheeks involved), the Oscars (a salute to the movies), and jokes that never got on Between Two Ferns ("You know who's better than Rush drummer Neil Peart? Neil Peart plus"). Eventually the Scotts are joined by '80s rock legend Huey Lewis himself, as well as 2010s talk-show legend Jimmy Kimmel, who is Huey's biggest fan other than a man named Don in Ohio. Lewis foils the Scotts's mania and Jimmy's fanboying in a Todd Glass way, i.e. delightfully, covering everything from his first music videos in 1978 to the new musical Heart of Rock & Roll to his greatest invention: wearing a suit on the beach. In case there was any doubt, yes, it is hip to listen to this podcast. —Kathryn Doyle 
Listen: Spotify | Apple | Website
The Last Degree of Kevin Bacon - The First Degree, The Sword is the Star
Thirty-six years ago, on February 17, Footloose came out and jump-started Kevin Bacon's career. Now, with so many movies under his belt that he's best known for being connected to everyone by a mere six degrees, it turns out Bacon is lonely. So lonely that he's in search of a best friend. Enter washed-up actor Randy Beslow (Matt Walsh), who lost the role of Ren to Bacon all those years ago and is looking for revenge. Specifically, he vows to kill Bacon for stealing what should have been his life. "Yeah, you said it. Take his life. And then with him out the picture, a void will be created, one that I can seamlessly fill," says Beslow as he slides further into an envy-induced madness. But Bacon (who plays himself perfectly with some heightened humor) doesn't know this, of course. Instead, he thinks his new acquaintance has real best friend potential. Produced by Funny or Die and former FOD editor-in-chief Dan Abramson, this scripted podcast is a Spotify exclusive with two of ten episodes already available. So far, it's incredibly amusing thanks to strong performances by all involved. Rapid-fire references to Bacon's previous work pull double-duty, creating a recommended viewing list including the star-studded '90s gem Sleepers. Speaking of a stacked cast, heightened versions of Kyra Sedgwick, Rob Reiner, Terry Gross, and more get in on the fun, too. Sedgwick's one-liners alone are worth giving this one a try. —Becca James
Listen: Spotify
Call Chelsea Peretti - Crinkle Coat
Chelsea Peretti opens this week's episode with a bag full of noisy SunChips and some biting critiques of podcasts. "A big part of podcasting right now is always trying to grow your listeners," she says, adding sarcastically, "That's why podcasts are so good. They're never corny. They're never desperate." Throughout her take, she rustles the chip bag. The silly delivery is bound to make you laugh, especially when she spends the entirety of this episode calling out Kojak for "[continuing] to misunderstand business" by making noise. "You're not able to outsmart all the fucking weird noises that you brought with us," she says, referring to his glugging coffee consumption and "rickety old" leather jacket after yelling at him to "scoot off the mic" to no avail. One of the better call-ins jumps on the bandwagon with a quick quip about Kojak's ineptitude. The best call-in, though, comes from a Love Island fan looking to dish. The dating reality series is ripe for Peretti's riffing, and the caller holds their own even eliciting an "I wish we were friends" and proper parting from Peretti as opposed to an abrupt and amusing hangup. As they take turns doing wacky impressions of the contestants, it almost makes you want to watch the show, but maybe just follow Peretti on TikTok instead. —Becca James
Listen: Spotify | Apple | Website
Unqualified - Judy Greer
Host Anna Faris gets real with Judy Greer this week on Unqualified. There's a lot about love that's covered — like Greer brimming about her eight-year marriage to Dean Johnson, starting with how they met on a blind date ("I came out of the restroom in this dark hallway at the restaurant we had dinner at and there was a man standing there. I waited for my date to come out of the men's room for five minutes before I realized the man was my date!") and catching up with them now having moved into a house together just last year. And there's even more about love that didn't work out: dates that went awry, boyfriends, and a list of things guys do that definitely wouldn't have had Greer (or Faris) going out with them a second time ("Like asking me for cab fare after dinner!"). There's also a lot of looks behind the scenes of the struggle to get acting work in Hollywood, including Greer having to take her mother's maiden name because there was already a Judy Evans in the Screen Actors Guild, and, like the movie Highlander, there can be only one: "I was going to be Judy McGuire, my grandmother's name, but I went to bed and woke up the next morning and there were billboards for Jerry McGuire all over Chicago. I thought that was a sign, so I went with Greer." Faris and Greer then call a couple of listeners who wrote in for dating advice, and they dispense advice that they actually both seem pretty qualified to give. —Marc Hershon
Listen: Spotify | Apple | Website
Esther Club - All My Friends Are Babies
Fans of Weird Adults and Glowing Up, rejoice! Esther Povitsky is back with a new podcast, Esther Club. This time around she's joined by longtime friend Carlos Herrera, who is a sidekick and not a cohost and drives his mom's Mercedes, points that have been made quite explicitly and repeatedly in both last week's premiere episode as well as this week. So what can listeners expect from Esther Club? Well, put (kind of) simply in Esther's own words at the top of this episode, Esther Club has a "mid-century modern social club vibe, although that is not reflected in any way in the show tone, look, sound, or content, but that's what we're going for." Part of the fun of Esther Club seems to be that a new segment can arise at any moment. Like "Full Body Scans," the extremely relatable "Talk About a Lie From Your Week" or the extra delightful, seemingly recurrent "Questions and Concerns" segment, featuring questions from fans on Twitter and concerns from people who personally know Esther or Carlos. I'd be remiss not to warn you this episode does include a spoiler about the Jesse Eisenberg-Kristen Stewart vehicle Adventureland, a movie that's absolutely okay to like too much. So whether or not you think it's okay to talk about the ending of a movie from 2009, it's great to have Esther back, bringing new content into our ears. —Leigh Cesiro
Other Podcasts We're Listening To:
WTF - Ronan Farrow
Listen: Spotify | Apple | Website
Threedom - The Threedom Challenge
Listen: Spotify | Apple | Website
Dumb People Town - Anthony Jeselnik - Unsolved Cheeseburger Mysteries
Listen: Spotify | Apple | Website
The Exploding Human - Alan Liebert: Surviving Your Hollywood Life
Listen: Spotify | Apple | Website
Got a comedy podcast recommendation? Drop us a line at comedypodcasts@vulture.com.