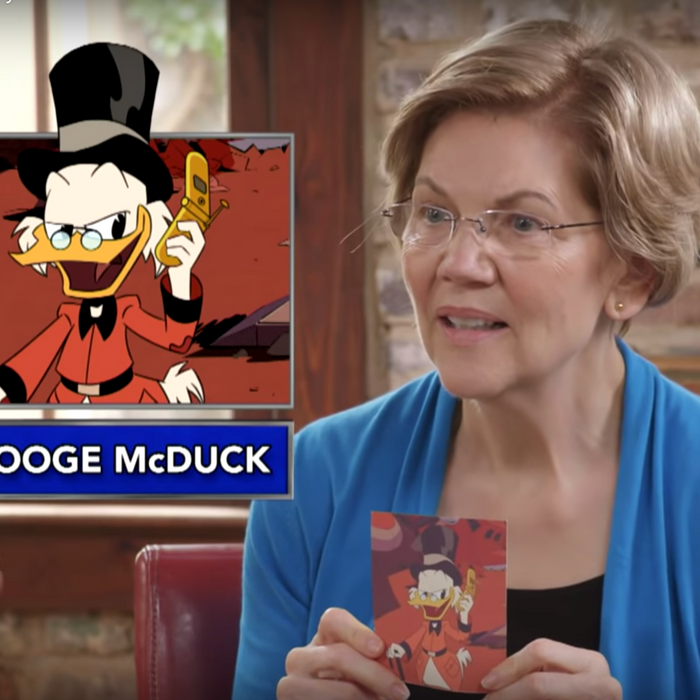 Warren and future presidential candidate Scrooge McDuck.
Photo: YouTube
Did you miss me? It's been two weeks since I crowned the last winner of late-night television because the vast majority of late-night shows took the past week off, effectively turning President's Day into President's Week. (What if we had a President's Month? That would be rad.) Only The Late Late Show With James Corden aired new episodes last week, all of which included Justin Bieber in some way, and I am only allowed to consume 15 minutes of Justin Bieber content per week (doctor's orders), so I was forced to take the week off as well. I read a book. I gazed at the night sky. I contemplated the very nature of human existence. It was transcendent.
But now vacation is over, school is in session, and late-night television is back to its usual tricks! Everyone put on their political hats to skewer Mr. Meme himself Mike Bloomberg's performance at the latest WWE Cage Match debate. Everyone took off their antiseptic gloves to discuss coronavirus, leaving little in the way of ingenuity and a lot in the way of tonally similar monologue jokes. Let's dive in and see which late-night cream rose to the top this week.
5. Tichina Arnold Does Goat Yoga on A Little Late With Lilly Singh
I gotta say, I was a little remiss to include a A Little Late With Lilly Singh clip given that she's been accused of swiping comedians' jokes, but when Pam from the beloved '90s sitcom Martin does goat yoga, attention must be paid. Singh convinced iconic sitcom actress Tichina Arnold to tackle her "greatest fear ever" of doing yoga with adorable goats standing on her back alongside and her The Neighborhood co-star Beth Berhs, and she honestly handled it with aplomb, all things considered. The goats, while cute, were absolutely wilding out on their backs, with one maybe even peeing on Arnold a bit?? Never thought I'd live to see the day where a goat would pee on the back of the mom from Everybody Hates Chris (my namesake show). Also, someone make sure Beth Behrs doesn't have a concussion, because the brown goat fully kicked her in the head.
4. Roy Wood Jr. Celebrates Black Trailblazers in Fashion on The Daily Show
It's still Black History Month for *checks watch* 48 more hours (Thank you, Leap Day!), and as such we have a little more time to celebrate unsung black heroes in American culture. In his recurring segment "CP Time," comedian Roy Wood Jr. did just that by shining a light on some trailblazers in black fashion, like Zelda Wynn Valdes, Stephen Burrows, and Virgil Abloh, all while sporting a mustache that would make Steve Harvey jealous and reminiscing about how cocaine was better in the '70s. It was literally black history, but then make it fashion.
3. John Oliver Asks Adam Driver to Step on His Throat
Leave it to new U.S. citizen John Oliver to broaden our horizons and remind Americans that there are important things happening in this great big world of ours that have nothing to do with the state of our specific union. In a segment on India's Hindu nationalist Prime Minister Narendra Modi, Oliver does an impressive job of analyzing Modi holistically, flaws and all, while also peppering in an impressive number of seemingly random jokes. From "I Can't Believe It's Not From an Elephant's Anus" to commending Hitler for killing Hitler to asking "brooding mountain" Adam Driver to "step on his throat" and "break his fingers," Oliver's firing on all cylinders (and has good taste in men).
2. Guy Fieri Drinks a Raw Egg on The Tonight Show
Guy Fieri. Drinks. A raw egg. There's not much more to say than that. I spent a considerable amount of my college experience getting high and watching Diners, Drive-ins, and Dives (sorry mom and dad), so it seemed almost as though he were fulfilling a prophecy when Fieri downed that raw egg on The Tonight Show Starring Jimmy Fallon. Nothing could possibly make more sense to me. I bet that raw egg was better than any meal at one of Fieri's restaurants, which, for the record, I have been to on my own volition. Yeah, I've been to Flavortown. Jealous?
1. Elizabeth Warren Eats BBQ in South Carolina on The Late Show
Okay, Elizabeth Warren is having one hell of a week. First she fully ethered Mike Bloomberg during his first debate, and then she got to absolutely drag the hell out of billionaires on The Late Show With Stephen Colbert while delicately dining on Southern BBQ. In his "Hometown Hospitality" segment, Colbert took the sharp-as-ever Warren to his hometown of Charleston, South Carolina, where they ate boiled peanuts, drank bourbon, and discussed universal child care. When asked how she was different than Trump, Warren simply said, "I read books." A palpable hit! Warren and Colbert played a rousing game of "Guess the Billionaire" and touched on everything from Zuckerberg's "toenail clipper" bangs to Bezos's bald head to Tom Steyer's penchant for weird ties. The only one she missed was Scrooge McDuck, but in her defense, Colbert failed to describe McDuck as a no-pants-wearing Lothario who loves to backstroke in gold coins, which is precisely what he is! By my calculations we are precisely two election cycles away from a Scrooge McDuck presidential campaign, so we should start emotionally and mentally preparing ourselves for that now.