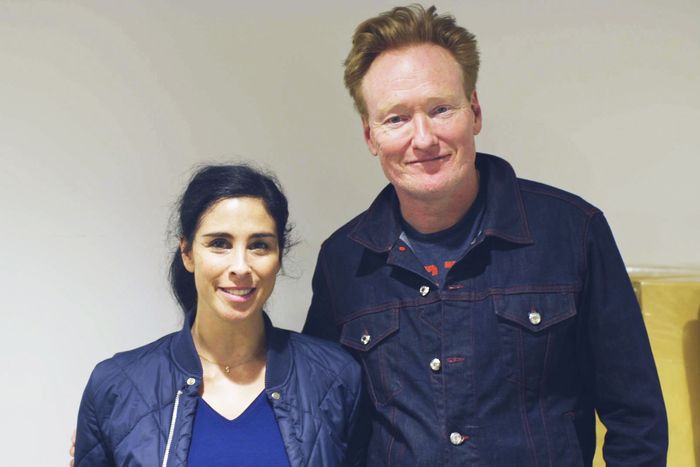 Sarah Silverman and Conan O'Brien: best friends.
Photo: Earwolf
The comedy-podcast universe is ever expanding, not unlike the universe universe. We're here to make it a bit smaller, a bit more manageable. There are a lot of great shows, and each one has a lot of great episodes, so we want to highlight the exceptional, the noteworthy. Each week, our crack team of podcast enthusiasts and specialists and especially enthusiastic people will pick their favorites. We hope to have your ears permanently plugged with the best in aural comedy.
Conan O'Brien Needs a Friend — Sarah Silverman
This week it's more like Conan O'Brien has a friend in his guest, Sarah Silverman. The two cover a lot of topics, including a 2016 visit Silverman made to the host's TV show dressed as Hitler ("Sexy Hitler," remembers O'Brien) to complain that everyone keeps comparing him to President Trump. Silverman has a fun trick she pulls on her host every so often during this interview by getting him involved in a funny story, then taking an abrupt, serious turn. Like when she's talking about how her late mother was super into watching left-wing shows on TV, even toward the end of her life, and how Sarah tried to get her to lighten up: "Can't you just watch a Bones once in a while, Mom?" When O'Brien asks if she ever did watch shows like that, Silverman counters with, "Mostly she was just listening to herself trying to breathe." Dark, right? Other times she starts to go into a serious topic like relationships, and O'Brien will crack a joke, thinking she's setting him up, and then she just leaves him hanging out to dry. You can tell the two of them are just playing with each other, and their occasional awkwardness just makes them even more adorable when you realize they're a couple of friends who are really on the same wavelength the whole time. —Marc Hershon
Listen: Spotify | Apple | Website
2 Jews & 2 Black Dudes Review the Movies — Groundhog Day
The world's most infrequent movie-review podcast hosted by two Jews and two black dudes is back! In their first episode since September, hip-hop comedians Jeff and Eric Rosenthal and legendary NYC rappers Sheek Louch and Styles P of the Lox are back in the studio with special guest Tony Moxberg to review the late-winter holiday movie Groundhog Day. This comedy classic is the perfect mix of lighthearted fun and existential dread, which opens up the floor to a snowstorm of questions for the New York quintet, like "What song do you hate waking up to?" "Does life have a way of putting you into place?" And "Who is your personal Ned Ryerson?" The answer to that last one is "a dude named Tink." They missed Oscar season, but hopefully the guys can get together more frequently for the summer movie season, if only for more stories like Gabriel Byrne refusing to take a picture with Styles P at an airport lounge. —Pablo Goldstein
Listen: Spotify | Apple | Website
Ask Ronna — Throwing ShOscar 202
When Ronna & Beverly vanished from the podcast universe, one of the greatest casualties was the loss of their annual Oscars-predictions episode. But it seems the stars have aligned and Ronna Glickman herself, along with co-host Bryan Safi, are giving their Oscar takes on this week's Ask Ronna. And if that wasn't exciting enough, they've even got R&B Oscars-episode mainstays Adam B. Vary and Kate Aurthur back with them. For people who care about the Oscars, they cover much-discussed snubs like nominations for Jennifer Lopez, Lorene Scafaria, Lulu Wang, Greta Gerwig, and any actor from Parasite and a shared appreciation for Brad Pitt's award-season comedy chops. But what you're not going to get anywhere else are the real winners (the men's suits in Little Women, Bryan Safi for pointing out that all the women in Once Upon a Time in Hollywood snore) and losers (everyone's knees in The Irishman) of the films and stars of 2019. Ronna's take on Kathy Bates's nomination, her feelings toward Margot Robbie's rising star power, and Bryan's guess as to what Two Popes is about have had me laughing for days now. —Leigh Cesiro 
Listen: Spotify | Apple | Website
Girls on Porn — Secretary With Jon Gabrus
If you've ever listened to one of Jon Gabrus's many podcast appearances, chances are you've heard him bring up porn. Fellow "erotic enthusiasts and all-around horny gals" Laura and Rachel invite Gabrus onto Girls on Porn for a long-awaited sequel to their appearance on High & Mighty last year. Laura and Rachel spend each episode of Girls on Porn examining a specific porn search term and reviewing two relevant videos. This week's weapon of choice is "secretary," a query that yields gems such as "Secretary Pantyhose Fuck Leotard Sex" and "Latina Secretary and Her Lusting Bumhole." The three take the hour to explore the origins of secretary porn, the kinds of clothes they like their porn stars wearing, and whether or not they've pictured Bernie Sanders having sex. If you have some privacy and an xconfessions.com log-in and password (or borrow a friend's, like Gabrus), you can even follow along with the video reviews. As always, Girls on Porn does a great job promoting feminist and ethical porn front and center while listeners laugh their way to completion. —Mark Kramer
Listen: Spotify | Apple | Website
Dead Eyes — Tristesse
Dead Eyes, a podcast in which actor and comedian Connor Ratliff (The Marvelous Mrs. Maisel, Orange Is the New Black) "embarks upon a quest to solve a very stupid mystery that has haunted him for two decades," debuted as an episode of Earwolf Presents. There, listeners discovered that Tom Hanks firing Ratliff from a bit part in the 2001 HBO miniseries Band of Brothers is the career nightmare that continues to keep him up at night. Specifically, Hanks felt Ratliff had "dead eyes." The podcast continues with the same type of investigative focus as more serious podcasts such as S-Town, complete with in-depth interviews, archival audio, and that consistent radio voice selling listeners scenes. We found applying this tone to such a seemingly trivial matter to be "one of the weirdest and most promising podcast projects on the horizon." Luckily, HeadGum must have felt similarly. The network picked up the podcast to bring us the previously promised Jon Hamm interview, where he and Ratliff reminisce about working together in a production of Ordinary People when Ratliff was 17 and Hamm was 21, and "recount their highs and lows in various audition rooms." The conversation pulls back the curtain on casting, which complements a later interview with a "real New York City casting director." It's a reenactment of Ratliff's reaudition scene — where he had one more chance at impressing Hanks — with comedian Nicole Drespel (Broad City, 30 Rock) that provides the most laughs, however, with Drespel asking Ratliff outright if he's okay. Tune in to hear the great episode-ending joke from Hamm that results in this week's episode title. —Becca James
Listen: Spotify | Apple | Website
Other Podcasts We're Listening To:
Office Ladies — Performance Review With Larry Wilmore
Listen: Spotify | Apple | Website
Weed + Grub — Jon Daly Is the Best at Everything
Listen: Spotify | Apple | Website
Teen Creeps — R.L. Stine's the Snowman
Listen: Spotify | Apple | Website
You Up With Nikki Glaser — Piso Mojado With Dan Perlman & Anya Marina
Listen: Spotify | Apple | Website
Newcomers — Star Wars Ep. V — The Empire Strikes Back With Jon Gabrus
Listen: Spotify | Apple | Website
Scream, Queen! — Gretel & Hansel & Dracula (and That Witch With the Butt-Fingers)
Listen: Spotify | Apple | Website
Good for You — David Spade
Listen: Spotify | Apple | Website
Got a comedy podcast recommendation? Drop us a line at comedypodcasts@vulture.com.
Got a comedy podcast recommendation? Drop us a line at comedypodcasts@vulture.com.