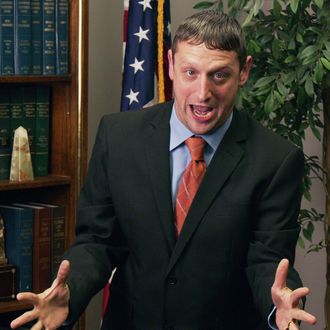 They admit it!
Photo: Comedy Central
Saturday Night Live alum Tim Robinson stole the hearts of comedy fans everywhere last year with the debut of his new Netflix sketch show I Think You Should Leave, but until the Writers Guild of America Awards were handed out over the weekend, the series had not yet been honored in the form of an official award. The series was snubbed in the Outstanding Variety Sketch Series category at the Emmy Awards. It was nominated, but not awarded, at the TCA Awards last year. But this year, thankfully, it was nominated by the WGA Awards in the Comedy/Variety Sketch Series category, and despite going up against the sketch-comedy giant that is SNL, guess what? The show won! I Think You Should Leave is now officially Baby of the Year, and to celebrate, Netflix gifted us all with a full upload of the "Baby of the Year" sketch over the weekend:
Other comedy winners at this year's WGA Awards include Barry for Comedy Series; Dead to Me for Episodic Comedy; Last Week Tonight With John Oliver for Comedy/Variety Talk Series; Full Frontal's Not the White House Correspondents' Dinner Part 2 for Comedy/Variety Specials; and Succession — which, just a reminder, is truly a comedy, so you can go ahead and ignore the name of the category it was placed in — for Drama Series. Now that Tim Robinson's show has finally been recognized for excellence, we look forward to I Think You Should Leave winning many more awards after its second season premieres.