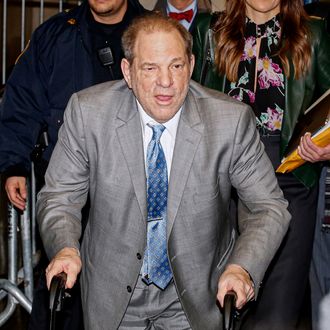 Photo: Kena Betancur/Getty Images
The jury in Harvey Weinstein's Manhattan rape and sexual-assault trial asked Thursday to have portions of Annabella Sciorra's testimony read to them. The Sopranos actress accused Weinstein of raping her around late 1993.
In a note sent around 4:23 p.m., the seventh note from jurors to Justice James Burke in their three days of deliberation, the panel of seven men and five women said, "We, the jury, request for the court to read us the cross-examination, and everything afterward, in the testimony of Annabella Sciorra."
(Jury notes are initially read aloud when the jurors are still out of the courtroom, so that the judge and lawyers on the case can discuss how to answer the jurors' questions and what to provide them.)
Burke, who read the note aloud, said there was a big "'thank you,' with an exclamation mark, and then in different handwriting 'We are done, judge, for today.'" When Burke read the second clause aloud, it prompted chuckles in the courtroom.
In another note sent approximately three minutes later, jurors asked for "the list of people Annabella Sciorra spoke to about the event."
When Burke called jurors into the courtroom to answer their notes, he had a jovial air. Burke reread the note, and when he arrived at their "thank you," he said, "Nice touch. You're very welcome."
Many jurors laughed when Burke read the portion about being "done for the day." Burke told them they would hear the parts of Sciorra's testimony they requested Friday morning.
He also alluded to The Brady Bunch in telling jurors that tomorrow would be a short day.
"As Marcia Brady used to say, something came up, so we have to stop court tomorrow at 3 p.m.," Burke said, nonetheless explaining, "You are perfectly allowed to reach a verdict at or before that time, or any time next week …"
This isn't the first time jurors have asked for Sciorra-related testimony to be read back.
On Wednesday, the two court stenographers read out Do the Right Thing star Rosie Perez's testimony. The actress had provided testimony backing up Sciorra's allegation that Weinstein raped her.
Perez claimed that in 1994, Sciorra disclosed the identity of her alleged rapist when the two women were speaking on the phone. "She told me that it was, in fact, Harvey Weinstein that raped her," Perez had testified. The jury also asked for all correspondence mentioning Sciorra presented during the trial.
Jurors previously requested copies of emails presented during the trial which featured women's names in red.
During Weinstein's trial, prosecutors showed correspondence between Weinstein Company executives in the summer of 2017, which displayed Sciorra's name in red text; the emails read "those in red may be the red flags."
"Red flags" were persons of particular interest to Weinstein — people who might have damaging info — in the months before accusations of misconduct surfaced, prosecutors previously alleged.
Jurors have also asked for more information on the charges against Weinstein.  The jury sent a note to  Burke on Tuesday requesting "written legal definitions of the charges being considered" and terms such as "forcible compulsion, consent."
Weinstein presently faces five counts in New York City. One count, criminal sexual act, is for ex–Project Runway production Mimi Haleyi's allegation that he forced oral sex on her in 2006 at his Soho apartment. (At the jury's request Wednesday, the two court stenographers transcribing Weinstein's trial read aloud Haleyi's testimony about her alleged sexual assault, as well as her testimony about a sexual encounter with Weinstein several weeks later.)
Weinstein faces one count of rape in the first degree, and one count of rape in the third degree, for allegedly raping former actress Jessica Mann at a Midtown East hotel in 2013.
He also faces two counts of predatory sexual assault, one involving Haleyi's allegation, and the other being Mann's accusation. Sciorra's allegation against Weinstein is part of both predatory-sexual-assault counts.
Update, February 24: Harvey Weinstein's verdict has been announced.