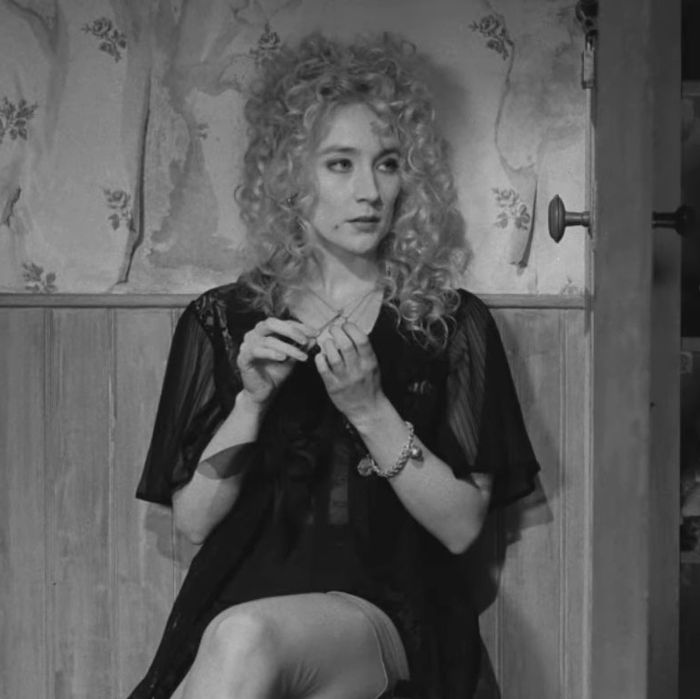 Wes Anderson's latest film, The French Dispatch, lands all of your favorite actors in a fictional French town and gives them hair to spare. Curls, tousles, bangs, you name it, a character in The French Dispatch has it. And if they don't have it, they get a pretty sick hat instead. Throughout the film, Benicio del Toro, Frances McDormand, Timothée Chalamet, Saoirse Ronan, Léa Seydoux, Bill Murray, Lyna Khoudri, Adrien Brody, Tilda Swinton, Stephen Park, Jeffrey Wright, Elisabeth Moss, Owen Wilson, Mathieu Amalric, and so many more get caught in whirlwind stories and actual wind by the looks of some of them. Here are all the glorious hairstyles in GIFs, for repeat viewing.
Congratulations to all the Call Me by Your Name stans who have been dying to know what Timothée Chalamet's bedhead looks like. His co-star, Lyna Khoudri, opts for a motorbike helmet just in case we couldn't already tell she's much more hard-core than him.
Look! It's a rare colorful Tilda Swinton.
Curly-haired Saoirse Ronan doesn't seem to be great with kids, but we want to wife her anyway. (She'd probably say no.)
Giving Jeffrey Wright the inches he deserves.
It seems Frances McDormand paired her sensible chop with Euphoria-inspired makeup.
Benicio del Toro's massive beard can't distract us from Léa Seydoux's little tiny hat.
Geometry masters will study the angles on Adrien Brody's hair for decades to come.
Her Smell Elisabeth Moss and French Dispatch Elisabeth Moss would not get along. They'd both like Bill Murray, though.
Stephen Park's entire aesthetic here works. See it on your local Brooklynite soon.
Owen Wilson with anything other than a shaggy cut is a win.
This mustache is a choice. That's what I'll say.
Underneath her tiny, little baby hat, Léa Seydoux is Léa Seydoux. Truly no complaints.