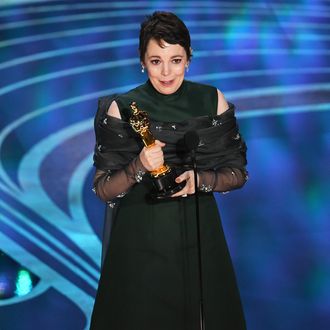 Olivia Colman will present at this year's ceremony.
Photo: Kevin Winter/Getty Images
Here's a fun fact: for the past 15 years, the annual Academy Awards ceremony was a Pisces, always falling in late February or early March. This made sense for the event as a tear-soaked celebration of the arts. Very Piscean. For decades before that, the Awards fell a bit later in March or April and were a textbook Aries, a fire sign all about celebrity confidence and the spirit of competition. This year, though, marks an important Oscars first: the ceremony will be broadcast live on February 9, meaning we've got ourselves an Aquarius Oscars. An Aquarian Oscars means impassioned political acceptance speeches, daring red carpet fashions, genuinely surprising winners and upsets, and potentially an esoteric interpretive dance or two. Will The Lighthouse win in its one category? Anything could happen in the #AquariusOscars. Here's how to watch the host-less madness of the 92nd Academy Awards unfold this Sunday:
The Oscars ceremony will air live at 8 p.m. ET on ABC on Sunday, February 9. You can keep track of how long you have to prep your themed Oscar party foods (Amy's pickled limes, anyone?) on the bougie Rolex countdown clock on the official Oscars website. If you don't have cable but you still want to live stream the ceremony, you have options. There are free trials available for streaming services like AT&T Now, Hulu with Live TV, and YouTube TV. These will all be streaming the Oscars.
And what about the red carpet? If you want to stretch the traditionally-already-very-long ceremony to Tall Girl proportions, there's also the Oscars All Access: Red Carpet Live pre-show, which will begin streaming at 6:30 p.m. ET on The Academy's official Twitter page. It will air on ABC at the same time. This year, ABC's red-carpet coverage will be hosted by Billy Porter, Tamron Hall, Lily Aldridge and Elvis Mitchell.
But what is an Oscar obsessive to do if they want to stretch the awards out into a 10-hour-plus affair? E! begins its Countdown to the Red Carpet: Oscars 2020 coverage at 1 p.m. ET, and their E! Live From the Red Carpet coverage with Ryan Seacrest and Giuliana Rancic kicks off at 5 p.m. ET. You can make the most of your free trial and stream E! on all of the above live TV streaming subscription services. There will also be plenty of ways to enhance your Oscars experience with Vulture, on social media and right here on the site. We'll give you smart-sounding things to say to whoever you're watching the ceremony with, promise.