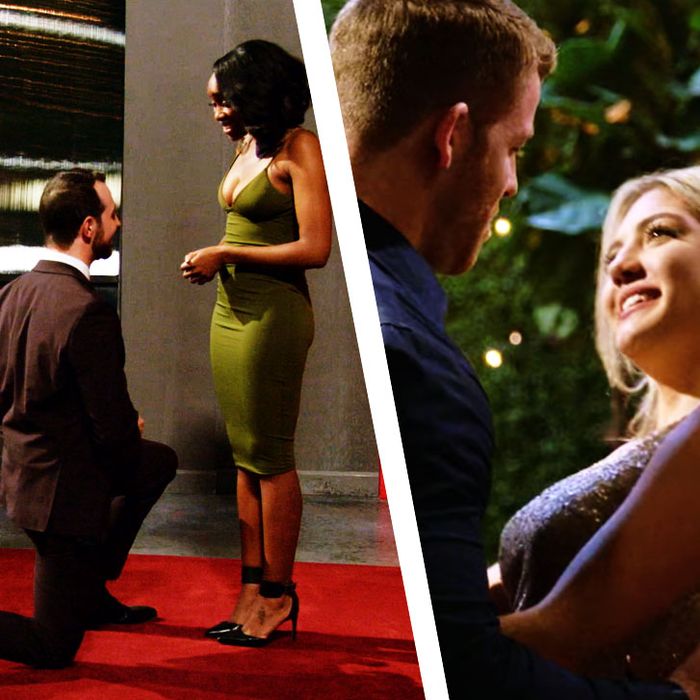 "Love is a beautiful thing." —Giannina, 2018
Photo: Vulture and Netflix
This post is one big spoiler for the finale of Netflix's Love Is Blind.
Ladies and gentlemen, we gather here today to revel in the bounty of humans willing to get married to complete strangers on television. Netflix's new reality TV show Love Is Blind famously had to kick people off the show after underestimating how many people would fall in love via "pods." The remaining five couples (yes, ten adult humans) all got engaged and planned a wedding to someone they had only known for ten days and never seen face-to-face. For some reason. As a life decision? Questionable. As a TV show? Irresistible. After 38 days of ups, downs, trials, tribulations, and visits from hosts Nick and Vanessa Lachey, all five couples got to the altar to find out if they took all that PTO for nothing. Here's what happened to the lovable lugs on Netflix's Love Is Blind.
Cameron and Lauren took one listen in the pods and fell in love. Lauren, a content creator who's used to an independent lifestyle, is on the fence about settling in with her scientist boo. Although the show plays up the drama, everything from the way Cameron looks at her to Lauren dancing to his original rap indicates that these two will be getting married.
So, did they end up together? She. Danced. To. His. Rap. In. Front. Of. Her. Mom. That's endgame, baby.
Giannina is a majestic tempest and Damian is a rustic sailboat on an empty sea. It really shouldn't work between them. And for a lot of the series, it doesn't. Giannina will forever go down in history for telling her fiancé he's not the best sex of her life. (Really, it's her masterful delivery. Thespians will study Giannina's dialogue for centuries.) In the end, Giannina does decide to dedicate herself to Damian, [Vanessa Lachey voice] finally proving once and for all that love is not horny. Or whatever this show claims to determine.
So, did they end up together? In a genuinely shocking twist, Giannina says "I do" and Damian says "I do not," citing her emotional inconsistencies. Giannina immediately turns on him — in this case, fair? — and runs out of the chapel Maury-style. Netflix needs to give the cameraperson who chased her an overall deal.
In the pods, Jessica and Mark hit it off right away. They both laid it on the table: He's a family man and a devoted Christian. She's similar, but with about six figures more than him in the bank and ten years of life experience on him. Oh, and a crush on another guy, Barnett. Throughout the season, Jessica can't decide what's wrong with their relationship. Is it the judgment they'll receive about the age gap? (No.) Is it because Barnett is secretly obsessed with her? (No.) Or is it because she doesn't want to be in it? Hmm …
So, did they end up together? To no one's surprise but her own, Jessica does not marry Mark. She does not want to marry Mark. Mark, who did say yes, takes it like a champ, but he'll never be able to look at Italian beef again.
Stop, don't they just look like the cutest little couple in a department-store catalogue's dinner-party spread? There's the obligatory black couple, a gay couple in coordinating polos, and Kenny and Kelly, looking way too excited about a salad. Like many couples, two-dimensional or otherwise, their problem lies between the sheets. About halfway through their engagement Kelly admits to Kenny that she has never orgasmed with a partner. Kenny's like, "I get it. I get it," even though no one here gets it, and eventually Kelly goes from wanting to take it slow to wanting off this ride completely.
So, do they get married? A succinct Kelly turns Kenny down at the altar, immediately walking out, looking relieved. Kenny, only proving my point that he stepped out of the pages of a catalogue, gives a polite speech addressing his wedding guests, thanks them, and then takes his leave. Even Kelly's mom whispers, "God, I love this guy."
Who wouldn't fall in love with Amber's Georgian drawl? Amber and Barnett are always laughing, even when an aptly renamed Mess-ica is actively trying to steal Barnett away. The Barnetts (don't forget his name is actually Matt) face more real-life drama than any of the other couples. Amber opens up about her abortion and student-loan debt while Barnett has to decide whether or not to listen to his family's warnings.
So, did they get married? They did! Reality-TV-show editing makes you wait for this one, but the smiles on their faces say it all. Amber and Barnett definitely got married, Jessica notwithstanding.