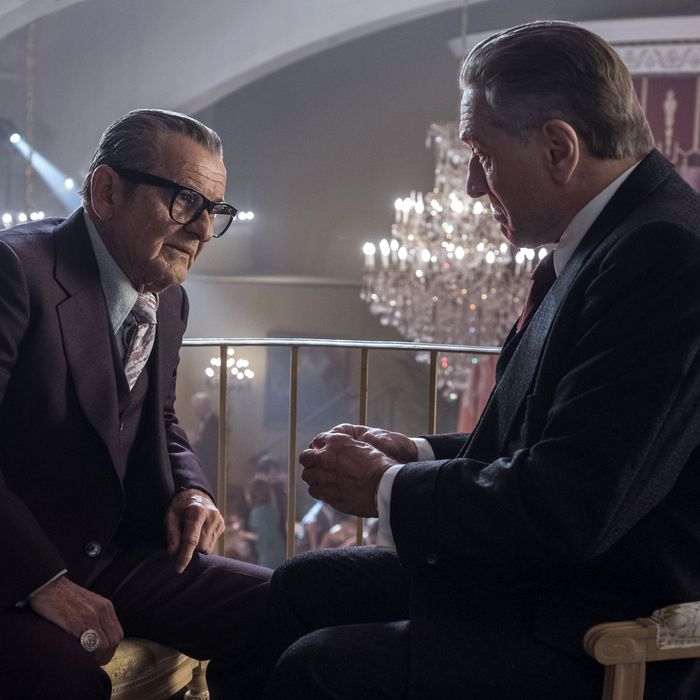 With
1917
and
Parasite
surging, onetime front-runner
The Irishman
may go zero-for-ten on Oscars Night.
Photo: Niko Tavernise
The debut of the expanded Best Picture field brought about a new magnanimity in Oscar voters. Rarely would they now pile heaps and heaps of trophies into the baskets of one lucky winner; with more nominees to consider, they began trying their darndest to ensure that everyone got a trophy. (Coincidentally or not, this seems to have occurred around the same time the median age of Academy voters became the age of millennials' parents.) However, while a few seasons have seen every Best Picture nominee get a moment in the sun, most years there are still usually one or two whose awards-season fortunes peak on nomination morning. There's a special place in my heart for movies like these, since my Oscar-season fantasy league had a whole scoring category for them, the Ultra Snub. (They got points for each nomination, but you lost the whole game if they won anything.) I'll never forget my buddy Blake cleaning up after getting Lion as a Snub — six nominations, and not a chance at victory in any of them. A legend.
What are the odds of any Best Picture nominees blanking this year? Heavyweights 1917 and Parasite are safe, since each has a category it can rely on in Cinematography and International Film, respectively. And whatever else happens, Joker, Marriage Story, and Once Upon a Time in Hollywood are likely to walk away with three of the four acting trophies. But for the remaining quartet of nominees, Sunday night could be much more nerve-racking. Let's run down their chances of going home empty-handed at the Oscars, as well as the scenarios that could help them avoid that fate.
Jojo Rabbit
Why it's in trouble: Despite winning the People's Choice Award at Toronto, Taika Waititi's Nazi comedy suffered from a surfeit of buzz throughout the fall, and it remains the lowest-grossing Best Picture nominee (not counting the Netflix ones). Though it received six nominations, Jojo's lack of a Best Director nod seemed to make it, at best, a mid-table contender.
How it might still pull it off: Quietly, Jojo Rabbit has been able to turn its fortunes around in the past three weeks. With honors from the writers and costume-designers guilds, plus the Adapted Screenplay prize at the BAFTAs, Waititi's film has been on a winning streak that only Parasite and 1917 can match. Fans have even started dreaming of a surprise Best Picture win, but even though that remains unlikely, the movie seems beloved enough among the industry to win something down ballot. Adapted Screenplay is the strongest bet for this very silly film, and pundits are starting to whisper about Scarlett Johansson upsetting in Best Supporting Actress. But don't write off the film's whimsical aesthetic in the two craft categories it's nominated in, either.
Ford v Ferrari
Why it's in trouble: There's no question about which of the nine Best Picture nominees managed to sneak in under the wire: It's Ford v Ferrari, the only film this year to compete for the top prize without getting any recognition for its acting, directing, or writing. The film's Oscar candidacy seems to rest on its support from the crafts branches, and, unfortunately, the field happens to feature another male-driven technical powerhouse in 1917, whose overall Oscar case is much stronger.
How it might still pull it off: Ironically, Ford v Ferrari's best chance at an Oscar may be to hope for 1917 to pull off a near sweep of the night's biggest awards. This would allow wealth-spreading voters to feel comfortable passing it over in the sound categories, precisely the place where Ford v Ferrari is strongest. And a win in Film Editing, where 1917 wasn't nominated, could be in play as well. Vroom vroom!
Little Women
Why it's in trouble: Saoirse Ronan's last two Best Picture nominees, Brooklyn and Lady Bird, both went home winless on Oscar night. Is Little Women next? Though Greta Gerwig's film got six nominations, you can write off four immediately: Picture isn't happening, the two actress races are basically set in stone, and in Original Score, Alexandre Desplat feels like a spectator in the race between Joker's Hildur Guðnadóttir and 1917's Thomas Newman. That leaves only two categories where a Little Women win feels plausible, Adapted Screenplay and Costume Design — and Jojo Rabbit has usurped some of its momentum in both.
How it might still pull it off: Even considering Jojo's recent heat, Little Women has a solid case to prevail in one or both of those races. Last month, Gerwig triumphed at the USC Scripter Awards, a key bellwether for the Adapted Screenplay Oscar, and voters may appreciate her radical restructuring of Louisa May Alcott's narrative. Little Women just won the Costume Design BAFTA, too, and you should never underestimate a 19th-century period piece in that category. Considering the way this season has gone, wouldn't it be all too fitting for Little Women to come away with the costume Oscar and nothing else?
The Irishman
Why it's in trouble: Like Frank Sheeran in the gangster epic's final act, Team Irishman has had an inordinately long time to sit and think about where it all went wrong. And as Marin Ireland might tell you, the answer's actually not that complicated: This is a very long, very slow movie, filled with uncanny de-aging effects, released by the most polarizing company in Hollywood. I'm just saying: It is what it is. The onetime front-runner did receive ten nominations, but it holds the unhappy distinction of not being favored for any of them. Per GoldDerby's odds, the only category Martin Scorsese's film ranks higher than third in is Supporting Actor, a race that not only feels locked and loaded for Brad Pitt, but also where the film's two nominees, Al Pacino and Joe Pesci, could wind up splitting the pro-Irishman vote. And lest you think the Academy wouldn't do their old pal Marty that like, recall what happened to Scorsese's previous Best Picture nominee, The Wolf of Wall Street, which was snubbed across the board at the 2014 ceremony, albeit with half the nominations.
How it might still pull it off: With nine categories to choose from, The Irishman will at least have plenty of opportunities throughout the night to notch a surprise win. (This very thing happened last year, when The Favourite seemed doomed to go zero for ten, only for Olivia Colman to unexpectedly prevail in Best Actress.) Two spots on the ballot stick out. In Best Film Editing, legacy-minded voters could embrace the opportunity to hand Thelma Schoonmaker her fourth trophy, thus making her the most-awarded editor ever. And despite the grumbling over the film's visual effects, enough voters may decide the film's unquestionable ambition in that arena is enough to earn it the trophy over 1917. Otherwise, well … I suppose it's possible Pitt could shoot someone in the middle of Fifth Avenue. It's gotta be broad daylight, though.