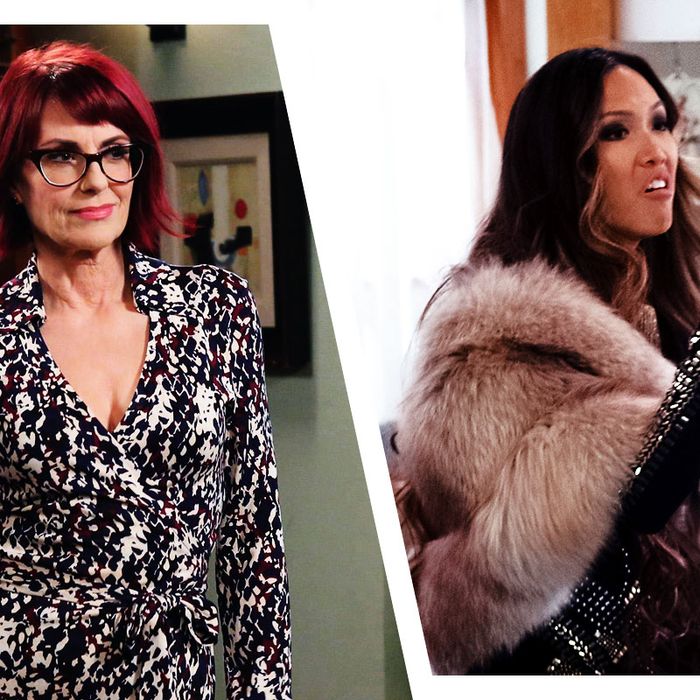 Dual wrong-reasons energy.
Photo-Illustration: Vulture, NBC and ABC
In one of the most spectacular falls from grace in recent Bachelor history, Tammy Ly, a woman who host-dad Chris Harrison somehow said was one of his favorite contestants ever, decided to pivot away from being an amusing talking head to an unrelenting bully (a move that she strategically knew would double as a Paradise audition tape, surely). In last week's five-hour Bachelor content blast, Tammy made it her mission to bite her boozy fangs into Mykenna, a Canadian fashion blogger, and Kelsey, the Champagne-facial pageant girl, because they were … there? And allegedly … not pursuing Peter Weber for the proverbial "right reasons?" Jury's still out on that, but who cares, because Tammy was sent home by the end of Thursday's episode.
But Tammy's manic energy in the lead-up to her elimination reminded me of another, way more iconic Tammy, who also chased after a man who didn't want her: Tammy II, played by the incomparable Megan Mullally on Parks and Recreation. So as a fun little game, I invite you try to guess which quote was said by which of these two Tammys. Turns out Pawnee and the Bachelor Mansion aren't too dissimilar.
Which Tammy Said It?
[Ron Swanson voice] Tammy.