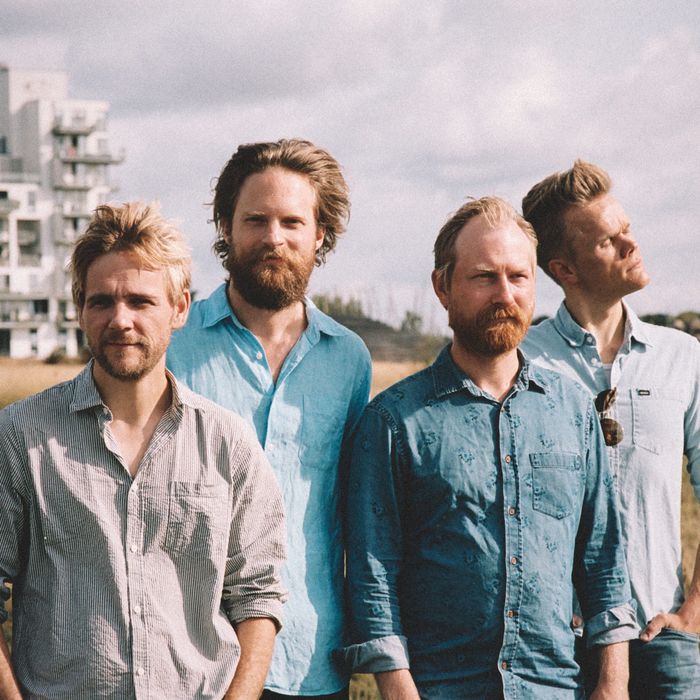 The Danish String Quartet.
Photo: Caroline Bittencourt
Midway along the Danish String Quartet's journey through Beethoven's life, the players led the audience into a dark wood. The ninth quartet (Op. 59, No. 3) opens in dissonant despair, each crushing chord dropping inexorably onto the next. Then, in a classic feint, the apparently endless slough suddenly opens into a bright C major clearing. When the Danes pivoted from gorgeous misery to a blithe dance, you could practically hear the audience in Alice Tully Hall gasp in relief. The players, who look like lanky Vikings, all long limbs and blond hair, delivered each phrase as an utterance that had just sprung to mind. They seemed genuinely curious to know what came next, to keep up with the composer's mercurial thoughts.
Performing the complete Beethoven quartets in 11 days is a maven's mountain. This series, presented by the Chamber Music Society of Lincoln Center, is packed with listeners who can compare and contrast these performances with those of the Juilliard, Tokyo, Berg, and Emerson Quartets. The Danes seemed unfazed by all the reverence.
The group is performing the quartets in the order they were written, tracing a fitful arc from upstart to master. In the first concert, they brought out an aspect of Beethoven that often gets short shrift: his charm. He was a phenomenal pianist and an experienced composer in the late 1790s, when he wrote his first quartets, Op. 18, but he was also a young man in his twenties, eager to seduce patrons and the amateur string players he depended on to buy his published scores.
The genre had a mild history before Beethoven, rooted in background music. A string quartet should "not disturb a wine-drinking emperor too much," as the group put it in a program note. But even in these first pieces, Beethoven is already willing to disturb the digestion. The very first quartet he published (though not the first he wrote), The F Major quartet, Op. 18, No. 1, begins with a Zorro-like gesture: all four instruments fuse on a long F lunge, followed by a staccato flourish, like a foil writing a Z in the air. The Danes made that gesture more mischievous than menacing, the calling card of a witty composer brandishing his virtuosity. Somehow, they made it possible to experience this young man's music afresh, to block out the Olympian figure Beethoven became and unhear the lightning storms that snap through his later music.
A few days later, the ensemble reached 1806, when Beethoven published his "Razumovsky" quartets, Op. 59. He had reached his self-mythologizing years, secure in the knowledge that whatever insanity he could dream up could be packed into a traditional genre and made to work. There are intimations of danger in these works, a kind of manic cackle that will eventually turn explosive and bleak. But even here, the Danes remembered that what they do for a living is "play."
I've been following this extraordinary group for years, but I really understood their mojo only after I met them all in their basement studio at the Royal Danish Academy of Music in Copenhagen. The group's three Danish players — violinists Frederik Øland and Rune Tonsgaard Sørensen, and violist Asbjørn Nørgaard — first got together as teenagers at the Askov Folk High School in Jutland. (The fourth, cellist Fredrik Schøyen Sjölin, grew up in Norway.) Founded in the 19th century to educate farmers during the enforced idleness of winter, these institutions have evolved into a network of specialized but laid-back summer programs.
"You don't go there to achieve, but to develop for the sake of developing. It's more of a society of amateur musicians," says Øland. Nørgaard chimes in: "You'd be having breakfast, and someone would tap you on the shoulder and say, Can you come and play eight or ten string quartets with us?"We were always the last guys standing."
Those late-night summer sight-reading sessions spilled over into weekends during the school year, and companionship matured into professionalism. Chamber music came naturally to hotshot musicians accustomed to channeling ambitions into a collective endeavor. Sørensen mentions the Law of Jante, a pan-Scandinavian prohibition against sticking out.
"Maybe that's why Denmark doesn't have so many concerto soloists," he says.
"In an orchestra it's always like: You be the concertmaster. No, you be the concertmaster," Nørgaard jokes.
The players are analytical about their Danishness, which, they feel, has freed them from the weight of, say, Russian, Hungarian, or Viennese performing legacies. ("Norway has an even weaker musical culture, made up mostly of people who went abroad and brought back different traditions," Sjölin says.) At one point, they tried on one of those heavy mantles, attaching themselves to the violinist Nikolaj Znaider, who was trained in the Russian style. He inculcated in them an obsessional attitude towards detail, an interpretive rigor expressed by a penciled annotation on every note.
That Jedi-like training ran headlong into their irreverence. "Denmark is a flat country, literally and also in our attitude towards authority," Nørgaard says. "That also applies to how you treat the classics. You have the right to question the composers. After all, they were just guys who wrote some good music." Adds Sørensen,"We're basically a cover band."
It's an attitude that translates directly into their music-making. For a dozen years, the quartet has organized its own October festival in a tiny hall in Copenhagen. For a long time, they did everything themselves: distributed free tickets, designed posters, trolled antique shops for stage props, set up chairs, and even poured the beer. The pieces of a cardboard-and-plywood bar they built for the occasion sit jammed into a corner of their studio. In recent years, they roped in guest performers and launched a four-concert series in a bigger hall, with programs that are more eclectic than cogent. "We grew up post-vinyl, so we don't always think a program has to be like an album. We do Spotify concerts," Nørgaard says.
Their actual albums, on the other hand, are distinctly albumlike. Last fall, they released the second volume of their projected five-disc Prism series, which matches music by Bach and Beethoven with a 20th-century composer (first Shostakovich, then Schnittke). After long immersion in Denmark's national composer Carl Nielsen, the quartet discovered the country's hymns and dance tunes, which eventually flowered into two ravishing albums of Nordic melodies: Wood Works and Last Leaf.
If I linger on their background, it's because that mixture of casualness and control comes out when they perform; it makes them the quartet I would most want to hear play just about anything. Chords all have a diamond edge, tunes pour like molten silver, staccato passages skip like stones across a lake. But too often, musicians who command that level of technical precision bundle it with a premeditated interpretation, in which every phrase is weighed, chiseled, and inserted in its proper slot. Maybe that's how the Danes work too, but the effect is convincingly spontaneous. They understand the explosive power of an impromptu nuance, the way a hairsbreadth rubato can make the clouds part.
The midpoint concert ended with the final fugue of the C Major quartet (Op. 59, No. 3), executed at fighter jet speeds with an astounding mixture of nonchalance and intensity. The separate strands unspooled, overlapped, and intertwined, the notes slipping through their fingers like tiny knots, so that it seemed like the whole thing would have to end in an exhilarating tangle on the floor. When they were done, the audience jumped with the thrill of having witnessed such a thing. And so the group sat down and played the movement again as an encore, as if to say: We could do this all night. We're still the last guys standing.
The Danish String Quartet will perform the remaining Beethoven quartets in its series from February 13 through 18 at Alice Tully Hall.