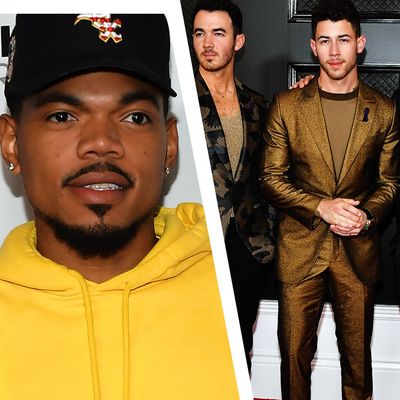 While 2019 revived the Wife Guy in music, they've been around the whole time: guys making music about their wives — and then making a big deal of that.
Photo: Getty Images
Who didn't get married last year? You might find yourself asking this today, scrolling through Facebook Valentine's Day odes and staring down the barrel of a new Justin Bieber album. But while 2019 revived the Wife Guy, particularly in music, they've been around the whole time. We don't mean guys making music with their wives, but guys making music about them — and then making a big deal of that. Here's a quick history of Wife Guy music in songs and albums. Singles: Consider it your soundtrack to making fun of couples this Valentine's Day. Couples: Please don't get any ideas for proposals or first dances. Drake: Exit the page.
John Lennon, "Oh Yoko!"
There's no question that music's Wife Guy canon begins with John Lennon. Not because his wife "broke up the Beatles," or because he proceeded to make multiple albums with her, but because Yoko Ono (herself a legendary artist first and foremost) became a motif even in his solo music that followed. Multiple cuts on his defining solo album, Imagine, scream Wife Guy — call "Jealous Guy" the precursor to Ed Sheeran and Chance the Rapper's "Cross Me" — but nothing beats "Oh Yoko!" Any time you hear Lennon sing "Oh Yoko! / My love will turn you on," you feel like you've just walked in on something you shouldn't have. And that's the mark of a good Wife Guy song.
Steve Perry, "Oh Sherrie"
Naming a song after your wife is one thing. Naming your signature solo hit after a woman you have no upcoming plans to marry? That is true Wife Guy energy. Former Journey singer Steve Perry put a name to the subject of his power ballads like "Faithfully" and "Open Arms" with "Oh Sherrie," making Sherrie Swafford one of the most famous girlfriends in '80s rock. But their relationship didn't outlast the '80s — as of 2013, Swafford never married, and Perry is stuck singing a hit with her name in it.
Tim McGraw, "It's Your Love"
I'm breaking the rules for Tim McGraw's "It's Your Love," which features his wife, Faith Hill, and sounds exactly how you think. This isn't about their performance of the song, though, written by Stephony Smith and with Hill only on backup. McGraw gives his wife a spotlight in the Academy of Country Music Award–winning video too, shot when she was pregnant with their first daughter. Consider that his first step toward the next stage of Wife Guy, Dad.
Train, Save Me, San Francisco
Just as Picasso's Rose Period begat his Garcon à la pipe, Train's Wife Guy Period gave us Save Me, San Francisco. Singer Pat Monahan remarried during the band's hiatus after 2006's For Me, It's You, and came back ready to write not one Wife Guy song, but a whole album of them. There's really something for every kind of Wife Guy on here: the amateur poet ("Hey, Soul Sister," "If It's Love"), the late-night talker ("Parachute"), the one who insists you two have a song and calls you pretty mama ("I Got You"). And yes, there's even "Marry Me," for the Wife Guy who wants to give you a special proposal (that hundreds of other girlfriends have also received).
Blake Shelton, "God Gave Me You"
When Blake Shelton first heard "God Gave Me You," originally by contemporary Christian singer David Barnes, it inspired him to propose to Miranda Lambert. He recorded a cover too, giving a huge boost to a song that's now a blip on his career thanks to his eventual divorce from Lambert. That curse probably hasn't kept many a guy from choosing it as a wedding first dance — nor did it keep Shelton from making music blatantly about a wife, with his Gwen Stefani duet "Nobody But You" anchoring his latest album.
John Legend, "All of Me"
Maybe the 2013 Wife Guy revival began thanks to John Legend — or Chrissy Teigen, more accurately, the deserving dedicatee of "All of Me." Yes, it's technically not a Wife Guy song, since Legend wrote and recorded it in the months leading up to their marriage. Come on: He might've even played it at their wedding! But if Teigen "cried when she heard it," as Legend said, it must've worked.
Kanye West, "Bound 2"
Remember how I said a good Wife Guy song makes you feel like you're walking in on something? Well … remember the "Bound 2" video? Maybe we didn't need to see a topless Kim Kardashian straddling Kanye West on a motorcycle as he rapped the line, "I wanna fuck you hard on the sink," but that's exactly what we got. The video came not even a month after their engagement, as the world was still wrapping its head around Kimye. Whether it helped remains questionable.
Thomas Rhett, "Die a Happy Man"
I saw Thomas Rhett live recently, and the way people watched his wife in the VIP section of the arena, you'd have thought she was a celebrity too. That's the power of "Die a Happy Man," the country singer's biggest hit about the power of his love for his wife. He even references the song's legacy in "Life Changes," with the lyric, "And I wrote a little song about holdin' her hand, and now everybody wanna die a happy man." "Everybody" might be taking it a little too far.
Robbie Tripp, "Chubby Sexy"
What would this list be without thee Curvy Wife Guy himself? Yes, the lyrics have their share of problems, and then some — he calls her James and the Giant Peach — but find me a guy as committed to the brand as this one. "I'm an artist," he told Vulture's Madison Malone Kircher of the song and video. "It's my project." To all of our detriment, he never thought to keep it to himself.
Ed Sheeran, "I Don't Care" (with Justin Bieber) and "Cross Me" (with Chance the Rapper)
The world didn't know Sheeran had married his girlfriend, Cherry Seaborn, until he released No. 6 Collaborations Project, but looking back, the hints were right there. Take the first two singles: one a celebration of spending time with your wife, the other a protective defense of your wife, both collaborations with pop music's other notable Wife Guys. Call the wedding Sheeran's ultimate collaboration project.
Chance the Rapper, The Big Day
Yes, he made an album inspired by his wedding day. That should speak for itself.
Justin Bieber and Dan + Shay, "10,000 Hours"
This song confirmed that there was no going back for Justin Bieber. Released just days after his wedding to Hailey Baldwin, it finds Bieber joining forces with two other Wife Guys, country stars Dan Smyers and Shay Mooney. It's all the genre has been building toward: basic, corny, sweet if you squint a little. Compared to what Bieber had coming, it was a simpler time.
Justin Bieber, "Yummy"
Yeah, maybe he should've stopped at "10,000 Hours." The first single off Changes — an album about one particularly big change — takes ten steps past that relaxed, PG song for a PG-13 … celebration? … of just how hot one's wife is. That's one thing, but hearing Bieber sing, "Rollin' eyes back in my head, make my toes curl, yeah yeah"? Save that for the honeymoon suite!
Jonas Brothers, "What a Man Gotta Do?"
It's the question at the heart of all Wife Guy music: What does a man gotta do to deserve their wife? After satisfying their now-grown fans on comeback album Happiness Begins, the three newlywed Jonas Brothers fully pivoted to Wife Guy music with their follow-up single. Ten years ago, we would've sold our souls for a video featuring Nick dancing and singing in his underwear á la Risky Business; now, we're stuck laughing and cringing as we watch him do just that in front of Priyanka Chopra.