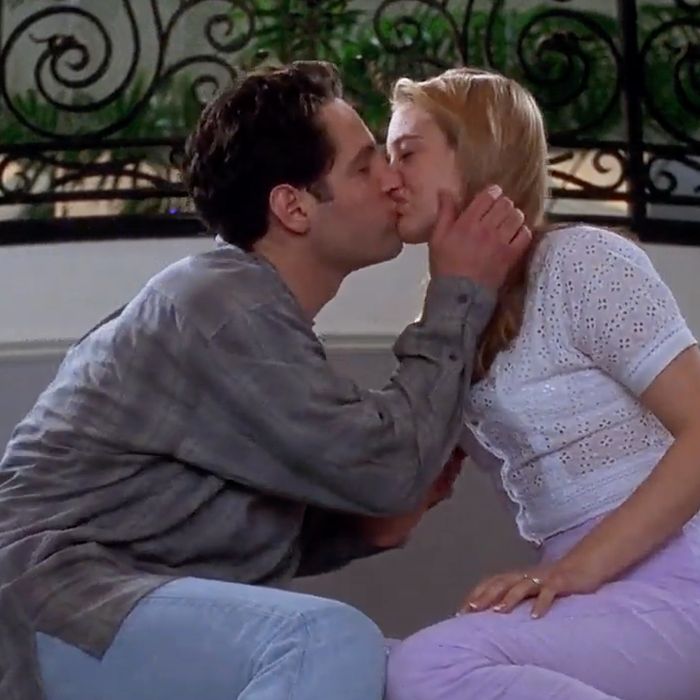 Try dating a family member (non-blood-related).
Photo: Paramount Pictures
Meeting people was hard enough in the olden times, when we wore pants and were allowed to approach a stranger without endangering their lives. In our new reality, finding new love might seem as impossible as getting a simple test for the deadly virus that's sweeping the globe. While I can't help you with the latter, I can help a little with the former by reminding you that rom-com protagonists have been finding love without leaving home — or, at least, without breaking any social-distancing rules — for decades. Let's review some of their strategies, because why not use humor as a coping mechanism for staving off the overwhelming knowledge that there is untold chaos and destruction headed our way like an off-the-rails train?
You've Got Mail
Kathleen Kelly (Meg Ryan), covert internet addict, cannot stop checking her email. Eventually she breaks up with her boyfriend (Greg Kinnear), who harangues her about her internet usage because he is a hater who doesn't understand anxious habits. Soon, she realizes she is in love with the man (Tom Hanks) she met in an over-30s chat room, which is something I would participate in right now out of sheer boredom, if anyone feels like bringing AOL back as an internet exploring tool. The two flirt tirelessly over email until they meet up in a park. That's not okay anymore, especially because Tom Hanks is still a carrier of coronavirus (even though he is recovering), but the first part works. Probably the best dupe for an AOL chat room right now is Reddit, though I'd exercise extreme caution while wading into those churning waters. (Streaming on YouTube, Amazon Prime, iTunes, Google Play and Vudu)
Notting Hill
William (Hugh Grant) is flooping down the street, which is still categorized as a legal activity. He bumps into Julia Roberts-esque movie star Anna (Julia Roberts) and spills juice all over her. Seeing as they have already contaminated each other, they cut their losses and go to his house nearby, and ultimately they do not leave his house for days, having sex all over it. I guess what I'm saying with this one is if you exchange germs with a stranger on the street incidentally, you should just date them for a while because you already fucked up. (Streaming on YouTube, Amazon Prime, Google Play, iTunes, Vudu, and Hulu)
Clueless
Cher Horowitz (Alicia Silverstone) falls in love with her stepbrother (Paul Rudd). Look around your own house at your non-blood relatives. Keep an open mind! (Streaming on YouTube, Google Play, Vudu, iTunes, and Amazon Prime)
Something's Gotta Give
Another "look around your own house" situation, this time from social-distance-spo queen Nancy Meyers. Erica Barry (Diane Keaton), a lonely playwright living in an astonishingly neutral house in the Hamptons, has essentially sworn off dating after her divorce. But when her daughter's playboy boyfriend (Jack Nicholson) has a heart attack on her property, she is forced to self-isolate alongside him for long enough that they fall for each other. Nobody needs to have a heart attack for this one to work, but consider people who are dating your family members right now — should you be dating them instead? (Streaming on Amazon Prime, Vudu, YouTube, iTunes, and Google Play)
Sleepless in Seattle
Annie (Meg Ryan) becomes obsessed with widower Sam (Tom Hanks) after hearing his son talking on the radio about he's trying to find his dad a new wife. Annie subsequently stalks Sam across the country (this part is not advised right now) and they eventually live happily ever after. Maybe the love of your life is just one stalker-y phone call away! Try texting a random number. (Streaming on Amazon Prime, Vudu, YouTube, Google Play, and iTunes)
Moonstruck
Loretta (Cher) is at the bakery, which is, as of this writing, still considered an essential service. She and Ronny (Nic Cage), who notable has only one hand, go upstairs to his house where they eat steak and have tons of sex. This last part, is not advised , but you can try and fall in love with your own local, deranged baker while standing in a line that respects the six-feet rule. (Streaming on YouTube, Google Play, iTunes, Vudu, Amazon Prime, and Hulu)
Sliding Doors
Helen (Gwyneth Paltrow) loses her job at an ad agency and her world splits off into two quantum superpositions. In one version of her life, she meets a great man (John Hannah) but is then hit by a car and dies. In the other, her boyfriend (John Lynch) relentlessly cheats on her, but she survives and eventually meets that same great man, meaning her paths ultimately converge. I guess my point is that maybe things are going really badly for all of us in this timeline, but in another timeline, things might be okay, and maybe if everything goes to shit over here, the timelines will converge. (Streaming on Tubi, Vudu, YouTube, Amazon Prime, Google Play, and iTunes)
While You Were Sleeping
Peter (Peter Gallagher) falls into a coma and when he wakes up, he is engaged. Inspiring! (Streaming on YouTube, Amazon Prime, iTunes, Google Play, Vudu, and Disney+)
It's Complicated
Jane (Meryl Streep) and Jake (Alec Baldwin) have been divorced for years, but now they are sleeping together and they just can't stop. If you began sleeping with your ex before the quarantine began and are wondering if this is ill-advised: No. Keep doing it! You already started. (Streaming on YouTube, Amazon Prime, iTunes, Google Play, Vudu, and Hulu)
As Good As It Gets
Melvin (Jack Nicholson) takes a personal interest in helping his local server (Helen Hunt) get through hard times. Now nobody is serving, legally, but you could use this film as inspiration to check in with your favorite local service-industry worker and ask them how you can help support them during this crisis. Sorry, hm, this one is actually serious. (Streaming on Netflix, Amazon Prime, Vudu, YouTube, iTunes, and Google Play)
Forgetting Sarah Marshall
Peter (Jason Segel), alone in a hotel in Hawaii, heartbroken, begins to court his concierge Rachel (Mila Kunis). They do way too much physical shit together for this to be kosher right now, but should you find yourself trapped in a hotel for the considerable future, perhaps there's a phone-centric romance to be had between you and your concierge. (Streaming on YouTube, Amazon Prime, Vudu, iTunes, Google Play, and Cinemax)
Pillow Talk
Jan (Doris Day) and Brad (Rock Hudson) share a telephone party line, which is something we're all familiar with. She gets mad at him for being slutty on the main line and he pretends to be a Texas cowboy (?), but despite these difficulties, they fall madly in love. Again, a lot of physical contact later, but let's focus on the title and the notion that you can still have phone sex with strangers. (Streaming on Amazon Prime, YouTube, iTunes, Google Play, and Vudu)
Two Night Stand
Megan (Annaleigh Tipton) and Miles (Miles Teller) extend a bad internet date into a 48-hour affair due to a nasty blizzard. Later, after they have parted ways, one gets arrested, but eventually they make out outside of jail. If you're lucky, this entire thing will happen to you. (Streaming on Tubi, Vudu, Amazon Prime, YouTube, Google Play, and iTunes)