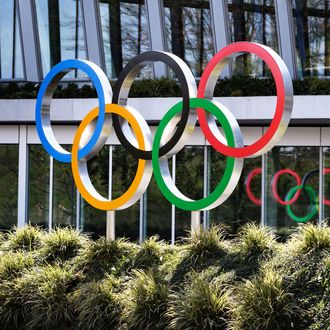 Update, Tuesday, March 24, at 8:45 a.m.: The International Olympic Committee and Japan agreed to postpone the 2020 Olympic Games on March 24. According to the New York Times, Japanese Prime Minister Shinzo Abe announced that the Games are rescheduled from late July 2020 to summer 2021. The decision came after months of speculation and protest from athletes and officials.
While just about every major sports league, from the NBA to WrestleMania, has canceled or adapted due to the coronavirus pandemic, the Summer Olympics, set for this July and August in Tokyo, have been taking their time. Longtime International Olympic Committee member Dick Pound told USA Today on March 23 that "postponement has been decided," the first concrete development in the IOC's plans. "The parameters going forward have not been determined, but the Games are not going to start on July 24, that much I know," he said. IOC president Thomas Bach first indicated that the committee was considering postponing the games in a March 22 memo to athletes. "Together with all the stakeholders, we have started detailed discussions today to complete our assessment of the rapid development of the worldwide health situation and its impact on the Olympic Games, including a scenario of postponement," he wrote, adding that the IOC would detail a plan in four weeks. Pound echoed that in his comments: "We will postpone this and begin to deal with all the ramifications of moving this, which are immense," he said.
On March 17, the games showed no signs of stopping. "The IOC remains fully committed to the Olympic Games Tokyo 2020, and with more than four months to go before the Games, there is no need for any drastic decisions at this stage; and any speculation at this moment would be counterproductive," the IOC said in a press release. And on March 20, the Olympic torch came to Japan — currently under a level two CDC travel advisory because of coronavirus — ready to begin its journey to Tokyo.
After Bach's updated message to athletes, Canada became the first country to say it would not send athletes to a summer 2020 Olympics, calling on the IOC "to postpone the Games for one year." "This is not solely about athlete health — it is about public health," the Canadian Olympic Committee's March 22 statement said. Australia joined Canada the following day, saying, "The [Australian Olympic Committee] believes our athletes now need to prioritise their own health and of those around them, and to be able to return to the families, in discussion with their National Federations." Notably, Australia is encouraging its athletes to plan for the Tokyo Olympics to take place in summer 2021. Committees in Brazil, Germany, and Norway are all urging the IOC to postpone the games.
While the Olympics have been canceled three times before, most recently for World War II in 1944, Bach said March 22 that "cancellation would not solve any problem and would help nobody." The games routinely drive huge ad revenues for NBC, and on March 23, a spokesperson told Vulture, "These are extraordinary and unprecedented times, and we fully support the IOC's decision to step up its scenario-planning for the Tokyo Olympics. We are prepared to stand behind any decision made by the IOC, the Japanese government, and the world health officials with whom they are working regarding the Tokyo Olympics." Brian Roberts, CEO of Comcast (which owns the network), said earlier in March that "there should be no losses should there not be an Olympics," thanks to insurance.
So don't count on the solace of gymnastics, swimming, and Leslie Jones's iconic sports commentary this summer — but maybe it will be a post-quarantine treat in 2021?