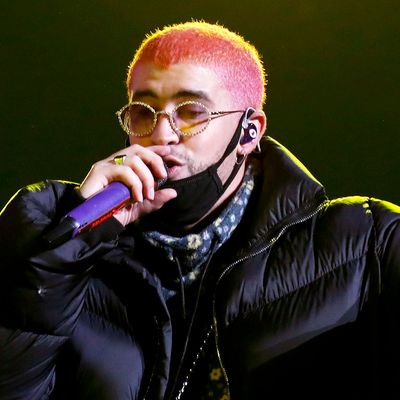 He's doing it all with a glee that plays up how silly all these hyperspecific ideas about gender and language and pop stardom and activism have been all along.
Photo: Taylor Hill/Getty Images
Bad Bunny is cruising down lanes that not too long ago didn't quite exist. The Puerto Rican singer/rapper has done American late night, Coachella's main stage, the Super Bowl halftime show, and collaborations with the likes of Drake, Nicki Minaj, and Cardi B without singing in English. Bunny's 2018 debut X100Pre is a landmark Latin trap album that helped make him a constant presence high up on YouTube and Spotify's global charts and a voice for political change at home, a slick reggaetonero who writes lustful songs about cishet club night trysts, who can be seen performing them in flamboyant gear with painted nails to match. Last week, Bunny played Late Night with Jimmy Fallon in dangling earrings, a big pink jacket, a flowing skirt, and a T-shirt memorializing Alexa Negrón Luciano, a 29-year-old trans woman brutally shot to death on camera in Puerto Rico after customers in a McDonald's complained about her using the restroom.
You used to have to pick a side. You broke America by singing in English. You played the part of lover boy through peacocking and hypermasculinity. You made it in pop by picking your political battles. Bad Bunny is breaking all the rules with a glee that plays up how silly all these hyperspecific ideas about gender and language and pop stardom and activism have been all along. Following last year's J Balvin team-up Oasis, this year's new YHLQMDLG, or Yo Hago Lo Que Me Da La Gana — quite literally, "I do whatever I want" — is an expression of Bad Bunny's freedom both in the title and the music. The first song, "Si Veo a Tu Mamá," leads with a swatch of Stan Getz, João Gilberto, and Antônio Carlos Jobim's 1964 bossa nova classic "The Girl from Ipanema" played through wonky keyboard tones, then pumps in trap percussion to throw the listener off more. The feeling that anything can happen is present from minute one of track one.
Elsewhere, YHLQMDLG's unpredictable turn is avoiding the ominous Latin trap beats powering X100Pre highlights like "Ser Bichote" and "Cuando Perriabas" in favor of a sound that pays homage to reggaeton's breakout early 2000s. Throwback vibes radiate from both the music and the videos. The clip for the single "La Difícil" revisits the garish lighting, staging, styling, and dance sequences of early aughts music videos, with Bunny channeling *NSYNC-era Justin Timberlake in frosted tips, baby-blue threads, and gratuitous headbands and goggles. "Si Veo a Tu Mamá" plays out as a bout of Y2K New Year's Eve party karaoke. YHLQMDLG isn't quite as much of a nostalgia trip as its visual component suggests, but it does work as an alternate-reality classic reggaeton playlist of the mind, complete with appearances from veterans from the era like Ñengo Flow, Daddy Yankee, and Jowell & Randy. With their help, Bunny and producers Tainy and Subelo NEO serve up a captivating song cycle about people falling in and out of love.
YHLQMDLG is Bad Bunny's lonely hearts club playlist, a flurry of wistful tunes about pining for lost lovers and struggling to make new connections. The protagonist of "Si Veo" can't stop burdening the bros with how much he misses his ex, even when they take him out to get his mind off her. "La Difícil" chases after a woman with zero interest in being tied down after a bad breakup, while "La Santa" criticizes a girlfriend for exacting too high a standard for her man. "Yo Perreo Sola" admires a clubgoer who goes out dancing on her own, then "Soliá" spies another on a different night and struggles to respect the boundaries of her relationship while her boyfriend is away. Bad Bunny is a fascinating romance writer because of the sense that there are a hundred more of these kinds of scenarios playing out in his head at any given point but also because the women in these songs are in the driver's seat, be it as memories a depressed Bunny can't shake or as love interests that require time and work to level with. Men often write songs like "La Difícil" for women, and they often come out condescending. "Difícil" is "Hotline Bling" without the good girl gone bad trip. These characters are romantic equals, players and ballers in their own right. It's refreshing.
When you think YHLQMDLG is content to stick to the lovey dovey talk, the last quarter dispenses with the sweets. "Está Cabrón Ser Yo" and "25/8" bring the trap drums back as Bunny talks shit about how far he's come but how close he tries to stay to his roots. The crown jewel of the paranoid street king portion of the album is "P FKN R," the wildest beat on the album (with respect to the absolutely batshit "Safaera," which cycles through nods to classic old beats and riddims, like a 2002 DJ set) and a reminder that shit's not so sweet in Puerto Rico right now, for a lot of reasons. Suddenly the guy who's been sailing out love letters for the last 15 songs is sending shots with the same composure. By the album-closing thank-you track "<3," where the artist threatens to drop one more record and retire like Puerto Rican boxer Miguel Cotto, YHLQMDLG's title feels more like a promise. Bad Bunny does whatever the hell he wants.