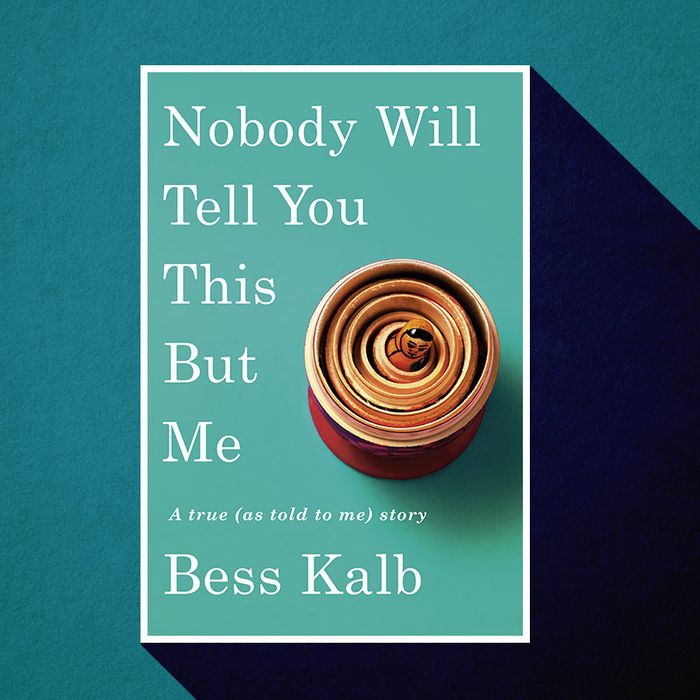 Photo: Penguin Random House
I get a lot of books sent to me, and it is always fun to deduce from the included materials how a publisher is pushing a title. Sometimes the materials — which include blurbs, a one-pager, and occasionally a random branded trinket — will frame the book as a likely critical hit or best seller; an indie darling, or a niche favorite. What I gleaned from the materials that came with Bess Kalb's book, Nobody Will Tell You This But Me: A True (as Told to Me) Story, is that Penguin Random House was presenting it as a best seller. There was an announced first printing of 100,000 copies (which is a shitload) and the promise of "NPR, TV, and Print features," plus an author tour of all the major cities. Kalb is an Emmy–nominated TV writer and New Yorker contributor; she also has the distinction of having been blocked by Donald Trump on Twitter. In other words, when the advance copy arrived a few months ago, it might as well have worn a banner that said "A SIGNIFICANT INVESTMENT HAS BEEN MADE IN THIS BOOK." On March 17, when the book came out, it was suddenly time for the investment to pay off. But how?
I spoke to Kalb from her home in Los Angeles, where she is hunkered down with her husband and 7-month-old son, to ask about publishing a debut book during a pandemic.
Your book, Nobody Will Tell You This But Me, is an as-told-to memoir. It's the story of your grandmother, Bobby Bell, in the words of you, her granddaughter, Bess Kalb. How on earth did you write it?
My grandmother started talking to me when I was a newborn. She was someone I spoke to on the phone almost every day. If she didn't get a call from me when I was driving home from work, or I didn't hear from her, one of us would panic and assume something happened.
When she died I was tasked with delivering a eulogy at her funeral. I couldn't do it. I wrote four drafts and they were all super trite, or used the cliché language that's scripted for us when a loved one dies. At two in the morning the night before her funeral at a hotel in Boston, I woke my husband up and said, "Would it be crass if I delivered the eulogy as her?" And he said, "Potentially!"
He went back to sleep and I ended up writing the eulogy from her perspective. It was a kind of family roast with my grandmother's running commentary of what was happening at the funeral.
How'd it go over?
My relatives were laughing. It was a relief that I was able to channel her voice for the people who knew her best and needed her most in that moment. Part of the eulogy is in the first thirty pages of what is now Nobody Will Tell You This But Me. "It's a terrible thing to be dead," is the way the book opens. And that's exactly what she would say.
Based on the available clues — the blurbs, the promotional plan — it was plain to me that Nobody Will Tell You This But Me was being framed as a Big Deal.
I have no frame of reference for whether it's a Big Deal or a Small Deal. It's my first book and only book. The press tour that was laid out for me seemed pretty standard, based on friends of mine who are authors. It would have been a week of — wait, what day is it today?
Monday.
Based on what I'm wearing, you could say, "The Sunday after Christmas." It's currently Monday. So today would have been the day of a book party in New York. Tuesday was going to be another event in New York. Wednesday, Boston. Thursday, Washington, D.C. And later Miami, Philly, Chicago.
Lots of big cities!
It would have been a whirlwind with a 7-month-old literally on my hip.
Was there ever an option of postponing the book? Is that a logistical possibility?
When my book was set to release, the train had already left the station. [Laughs.] Don't worry, you won't find any metaphors like that in the book. Up until Thursday, March 12, I had JetBlue open looking to see if I could get an aisle and a window seat for my husband and my baby and myself, hoping that no one would take the middle. I was still jockeying for airplane seats.
The train had left. What happened next?
The first event would have been a talk in Los Angeles with my brilliant friend Megan Amram. She and I were texting a few weeks ago. I checked in with her saying, "Hey, I don't know how you feel about this, it seems like coronavirus is making its way to the States, some people are sick in Seattle, what do you think?" She was such a good sport. She said, "I'm happy to do this, I just want to know what your concerns are." We both were deferential to the other person until the last moment.
Likewise, Aminatou Sow and I were going to do an event at Symphony Space. We were having a similar text conversation. The writing was on the wall once the three of us all decided that our events wouldn't be safe for us or for the audience. As an author, it's important to promote your book. As a human, it's important to protect each other and keep each other safe. For all of us, the human side prevailed. We knew it would be irresponsible and dangerous to have any kind of book tour. That was on Friday, March 13.
Was there a conference call with the publisher? A war room?
I'm lucky; everyone involved in my book is a woman, from agent to editor to publicist. A lot of us have kids — which in many ways can actually erode one's empathy, because you're always tired. But we all made the same call: protect the audience, protect each other, there's no reason to do this.
Was there a scramble to figure out, "How do we make sure that this book gets into the hands of people despite the fact that we have to scrap our plans?"
The publisher was immediately trying to figure out digital alternatives to book events. But ultimately, I was like, This is just not going to be a big launch. And that's okay.
Describe launch day.
Well, I didn't wake up on the morning my book was released nervous about, like, the New York Times review or the Amazon ranking. I was nervous because I had a slight cough. Is this allergies? Or do I have to make a weepy video for my son?
Now that the book is out, how are you playing it?
Self-promotion is so awful; it's the odious reality of any creative field. Doing it in a pandemic feels especially nightmarish. I'm like: Buy my book! And also if you're an asshole who hoarded masks, please drop them off at a hospital no questions asked; but also, support local booksellers; but also, we need ventilators. Have a nice day! 
On Twitter, I'm on the knife's edge of tastefulness. I'm promoting it with an apology. But a friend of mine said to me the other day, "Bess, you would have promoted your book apologetically anyway."
For a certain kind of person there is something intensely humiliating about self-promotion. But maybe doing it in a pandemic elevates it to the level of camp.
I feel like a 6-year-old showing my painting off: Do you love it? Do you want it? But I'm doing it as the world burns. I feel like an asshole all the time.
It makes me think about the books published in September 2001. Surely there are overlooked gems.
There are people that are saying, "Look, this is a book about a mother and grandmother; maybe it could have another life around Mother's Day." But at this point I'm looking at the CDC curve trajectory and infection rate, and I don't think the world is going to look much different around Mother's Day.
Is there any silver lining?
The thing that gives me any sense of peace about the book and pandemic happening at the same time is, for the few people who do read it, it is a comforting read. It's a quick read. And a comforting listen on audiobook. I've been getting messages from people on Twitter and Instagram saying, "Thank you! This is what I needed for my quarantine." Or "This is such a nice isolation read!"
Even though it's not going to get to the wide audience that a book tour or wide press push might have brought it, it's getting to a smaller audience that is soothed by it. That is meaningful to me. Knowing there are people who are reading my grandma's words and falling in love with her — and feeling comforted by her message of resilience, grace, and wit — that makes me happy. Because that's exactly what she was talking about when she told me, When the world is cracking behind your feet, you put one foot in front of the other.
The book is landing narrower but deeper.
Hopefully it can be a bright light for people when it's really needed, instead of a buzzy thing that was on NPR.