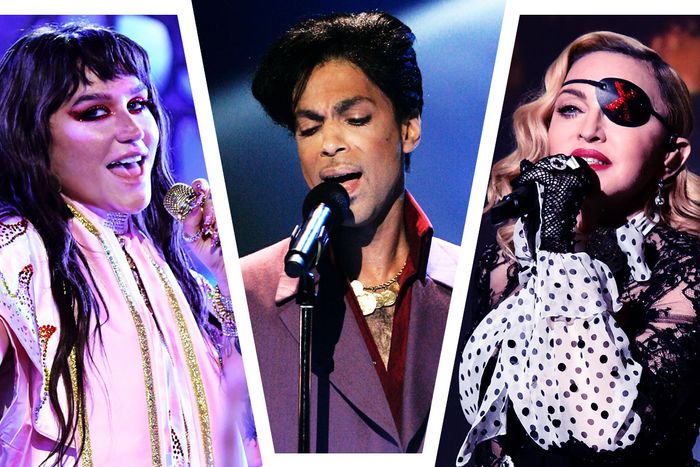 Because you can't just listen to "The End of the World."
Photo: Getty Images
If you're a masochist who's been wearing out R.E.M.'s "The End of the World," do we have a treat for you. Because we, too, are masochists here at Vulture, we compiled some more songs about the end of the world. Maybe you knew some of them were about that all along, or maybe this is news to you. But if the world ends up ending in a Contagion-like pandemic scenario, you can find us dancing. Or maybe it'll just be me, a music writer, alone with my quarantunes. This is fine.
Britney Spears, "Till the World Ends"
What will you be doing when the world ends? Dancing, Britney hopes. That is indeed all that this song is about, but there's also a bangin' remix with Nicki Minaj and Kesha — together, they're the three horsewomen of the apocalypse.
Nena, "99 Luftballons"
If you, like me, do not speak German, this might seem like an innocuous bop. Upon closer look at the translated lyrics, it's actually about … the chaos and worry of the Cold War.
David Bowie, "Five Years"
The most beautiful song about a long, drawn out apocalypse is also the opening track to Bowie's masterful concept album The Rise and Fall of Ziggy Stardust and the Spiders From Mars. Here's to hoping this pandemic is over in less time.
Madonna ft. Justin Timberlake and Timbaland, "4 Minutes"
It's a song about sex masquerading as a song about the end of the world, so all I have to say is: Do not grab a boy, nor a girl, unless they're already in isolation with you. And wash ya damn hands!
Prince, "1999"
The song kicks off a whole album about a hypothetical apocalypse, then 17 years out from when Prince released it in 1982. And if we danced our way through Y2K, we can dance our way through this!
Ke$ha, "Die Young"
Look at the lyrics of this one, and you'll see that it's about an end-of-the-world play-pretend scenario: "Let's make the most of the night like we're gonna die young" (emphasis mine). Well, no need to pretend now.
Pitbull ft. Afrojack, Ne-Yo and Nayer, "Give Me Everything"
This might seem like a song about partying it up, which it is, but listen a bit closer to Ne-Yo: "For all we know, we might not get tomorrow / Let's do it tonight." An anthem to living day by day.
Modest Mouse, "3rd Planet"
It took a pandemic for me to come to terms with the fact that every song by my favorite band is actually about the end of the world. (They made a semi-concept album about sinking boats!) "3rd Planet" sets up a whole damn album about the precariousness of being, The Moon & Antarctica.
Jay Sean ft. Nicki Minaj, "2012 (It Ain't the End)"
The world faced quite a different threat on December 21, 2012, when the Mayan Calendar ended, but it indeed was not the end, as Jay Sean and Nicki Minaj prophesied. Even if it would've been, they just took it as another reason to party.
Blue Öyster Cult, "(Don't Fear) the Reaper"
Oh, to be so content with the end! If only we could take someone else's hand right now, but alas.
The Postal Service, "We Will Become Silhouettes"
The Postal Service, that supergroup of Death Cab for Cutie's Ben Gibbard, Rilo Kiley's Jenny Lewis, and Figurine's Jimmy Tamborello, was a combo to end the world. Their song "We Will Become Silhouettes" is a sparkly, a-little-too-upbeat take on the apocalypse.
Ariana Grande, "One Last Time"
In the music video for underrated My Everything single "One Last Time," Grande navigates the world as an asteroid barrels toward earth. She's the true hero we need at the end.
Europe, "The Final Countdown"
It'll take the end of the world for me to willingly listen to a prog-rock song. But if you want to, you should, because these are end times.
The Doors, "The End"
There are fewer tried-and-true end times anthems than the song that soundtracked the opening of Francis Ford Coppola's 1979 war epic Apocalypse Now. The Doors' 12-minute album cut was inspired by a truly apocalyptic scenario: Jim Morrison's breakup with girlfriend Mary Werbelow.
Kelly Clarkson, "Stronger (What Doesn't Kill You)"
I wouldn't truly endorse the message of this song, considering that COVID-19 has been shown to leave lung scarring. But the main point stands: The world can get through this, and hopefully be stronger on the other side.
Smashing Pumpkins, "The End Is the Beginning Is the End"
We will make it out of this, the Smashing Pumpkins assure us — only to start moving toward another apocalypse. And that's what I'd call hope!