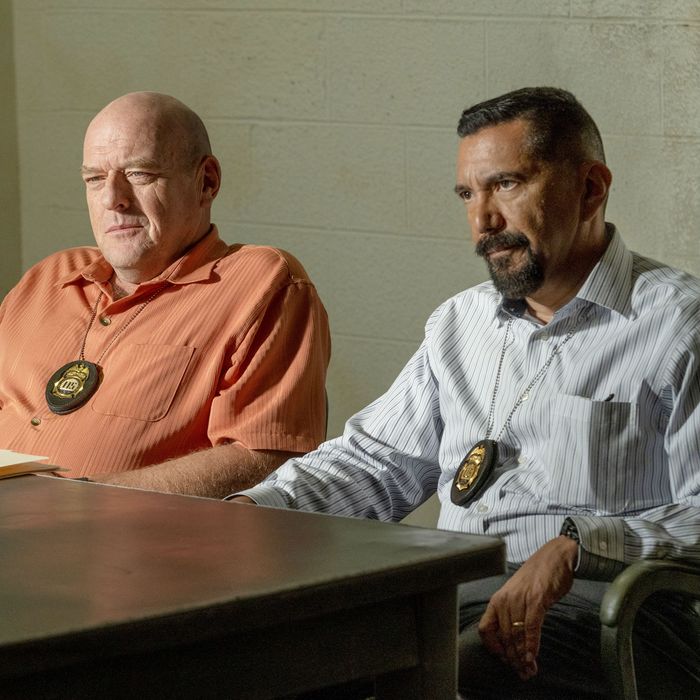 They live!
Photo: Greg Lewis/AMC/Sony Pictures Television
Six years after Breaking Bad, Dean Norris and Steven Michael Quezada were preparing to film their first Better Call Saul scene together when they noticed something. Standing outside a police station on the Albuquerque set for this week's episode, "The Guy for This," Quezada ribbed Norris, "Dean, you don't look younger, man."
"Well, neither do you," Norris quipped back. "Maybe we should get some walkers!" They enlisted the props department for help, grabbed some walkers, then took photos as they shuffled from their police car to the front of the station.
"Dean and I have remained really good friends, but being back on set with everybody else was such a blast," Quezada told Vulture. "We like to give them a hard time. Hank and Gomie are hilarious. They're like a married couple, so we like to have fun like them, too."
Eight hundred miles away in the show's Los Angeles production office, showrunner Peter Gould received a text.  "It was a picture of them using walkers," Gould said, laughing. "I can't repeat all of the funny texts I got from Dean during this shoot. But this was a great physical gag. I have to say, to my eye, they both look exactly the same and I'm jealous."
The last time Breaking Bad fans saw DEA agents Hank Schrader and Steven "Gomie" Gomez, they were being buried in the desert after their heroic on-duty deaths for trying to arrest Walter White (Bryan Cranston). Hank went through a lot on his journey to discovering his brother-in-law was the meth kingpin he'd been looking for all along—shootouts, panic attacks, a failed assassination attempt, undiagnosed PTSD—but in Better Call Saul, the loud, cocky Hank is back, and so is his rapport with his partner Gomie.
"In the first couple of years of Breaking Bad, Hank was the comic relief and it was great to have that again," Norris said. "It's classic Hank yappin' about ridiculous stuff and poor Gomie has to put up with it. I was so happy that the fans get to see Hank in prime again, as opposed to his depression era. They did such a good job of capturing Hank that all I had to do was put on the orange shirt and go."
From the beginning of Better Call Saul, the writers have longed to reunite Hank Schrader, even if for just a couple of episodes. But in the first four seasons of the show, Jimmy McGill (Bob Odenkirk) didn't cross paths with the DEA so there was no natural entry point. This season, as the writers developed Jimmy's evolution into Saul Goodman and his client base tilted toward more unsavory characters, bringing Hank and Gomie into the fray became possible.
"Our North Star, the thing we stay focused on as much as we possibly can is the story of Jimmy McGill/Saul Goodman/Gene Takavic as he progresses through life—and, of course, the stories of Mike Ehrmantraut and Kim Wexler," Gould said. "We try not let our desire to work with these wonderful actors from Breaking Bad take over. The story has to demand it. This season, we were thinking, Who's the right opponent for Jimmy? As soon as we thought of the DEA, we thought, Wouldn't it be amazing if it's Hank?"
In the episode, written by Ann Cherkis, the DEA agents get into a classic bickering match before they meet Saul for the first time. The debate: What's the best timing for throwing out expired food? At one point, Hank calls Gomie "Ann Landers" and Gomie admits to eating a whole can of expired vanilla frosting.
"Banter always worries me," Gould said. "When two characters are talking more or less about nothing, I find that tricky. These are two characters that Vince [Gilligan] created in the pilot of Breaking Bad. The first time we see them they are taking bets on the identity of the person they're about to find, Cap'n Cook, and I felt a little hesitation bringing these two characters back not having Vince's pen involved." He felt better once he consulted with Gilligan, who served as a non-writing executive producer this season, and Gilligan loved the dialogue Cherkis wrote for Hank and Gomie.
On Breaking Bad, Hank and Saul Goodman rarely cross paths—their few encounters tend to happen during police interrogations—but they do not interact much beyond that. That left Better Call Saul an opening. "The first thing we worried about was whether they had met for the first time on Breaking Bad," Gould said. "I was so relieved to see they hadn't. So we were able to have this terrific confrontation, directed by Michael Morris. Everyone was hitting on all cylinders, and I was disappointed not to be in Albuquerque for that."
Norris and Quezada have visited the Saul set in the past and both wanted to be a part of the series if there was a legitimate reason for Hank and Gomie to be included. "I just didn't want it be showy, to have him back just to have him back," Norris said. "Peter said it would be fun to have him play a little part in the development of how Jimmy McGill became Saul. I trusted them."
Hank and Gomie's run-in with Saul also features another Breaking Bad tie-in: They interrogate Saul's client Krazy-8 (Max Arciniega), one of the drug dealers Walt kills in the first season of the original series. The story will carry over to next week's episode. "I love that we're learning Breaking Bad background and insights this late in the game," Norris said. "That's all that mattered to me, that we have a solid reason for being there. Breaking Bad was life-changing for all of us, and to be back in that world again, reminiscing about our times, was a special couple of weeks."