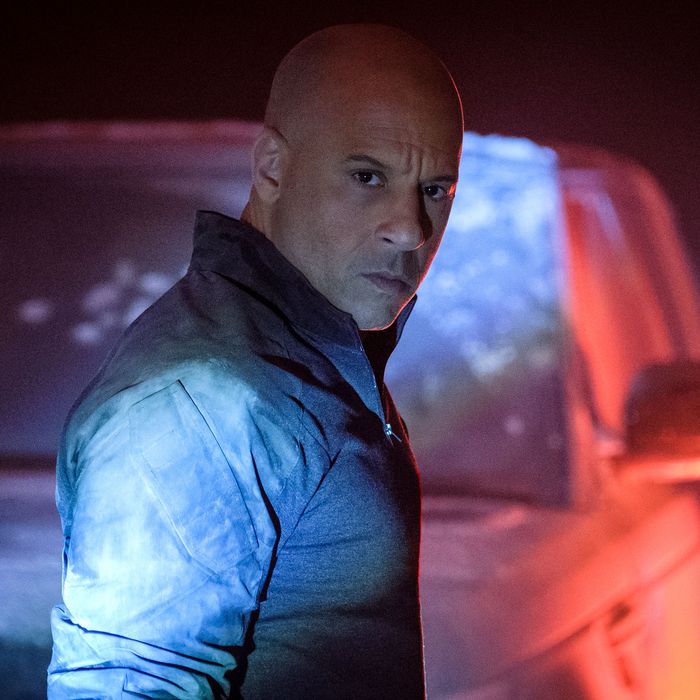 Seriously, why is Vin Diesel a star at all?
Photo: Courtesy of Sony Pictures
I don't understand Vin Diesel's stardom. Usually, even if I'm not personally beguiled by a star, I can understand their place in the Hollywood firmament — why they got there and what they speak to in the public imagination. This is not the case with Diesel. Hollywood history is littered with tough guys who bring something to the screen beyond a gruff demeanor and an imposing physical presence. Humphrey Bogart brought pathos. Arnold Schwarzenegger brought stoic absurdism. Steve McQueen brought decisive cool. Diesel is like an unfinished statue, hulking and aggressively bland. What does he bring, beyond a rank egoism that fuels stipulations in his Fast and Furious contract — a franchise that has kept his career at a steady churn — that he not be egregiously beat up onscreen?
Bloodshot, Diesel's latest star vehicle, would likely flounder with or without its empty lead. Directed by David S.F. Wilson and written by Jeff Wadlow and Eric Heisserer, the movie starts out like many other modern would-be blockbusters: with a brawl. Our hero U.S. Marine Ray Garrison (Diesel) is facing off against a villain who goes by the name Martin Axe (Toby Kebbell). In a tragedy that sets the tone and plot of the film, Axe kills Garrison's wife, Gina (Talulah Riley), right before his eyes. And just as Garrison manages to swear he'll get his revenge, Axe kills our hero, too. But his death doesn't last long. He's brought back to life by Dr. Emil Harting (Guy Pearce, what happened to your career?), who enhances Garrison's body with nanites that run through his bloodstream and turn him into a near-unstoppable machine. Harting is the leader of Rising Spirit Tech, an outfit hell-bent on improving the human body through technology as a form of advanced warfare. The story, adapted from a Valiant comic and poised to spawn more entries should the first one be successful, builds intrigue when Ray starts questioning the end of his life and his own memories. Was his wife's murder an elaborate lie? Is Harting manipulating his memory to further the Rising Spirit Tech's mission?
At this point, what could have been a passably entertaining diversion, the kind of film best enjoyed overcoming a hangover or while folding laundry, falls flat on Diesel's lips. He lacks the gravitas of delivery, disinterested in his lines even before he finishes saying them. He seems less committed to pulling off his character's emotional arc than adhering to a stilted form of masculinity onscreen, like when he growls at one point early on, "I have unfinished business."
Unfortunately, the action in Bloodshot is also gravely lacking. Overreliance on slow motion highlights a poor blocking strategy that only clumsily permits character to inhabit space. The visual effects — tendrils of nanites literally swirl around Garrison — have a gooey quality, so in climatic moments what is meant to be triumphant and cool comes across as silly. (It all reminds me of how Lucrecia Martel passed on directing Black Widow after Marvel told her not to worry about directing the action, as the studio tends to hand the bulk of that responsibility over to stunt coordinators and VFX specialists.) It has become increasingly rare to witness a Hollywood action flick with any understanding of the human form — its grace and its foibles. Mired in self-isolation, I have spent my evenings playing video games — Horizon Zero Dawn, Shadow of the Tomb Raider, Control — all with rich, fascinating depictions of movement. After Bloodshot, I was left with the distinct impression that I watched a cut-rate video game.
Bloodshot had the potential to create a richer superhero text, but instead avoids saying anything interesting about the ways in which grief drives people. The film refuses to interrogate Diesel's ego; his machismo feels noticeably retrograde against the John Wicks and Bad Bunnies of today. When Garrison starts to question whether or not he's been manipulated into killing innocent people, he skips past any regret he might feel to self-serving anger. Diesel plays things frustratingly straight, and the supporting cast doesn't fare much better. Pearce acts like he's keeping one eye on the craft table. Eiza González, playing a similarly advanced former U.S. Navy diver named K.T., slips into the ill-fitting skin of the tough, badass broad. Outlander's Sam Heughan feels out of his depth as a gum-smacking former soldier also enhanced by Rising Spirit Tech, who delights in antagonizing Garrison. In the end, Bloodshot isn't bad enough to be memorable. It's a symptom of an industry that rarely understands the dimensions of a human body, or the beauty that can be found in the violence of an action film.