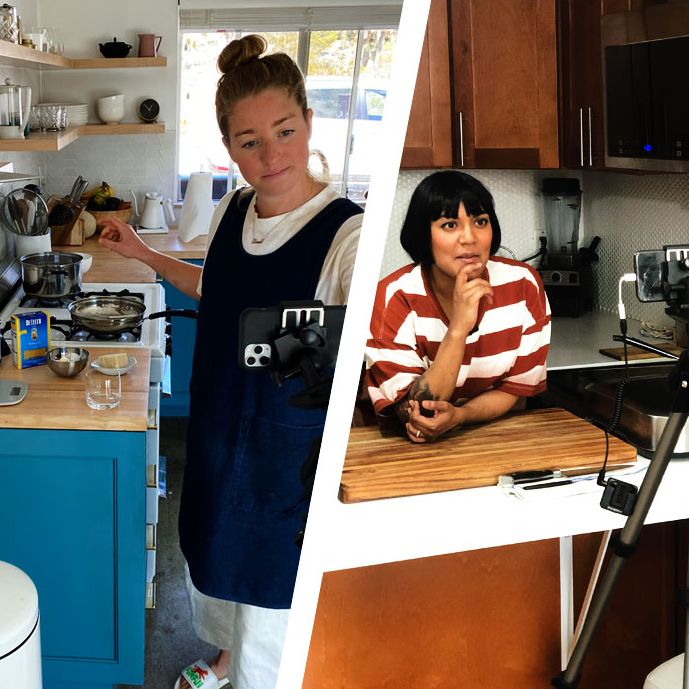 Photo: Courtesy of Conde Nast
There's unreleased "Gourmet Makes" footage sitting somewhere on a hard drive, or maybe in the cloud, at Bon Appétit. Chef Claire Saffitz, the host of the internet cult favorite where she reverse-engineers recipes for junk foods like Sour Patch Kids and Sno Balls, tells me it was almost finished when the team had to abandon their work in the BA offices on March 11 and decamp to their respective homes because of the coronavirus.
"We're trying to figure out if there's some way to wrap up that episode," Saffitz says, via Zoom, from her home on the Upper West Side. "It involves something that's frozen. I had them delivered to my house but they got all melted and soggy because they've been in the freezer for like two weeks." The mysterious make in question? Choco Tacos.
When the test-kitchen team — the Bon Appétit staffers turned YouTube celebrities in their own right — was initially instructed to leave the BA offices at the World Trade Center and work from home, Condé Nast's head of programming, Matt Duckor, thought they'd have more time to figure out a new, socially distanced video strategy. "We actually had a shoot all set to go on Wednesday morning [March 11], we got an email from our CEO on the way into work that morning and ended up working from home that day," Duckor says. They've been remote ever since. "We had a meeting with some senior editors at my apartment on that Thursday," editor-in-chief Adam Rapoport tells me. "What was fascinating, and I think we've all experienced this now, was the plans and ideas we had … by the time Monday rolled around, they were all obsolete."
BA has, according to Duckor, about six to eight weeks of content pre-filmed at any given time, but the team was concerned those videos could feel tonally out of sync with the current global climate. "Knowing that so many people all over the country are home and finding themselves in a similar situation as Brad, Claire, Molly, Sohla, and everybody in the test kitchen, not creating content that feels reflective of that felt like it would be a huge disservice to our fans," Duckor explains. They set to work figuring out how to film videos from the chef's home kitchen. Originally, the team thought they'd be able to send small crews to each house; as the coronavirus pandemic evolved, that morphed into solo shoots with an entirely remote production team. "We ordered 12 little kits to send out to all the talent in their homes or their parents' homes," Duckor says. "A wireless microphone, a couple of tripods. A few different things to ensure we can try to bring the quality up a little bit." The first of the new videos is set to go live on Friday at noon.
The forthcoming corona-era videos should feel familiar to test-kitchen fans, if a little pared down. Some classics, like Test Kitchen Talks, are easier to replicate, since they're effectively just supercuts of the chefs all talking about the same topic, so expect to see those popping up regularly. Some of the simpler serial content will also continue. "It's Alive With Brad" taped its first episode this week. "My kids are running around and yelling and it's a challenge to get everyone calm," Brad Leone said of the first shoot. Nonetheless, he's also already planning future installments: "I think I'm gonna do my own koji. I've got the trays and spores … why not? Start my own miso operation here."
Other series, like "Gourmet Makes," are a little bit harder to replicate in a home setting, since they call for more obscure ingredients — citric acid, anyone? — and kitchen gadgets that most people don't keep around the house. "We're on a little hiatus for the time being," Saffitz says when I ask about the fan favorite series. BA will release some already completed episodes, however, in the coming weeks. "We have a special edition of 'Gourmet Makes' coming out on April 1, which I think people are going to be very excited about," Duckor tells me. "We have a Cadbury egg episode tied to Easter, and we have a tater-tots episode coming out in the beginning of May."
Looking ahead, the strategy is to make videos that meet people where they're at right now. "We felt like people wanted to see as much of the test-kitchen crew as possible, as quickly as possible," Duckor says. "We don't need to build new series and new formats right away in this environment, we can rely on something that people are used to seeing and that translates really nicely to the home."
The new plan sees the chefs not only acting as talent, but also playing the roles of culinary assistants, camera operators, mic technicians, and, of course, dishwashers. Working from an East Village one-bedroom with a dishwasher that is better at taking up space than it is at actually functioning, Sohla El-Waylly says she's enlisted her husband, a fellow chef, to help with that last task. Her kitchen does, however, have a working induction burner, dehydrator, Pacojet, and several Vita-Preps — hand-me-downs from the restaurant she and her husband used to co-own — so she's prepared to cook just about anything. The biggest change, El-Waylly tells me, is "getting used to a lot of talking to yourself."
Earlier this week, I went on a (virtual) set visit to Molly Baz's kitchen — she's retreated from her home in New York to Joshua Tree — where I watched Baz, and a behind-the-scenes production team of seven people connected via Zoom, work through the kinks of doing a job when you all can't be in the same room. When I join the call, I come in midway through an excited conversation about garlic presses. Ben Dewey, the cinematographer, is wearing a sweatshirt that reads "BREAD." Cory Cavin, the video's director, sips from a green glass bottle of celery soda. Tuna, Baz's dachshund, makes a cameo. The test-kitchen folks have apparently become delightful parodies of themselves in isolation.
Baz is shooting footage for three videos. In one, she's explaining her favorite culinary tool du jour, a pair of kitchen shears, for Test Kitchen Talks. She's set up her tripod and phone facing the kitchen island where she's snipping dill and green beans in midair. Before filming each take, she texts a photo of the shot to Dewey, who offers adjustment instructions via Zoom, telling her which way to tilt the camera for a straighter frame. The first go around, the camera slowly slips downward out of the tripod as she films. Baz suggests they use the take but add a "funny caption" in edits that lightly roasts her camera skills. They fix the issue and try it again. "A literal cut," Baz jokes when they finish with the shears. This clip will be edited together with other members of the test kitchen showing off their chosen items.
Next, she's demonstrating how to make a "pantry pasta," a dish you can throw together with items you probably already have at home. This particular one is a modified version of her "adult mac 'n' cheese" tweaked to exclude milk, which she doesn't have on hand. (The BA coronavirus strategy, according to Duckor, relies heavily on dry goods and shelf-stable foods. "We are not leaning on doing concepts that require fresh produce and other things that may be increasingly difficult to get your hands on in the next few weeks.") She's using orzo instead of macaroni, since that was the only remaining type of pasta at her grocery store. It's cool though, since orzo is, Baz forecasts, making a comeback.
For the uninitiated, part of the joy of watching test-kitchen videos is that they don't happen in a vacuum. While one chef is shooting a recipe, another is clanging pots and pans around in the background. They'll often make appearances in each other's content: Alex Delany is known, as demonstrated perfectly by this meme from @meme_appetit (a BA fan account with over a quarter of a million followers) for always being around. "Every time I'm down there [in the test kitchen] I'm like, 'Delany, shouldn't you be doing some work or something and not just talking about coffee beans randomly at 2:30 p.m.?'" Rapoport jokes.
Duckor assures me they have plans to have Delany pop in on his colleagues remotely, and Rapoport says he's looking forward to seeing a "whole ancillary world of secondary characters," like spouses, pets, and children. (Saffitz's cat, Felix, approached the screen to say hello while we talked.) You'll be able to spot Priya Krishna's parents in the videos she's filming from their home in Texas. "I feel like my parents have always been in the background of my videos, but now they kind of get to be the forefront, IRL," Krishna says. "They'll get to see my dad telling these stories about all the various pickles we have in our fridge." Her mom has established a "non-negotiable cocktail hour." "She'll start playing some music and I'll be able to hear it from upstairs. It's sort of my signal that I should wrap up my work," she explains. "She will either open a bottle of wine or make a cocktail. My mother, believe it or not, has an Excel spreadsheet of every bottle of wine we have in the house."
"I think you'll see these videos shot at home still have the same irreverence and approachability and relatability that they do in this fancy 35th floor test kitchen at the World Trade Center," Rapoport says. Coronavirus hasn't just driven the team into their home kitchens, it's driven their viewers to YouTube en masse. In the last week, Bon Appétit has seen two of its biggest single days for watch time so far this year, and video views are up 15 percent since March 17 compared to 2020 averages. Which is to say people are — sorry — hungry for content. The chefs, fortunately, are excited to feed it to them. "We've been really craving dim sum, so tomorrow we're going to do an at home Dim Sum party and make shrimp toast and pork buns and different kinds of soup dumplings and potstickers," El-Waylly says. "We're going to videotape that and it will go on YouTube. They basically want me to just make whatever I want to eat and film it."