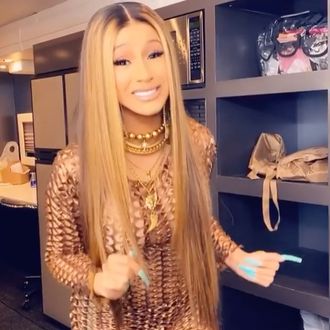 The hit is real.
Photo: Cardi B/Instagram
As you've likely heard by now, Shakespeare wrote King Lear while quarantining during the bubonic plague. In this connected digital age, our wave of COVID-19 quarantine art has already begun, with Cardi B leading the pack. It all began with a little PSA on the rapper's Instagram last week, in which she yells about the threat of a pandemic. "I don't know what the fuck this coronavirus is about!," she exclaims, before wondering about how it came from China to the U.S. "I ain't gonna front: A bitch is scared," she adds. "I'm a little scared, you know what I'm saying? Shit got me panicking." We'd be lying if we said we felt any different. At the end of the video, as she posits that COVID-19 could affect the clothes you buy from China, she speaks in an almost musical cadence. "Guess what bitch, ha ha ha! Coronavirus! Coronavirus!," she yells. "I'm telling you, shit is real! Shit is getting real!"
Then it was off to the races. The DJ iMarkkeyz, known for turning memes into music, remixed Cardi's "vocal" using a beat he had already made. "When people tagged me in that vid, I [was] already chopp[ing] it all together in my head," he told the New York Times. "Shit is real, shit is getting real," the song begins, with the beat going from zero to 100 in a matter of seconds. Every so often, iMarkkeyz cuts in an ominous cough.
The song is charting on iTunes all over the world, currently sitting at No. 9 in the U.S. Video surfaced of the remix playing in a club in Rio de Janeiro (as if we need to tell you — don't go to clubs right now!), which prompted Cardi to tweet, "I might [as] well do a damn music video now." But the kids on TikTok and elsewhere have already gotten a head start on that, making their own clips from both Cardi's initial video and the remix (often wearing masks, which we at Vulture must also not endorse). Even Miley Cyrus and Cody Simpson made a video from their quarantine.
The song has since made it onto Spotify and Apple Music, and Cardi's trying to get herself listed as a feature. She and iMarkkeyz have both said they plan to donate profits from the song, giving you all the more reason to stream. In the meantime, more remixes have popped up, including a recent one by "Lean On" producer DJ Snake. So no, maybe you can't go to the club right now, but you can enjoy the club's hottest new hit from the comfort of your own home.