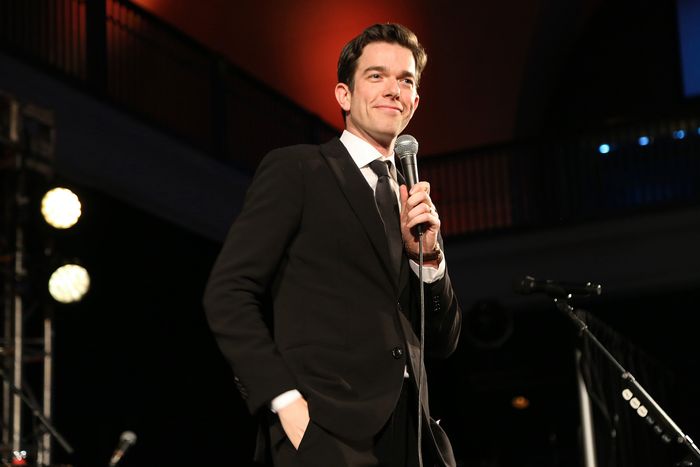 A lot of people like this Mulaney guy.
Photo: Sylvain Gaboury/Patrick McMullan via Getty Image
In the immortal words of the type of people who say things like this, You gotta laugh! Now more than, if you can believe it, ever. The challenge is that most stand-up recommendation stories are built around the taste of the writer, and while that has value critically, what about the tastes of readers? What if you're looking for new comedians to check out who are similar to the very specific ones you already know and love?
That is the goal of this roundup. To do this, we put out a call on Twitter asking people for two comedians they already like. From there, we tried to glean as much as we could from this information. There were a variety of ways the pairs could be analyzed: What did they talk about? How did they talk about it — are they a big performer or understated? What are their tones like — sarcastic, grumpy, hopeful, sweet? From there, we came up with recommendations that either focused on the pairs' similarities, or, in cases where people's picks were actually quite different, we tried to think of suggestions that combined the essential elements the two comedians offered.
We received a ton of responses on Twitter, so we tried our best to narrow it down to pairs that represented a variety of tastes and preferences. For each pair, we gave an "diagnosis" — a brief description of what they represent — as well as a list of both known and up-and-coming recommendations that display similar styles, approaches, or material. And while we did our best to include as many comedy tastes and styles as possible, about half of the requests on Twitter included John Mulaney and someone else, so we let this list reflect that. We hope this helps!
Diagnosis: This is a neat combination, because it suggests an interest in comedians who play with the form of stand-up. Both these comedians are cerebral and sensitive. With Kate, you also get notes of a queer sensibility, especially in terms of parodying performance.
Recommendations: I have to assume anyone who has heard of these people has also watched Bo Burnham's specials, but if not, start there. If you know Kate, you know John Early too, right? There are a lot of comedians John and Kate inspired, so may I suggest looking into Vulture's "Comedians You Will and Should Know" lists of the last few years — there's tons of stuff there (Catherine Cohen, Jaboukie Young-White, etc.). But let me suggest something different. Especially as it relates to fucking with form, this person might also enjoy Kristen Schaal's brilliant 2013 Comedy Central special Live at the Fillmore, which pushes the audience to wonder what is or isn't the show like nothing I've seen before or since. Because of when and where it was released, I feel like it doesn't get enough attention, but it's a masterwork.
Where to Watch/Listen:
Bo Burnham: Make Happy (Netflix)
John Early: The Characters (Netflix)
Kristen Schaal: Live at the Fillmore (Comedy Central Now; Prime Video)
Diagnosis: It's hard because maybe you just like "comedians who are great," but I am going to take it a little bit more literally. I see these names together and it's less about their overlap, but blending their styles. Which means someone who talks about mental illness and their own weaknesses, but with more of Mulaney's polished style. That said, they also both do a lot of scenes where they do the voices of their parents.
Recommendations: It's hard because a lot of the people I might recommend are elsewhere on this list. I think Jenny Slate is the perfect center of the Venn diagram here, for example. Gary Gulman and Beth Stelling, I think, are interesting fits too. But the first person I thought of was actually Aparna Nancherla, because she talks about a lot of the same themes as Bamford, but is more of a straight-ahead joke writer. Two other comedians I'd suggest are Emmy Blotnick and Jo Firestone.
Where to Watch/Listen:
Jenny Slate: Stage Fright (Netflix)
Aparna Nancherla: The Standups (Netflix)
Emmy Blotnick: Party Night (Spotify, Apple Music, Amazon Music)
Jo Firestone: The Hits (Spotify, Apple Music, Amazon Music)
Diagnosis: My first instinct is to say, "Oh, well you like good comedians," as Nate and Jen are two of my absolute favorite stand-ups. But when I look at those names together, a few things jump out at me. For Nate, it's about having an unusual cadence and an undeniable southernness. For Jen, it's about looseness and extreme vulnerability.
Recommendations: The comedian who feels like the closest marriage of the two is Beth Stelling, who has that same ineffable quality Nate has, but with more of Jen's openness. Fortune Feimster is also from the South and shares that willingness to be the butt of stories. Rory Scovel has the southern thing and Jen's freewheelin' style. Here's one last one who I think a lot of people sleep on because he was on the Blue Collar Comedy Tour, but if you like Nate and Jen, I think you'd really enjoy Ron White.
Where to Watch/Listen:
Beth Stelling: The Standups (Netflix)
Fortune Feimster: Sweet & Salty (Netflix)
Rory Scovel: Rory Scovel Tries Stand-Up for the First Time (Netflix)
Ron White: If You Quit Listening, I'll Shut Up (Netflix)
Diagnosis: You like very funny, very deadpan, very heady, fairly short jokes told in a certain cool-guy mood.
Recommendations: I think a person who likes these things might be expecting a certain aesthetic. There are some obvious recommendations like Steven Wright or Dan Mintz or even Tig Notaro, but I think this person might like a more updated version of this, with a more updated version of cool. Hannibal Buress, the Lucas Brothers, and Julio Torres are all fairly well-known, but aren't necessarily associated with this lineage. They are all doing a more contemporary version of what you love so much with Mitch and Todd.
Where to Watch/Listen:
Hannibal Buress: Comedy Camisado (Netflix)
The Lucas Brothers: On Drugs (Netflix)
Julio Torres: My Favorite Shapes (HBO)
Diagnosis: [To the tune of that song where they say "Shots" over and over:] Dads, dads, dads, dads, dads, dads, dads, dads, dads, dads, dads, dads, dads, dads, dads, dads. Seriously, either you like comedy about being a dad or comedy by people who are dads. Ideally, they write good, strong, clean jokes.
Recommendations: A lot of comedians are actually dads, if you can believe it. If so, they all talk about it in their act, at least a little bit. Still, only some are really able to tackle it with the verve and level of craft of Mike and Jim. I feel like a lot of people skipped Ray Romano's recent Netflix special, but it's really, really strong and a great display of his conversational, storytelling style. If you like things on the more storytelling side, like Birbiglia, check out Al Madrigal, who is one of the best at it. If you want someone who leans more on the joke side, Chad Daniels is one of the great unsung American comedians right now, who has some of the best stuff about being a dad out there.
Where to Watch/Listen:
Ray Romano: Right Here, Around the Corner (Netflix)
Al Madrigal: Shrimpin' Ain't Easy (Spotify, Apple Music, Amazon Music)
Chad Daniels: Dad Chaniels (Prime Video)
Diagnosis: It's hard to say exactly what you like since these are two of the most famous, most talented, and most influential comedians ever. But because the palate of their comedy is so vast, there is a lot you might be into.
Recommendations: If you want someone who is operating at the absolute highest level of the form, tackling difficult subjects, and offering unique perspectives, you can't do much better than Roy Wood Jr. If it's mastery you're after, especially as it relates with comfort onstage and dealing with uncertainty, you might also enjoy Jerrod Carmichael, who is maybe the only comedian that can rival Chappelle in terms of using silence. You have to know Neal Brennan, right? Did you know he has a secret special in Netflix's Comedians of the World series? Now, it's possible you like these two for their tendency to push the boundaries of acceptable speech. Since you said two of the most famous comedians, I will suggest two comedians who many consider famous but possibly haven't reached you — Anthony Jeselnik and Jim Jefferies. For a more under-the-radar button pusher, I'd suggest Tim Dillon.
Where to Watch/Listen:
Roy Wood Jr.: No One Loves You (Comedy Central Now; Prime Video)
Jerrod Carmichael: 8 (HBO Now; HBO Go)
Neal Brennan: Comedians of the World (Netflix)
Anthony Jeselnik: Fire in the Maternity Ward (Netflix)
Jim Jefferies: This Is Me Now (Netflix)
Tim Dillon: The Comedy Lineup (Netflix)
Diagnosis: Fun! I see this and I see a person who enjoyed Nanette, but maybe would have wanted more jokes or harder jokes.
Recommendations: Cameron Esposito's Rape Jokes is a really funny and impressive special about sexual assault and making jokes about sexual assault; however, unlike Nanette it's a bit more graceful in how it incorporates its serious and dramatic moments. Stylistically, Daniel Sloss is a lot like Ronny, as they both came up in comedy scenes (the U.K. and Australia, respectively, though they both performed at both) where you're expected to put together a full hour every year, as opposed to working on ten-minute sets at time, and yet both lean toward telling harder-edged jokes that are more often seen in the States. Sloss, however, has created a style where he does about an hour of jokes and then ends with, as he has described it, a TED Talk. His most recent HBO special, X, ends with a powerful section about toxic masculinity and the sexual assault of his best friends.
Where to Watch/Listen:
Cameron Esposito: Rape Jokes (Self-Released)
Daniel Sloss: X (HBO)
Diagnosis: There's a lot to love about these Black-ish co-stars. Both are deft at tackling difficult subjects, especially around race. They are both afraid to get capital-p Political. Wanda is a bit more pointed as a joke writer, while Deon tends to be a bit more absurd.
Recommendations: This is another one where Roy Wood Jr. would fit. Hell, Roy is so good, he'd fit in a lot of these. Aside from Roy, I'd check out Gina Yashere, Cristela Alonzo, Donnell Rawlings, and Ms. Pat  — each have a different mixture of the two. George Wallace, who likely influenced Wanda and Deon, is another comedian adept at blending silly and more issue-oriented material. Though George has had a bit of a renaissance on Twitter, I feel like not enough people know what his stand-up is like. Also, if you haven't checked him out, there's this upcoming guy you might like named Chris Rock.
Where to Watch/Listen:
Roy Wood Jr.: No One Loves You (Comedy Central Now; Prime Video)
Gina Yashere: The Standups (Netflix)
Cristela Alonzo: Lower Classy (Netflix)
Donnell Rawlings: The Degenerates (Netflix)
Ms. Pat: The Degenerates (Netflix)
George Wallace: The Vegas Bootleg (Prime Video)
Chris Rock: Tambourine (Netflix)
Diagnosis: This person explained their reasoning in their tweet: "anyone with a set about grief or suicide." We love a specific request.
Recommendations: As a generally sad person, I love this one. There is a ton of great stand-up that has dealt with loss. Hell, if you google most of your favorite comedians of a certain age, you might find a joke about a parent dying. Tig Notaro comes to mind, as a recent example from a legend. Also, Marc Maron's Netflix special Too Real (not to mention all of his career) is especially death-obsessed. And, of course, Gary Gulman's recent HBO special The Great Depresh and basically everything from the queen, Maria Bamford. I think Daniel Sloss's Dark might be helpful. But a few recommendations of more recent specials are both from HBO: Whitmer Thomas's Golden One and Dan Soder's Son of a Gary, which are partly about the deaths of their mother and father, respectively. Laurie Kilmartin did a special about her dead dad called, appropriately enough, 45 Jokes About My Dead Dad that I can't find online anymore, but you can stream the album.
Where to Watch/Listen:
Tig Notaro: Live (Spotify, Apple Music, Amazon Music)
Marc Maron: Too Real (Netflix)
Gary Gulman: The Great Depresh (HBO)
Maria Bamford: Weakness Is The Brand (Prime Video)
Daniel Sloss: Dark (Netflix)
Whitmer Thomas: The Golden One (HBO Now; HBO Go)
Dan Soder: Son of Gary (HBO Now; HBO Go)
Laurie Kilmartin: 45 Jokes About My Dead Dad (Spotify, Apple Music, Amazon Music)
Diagnosis: Clearly you like jokes. John and Nikki are both very good performers, but they're undeniably great joke writers first. Nikki's ability to think about and write about sex is really unparalleled. So what would it look like for someone who took that but had more of John's style?
Recommendations: I won't lie, we considered putting Jacqueline Novak in a lot of these Mulaney items. They are very different comedians, but how they use language has a similar quality. Maybe it comes from the fact that they went to college together and were on the same improv team. She's here because she has this new hour called Get On Your Knees, which is about blow jobs (but actually much more!) that you, my humble Mulaney and Glaser fan, will absolutely fucking die for. That said, after a long and acclaimed Off Broadway run, she is still planning on touring the show for a bit. Still, she has plenty of material out there that you'll also love. Or maybe what you want is a comedian like Nikki who has an old-timey radio voice like John does. Jacqueline has that covered, but another option for you would be Rachel Feinstein. Rachel and Nikki are best friends, often playing in the same area, but Rachel has that old showbiz voice you clearly love, you old-showbiz-voice freak.
Where to Watch/Listen:
Jacqueline Novak: The Half Hour (Comedy Central Now; Prime Video)
Rachel Feinstein: The Standups (Netflix)
Diagnosis: Jokes. Nice person.
Recommendations: There are plenty of nice comedians who write good jokes, but Josh Gondelman, Ron Funches, and Ryan Hamilton are probably the nicest! I think you would also like Taylor Tomlinson's work, because she is one of the strongest up-and-coming pure joke writers out there, and also, she's nice. Rhea Butcher is another one — a good, nice person with funny, well-written jokes.
Where to Watch/Listen:
Josh Gondelman: Dancing on a Weeknight (Spotify, Apple Music, Amazon Music)
Ron Funches: Giggle Fit (Comedy Central Now; Prime Video)
Ryan Hamilton: Happy Face (Netflix)
Taylor Tomlinson: Quarter-Life Crisis (Netflix)
Rhea Butcher: Butcher (Spotify, Apple Music, Amazon Music)
Diagnosis: It would be easy just to say "the Midwest!" and be done with it, but even though Kyle (Illinois) and Kathleen (Missouri) are from different backgrounds and came up in different times, there are a lot of similarities. Both have this gruffness that covers up something deeper and sweeter.
Recommendations: Jackie Kashian (Wisconsin) feels right here. A great, great comedian, she has a similar charm, with an ability to blend the harder and softer sides of her personality. She is maybe a bit dorkier, but she reminds me of Kyle in her ability to work herself up. Tom Segura (Ohio) has amassed a large fan base, but he also doesn't seem to be on the radar of a lot of people who I think would really like him. Tom has more of Kathleen's slower pacing, but reminds me a little of Kyle in the way he builds a story. Three more gruffies with hearts of gold (none of which are from the Midwest): Shane Torres, Ian Karmel, and David Gborie (who took over for Kyle as the voice of Comedy Central). One last recommendation who has some tonal similarities of Kathleen but with the sort of conspiratorial storytelling of Kyle is Sara Schaefer. She's also not from the Midwest, but I think she'd scratch the same itch.
Where to Watch/Listen:
Jackie Kashian: I Am Not the Hero of this Story (Spotify, Apple Music, Amazon Music)
Tom Segura: Disgraceful (Netflix)
Shane Torres: Comedy Central Stand-Up Presents (Comedy Central Now; Prime Video)
Ian Karmel: The Comedy Lineup (Netflix)
David Gborie: Comedy Central Stand-Up Presents (Comedy Central Now; Prime Video)
Sara Schaefer: Live Laugh Love (Spotify, Apple Music, Amazon Music)
Diagnosis: You love characters. You are especially into it when comedians fully embody the people they're telling stories about and end up telling stories where they're commenting on the action and performing it at the same time.
Recommendations: Have you seen Lil Rel Howery's recent HBO special? Because wow, it is extremely up your alley. Lil Rel is so, so great at this kind of comedy, and Live in Crenshaw features an unbelievably long joke about a family funeral that's a direct homage to an Eddie Murphy set. You should also check out Chris Redd, who combines character-based story jokes with more of a traditional relationships/broad social commentary framework.
Where to Watch/Listen:
Lil Rel Howery: Live From Crenshaw (HBO Now; HBO Max)
Chris Redd: But Here We Are (Spotify, Apple Music, Amazon Music)
Diagnosis: You like joke density with a solid undercurrent of awkward self-conscious tension! There's an awareness of everything terrible and bizarre happening in culture and politics in this vein of comedy, sure, but you like it when a comedian takes that consciousness and then takes some bizarre left turns.
Recommendations: For the "I'm a straight white dude but I completely understand what a strange place that puts me in right now" energy of Mulaney, you should check out Max Silvestri, who does lickety-split runs that often start in some familiar places then end up diving off cliffs of weirdness. But actually, Silvestri's brand of painful, hilarious self-consciousness is closer to Jenny Slate. They are also good friends! For well over a decade, Max has co-hosted the live show Big Terrific with Jenny (and Gabe Liedman), and he often opens for John. You'd also probably love Emily Heller, who approaches her material with a swagger and confidence that makes her insights seem immediately obvious, even when they're also gloriously strange.
Where to Watch/Listen:
Max Silvestri: The Comedy Lineup (Netflix)
Emily Heller: Ice Thickeners (Comedy Central's YouTube)
Diagnosis: You dirty dog, you. Not to slut-comedy shame, but it's clear you like someone who not only openly explores their depravity but relishes it!
Recommendations: There's a ton. Did you know Doug Stanhope's specials are available through Amazon Prime Video? Joey Diaz too. But for some newer, unflinchingly themselves comedians, you might dig Liza Treyger, Yamaneika Saunders, and Jessica Kirson.
Where to Watch/Listen:
Doug Stanhope: No Place Like Home (Prime Video)
Joey Diaz: The Degenerates (Netflix)
Liza Treyger: The Degenerates (Netflix)
Yamaneika Saunders: The Degenerates (Netflix)
Jessica Kirson: Talking to Myself (Comedy Central Now; Prime Video)
Diagnosis: This was an interesting one to imagine the overlap. My first instinct was to start with Patrice's not-giving-a-fuck attitude and self-assurance, but maybe remove, let's say, the misogyny. Michelle is a more pointed joke writer and less of a force-of-nature personality. She is also sillier!
Recommendations: Three comedians came to mind: Sam Jay, Marina Franklin, and Alice Wetterlund. They are different, but all exhibit a certain fearlessness. Sam has been compared to Patrice throughout her career. Marina comes out of the New York club school that Patrice helped define in the aughts, but is a bit more sensitive. Alice is closer to Michelle, but is not afraid to be more radical about her feminism.
Where to Watch/Listen:
Sam Jay: The Comedy Lineup (Netflix)
Marina Franklin: Single Black Female (Prime Video)
Alice Wetterlund: My Mama Is a Human and So Am I (Prime Video)
Diagnosis: I think Ali and Chelsea broadly have a lot in common, but together I think it opens you up to a lot of different types of comedians. They're both smart joke writers while also being dynamic, physical performers. They have fun or silly elements to their acts, but they also have some bite on social issues. They are also both just really cool.
Recommendations: Good news: There are a freaking ton of comedians you might like! Michelle Buteau, Dulcé Sloan, Janelle James, Nicole Byer, Margaret Cho, Katherine Ryan, Solomon Georgio, Joel Kim Booster, and Naomi Ekperigin are all comedians that I think an Ali and Chelsea fan would like, each with a different blend of the above. If you specifically were looking for other comedians who have done specials while pregnant and feel at home with Ali and Chelsea, I'd check out Christine P. and Natasha Leggero. Leggero's husband Moshe Kasher, whom she did a special with, also has a style somewhere between Ali and Chelsea. One more who comes to mind is Joe Mande, especially if you're attracted to Chelsea and Ali's sardonic nature. Okay, here is one maybe unexpected last one: Bob the Drag Queen, the comedy queen who won RuPaul's Drag Race season eight, has a stand-up special you might enjoy. If that's not enough, may I suggest the 2 Dope Queens specials? You have a lot!
Where to Watch/Listen:
Michelle Buteau: The Comedy Lineup (Netflix)
Dulcé Sloan: Comedy Central Stand-Up Presents (Comedy Central Now; Prime Video)
Janelle James: The Comedy Lineup (Netflix)
Nicole Byer: Comedians of the World (Netflix)
Margaret Cho: Psycho (Prime Video)
Katherine Ryan: Glitter Room (Netflix)
Solomon Georgio: Comedy Central Stand-Up Presents (Comedy Central Now; Prime Video)
Joel Kim Booster: Comedy Central Stand-Up Presents (Comedy Central Now; Prime Video)
Naomi Ekperigin: The Half Hour (Comedy Central Now; Prime Video)
Natasha Leggero: The Honeymoon Stand Up Special (Netflix)
Moshe Kasher: The Honeymoon Stand Up Special (Netflix)
Joe Mande: Joe Mande's Award Winning Stand-Up Special (Netflix)
Bob the Drag Queen: Suspiciously Large Woman (Prime Video)
2 Dope Queens: (HBO Now; HBO Max)