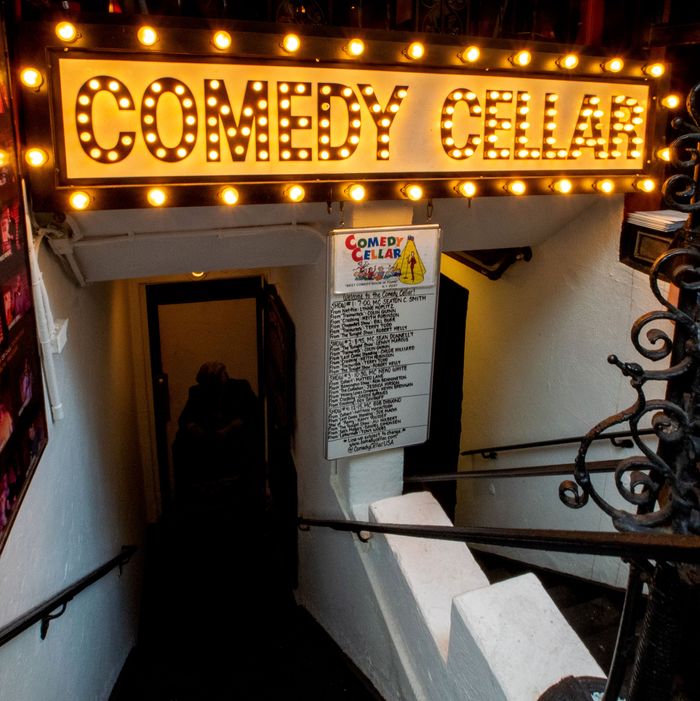 The Comedy Cellar in New York: still open!
Photo: Ajay Suresh/Wiki
As Broadway goes dark and Hollywood shutters productions due to the coronavirus, comedy theaters and clubs across the nation are facing a complicated choice: Stay open at a time when America badly needs jokes and potentially risk further spread, or close and face a financial hardship few venues can afford to weather. "It feels like everybody is experiencing this at the same time, so either something has to be done or it's just catastrophe," Aaron Nevins, owner of the Good Good Comedy Theater in Philadelphia, tells Vulture. "It's hard to blindly have faith, but you kind of have to at this point." We called around to find out who is doing what, and we'll continue to update this list as we get more information.
The Bell House
Closed. According to their website, all shows have been canceled or postponed, and as of March 17 NYC is mandating all venues close. Advice for ticket-holders is posted on their website.
Broadway Comedy Club and Greenwich Village Comedy Club
Closed. According to their website, the club closed at 8 p.m. on March 16th, per the New York State executive order. Prior to that, on March 13, a statement on their website read: "Broadway Comedy Club and Greenwich Village Comedy Club are still open nightly! With our current show capacities reduced by NYC Mandate by 50 percent for the next 30 days, our audience members get to experience a great Stand Up Comedy show while keeping recommended social distance. Smaller audiences also make for more intimate comedy experiences! Our already immaculately clean clubs, which have excellent 'A' ratings from the City Department of Health, are also being extra sanitized and cleaned to make sure every show is full of good, clean fun … Even if the comedy isn't. Come on out to a show and let laughter be your best medicine!"
Brooklyn Comedy Collective
Closed, per a statement on their website: "We are temporarily closing down shows and classes thru March 29 in order to prioritize the health and safety of everyone in our community and do our part to halt the spread of COVID-19 transmission. All students in current classes will be notified of makeup dates and ticket-holders will receive refunds. We hope to resume operations on March 29 but will of course be monitoring the situation and following recommended guidelines from NYC authorities and the CDC. Thank you for your understanding and wash your hands!"
Caroline's on Broadway
Closed. In a statement posted to their website on March 17, the club announced, "Effective immediately, Carolines is temporarily closed. As of now, there will be no shows at Carolines through April 12." In a conversation with Vulture, Caroline's said they're leaving cancellations up to the comedians but intend to remain open. Prior to this, the club had taken extra precautions including spacing patrons out and extra cleaning and said they were letting performers and producers cancel shows.
Caveat
Closed, but livestreaming shows through their YouTube channel.
The Comedy Cellar
Closed. On March 12, a person who answered the phone at the Cellar said their shows were going forward as "regularly scheduled at all locations," with owner Noam Dworman clarifying in an email, "We'll be at half occupancy." Since then New York has ordered all bars, restaurants, and small venues closed.
The Creek and the Cave
Closed. The bar and club areas closed on March 16 per the governor's orders. Prior to this, on March 13, Rebecca Trent told Vulture the venue was working to keep things clean. "We're basically Lysol-ing the place down, and being forgiving if performers say they don't want to come in." She noted the venue allows for distance between audience members.
Eastville Comedy Club
Closed. A statement on their website reads "*WE'RE CLOSED TEMPORARILY* (Following the Governor's mandate for safety. See you all soon!)" Prior to the mandate on March 13, the person who answered the phone told Vulture they were "open as usual."
Gotham Comedy Club
Closed. The club has a notice on their website they will be closed until further notice. In a phone call on March 13, the club confirmed they were fully open with no cancellations.
Littlefield
Closed. They have not made an official announcement, but several shows have been postponed and the city announced all venues would have to close as of March 17. Prior to this, according to a statement on their website: "As of now, shows are going on as planned unless they have been postponed. If you purchased tickets to a show that has been rescheduled, we will notify you and honor your tickets for a future date."
The Magnet
Closed. In a statement, the comedy theater wrote that "all Magnet Classes, rentals, shows, and the New York Musical Improv Festival will be postponed. The Training Center and Theater will be closed effective immediately."
New York Comedy Club
Closed. Late in the evening on March 16, they posted a statement on their website that they would be closed but releasing digital content. "We also know that as many people self-isolate, work from home or are quarantined, a good laugh will be more valuable than ever. While we all forgo live entertainment, NYCC will continue to provide comedy and community digitally throughout. In addition, we will be rolling out NYCC Premium Access digital content through the shutdown." Prior to this the club remained open but was taking extra precautions, according to a statement. "As a small venue, our current guidance is to limit capacity and increase space between customers rather than to close, so we continue to remain open with regular programming unless health guidelines are revised further."
The PIT
Closed. Through an email sent to the community, the theater announced it would shut down all shows and classes through March 31: "Representatives from our respective departments will be reaching out to the appropriate parties regarding show/class/event rescheduling, tickets, etc. We thank you in advance for your patience as we work through these things in as timely a manner as possible"
QED Astoria
Closed. Per a statement on Twitter, owner Kambri Crews announced the venue would close: "I've made the decision to temporarily close QED, starting tonight March 14 through at least March 30 — we'll then take things on a week-by-week basis. Simply put, QED is my life. But I don't want to endanger the community I hold so dear." They are also accepting donations.
The Stand
Closed. On March 18, the venue announced they had had to lay off their entire staff in a post on Facebook: "Unfortunately we had to inform our staff both old and new that the New York mandate to close bars and restaurants meant there would be no work for them and we would have to let them go." The venue announced they would be closed the night of March 15 via Twitter, and as NYC will move to close all bars, clubs, and venues this week, it's likely they'll remain closed. Prior to that, in a statement sent out to customers via email they announced their intention to remain open, the club said: "Throughout the day and after each show we are sanitizing all tables, chairs, menus and all other touch points. All of our work stations are stocked with hand sanitizer, disinfecting wipes, hand soap, tissues. Our staff members will be thoroughly washing their hands throughout the day, as well. We encourage all guests to also perform extra hand washing throughout their day, including during their time at our venue. When selecting seats, give thought to leaving seats between you and the other selected seats. This is part of social distancing that has been recommended by the CDC. We have instructed any employees who are feeling ill or showing any potential symptoms to remain home. We strongly recommend that you do the same and we will offer a credit to a future show if you cannot attend due to illness. Please contact us directly if you have any specific questions about the need to have an credit issued. The health and safety of our staff and guests is our top priority and we look forward to continuing to see you at our Shows."
Stand Up NY
Closed, but live-streaming shows via their website.
Upright Citizens Brigade (Hell's Kitchen and SubCulture)
Closed. UCB shut down its theaters on both coasts, as well as its training centers, indefinitely. Most of its staff were laid off on March 17.
The Comedy Store
Closed. As of March 13, a statement on their website advised that they were suspending performances through the end of the month. Prior to that, the club had announced the Main Room and the Belly Room would be closed through the end of March, per a statement on their website.
Dynasty Typewriter
Closed. In a statement delivered via email: "Like so many other places, we have decided to close our doors for public shows until further notice. But we will persevere! AND SO WILL YOU! Please take care of yourself and your loved ones, make those difficult calls in the name of safety and health knowing that it's truly for the good of humanity, and remember that at some point in the not-so-distant future we'll all be looking around, hugging each other, and impressed that we were able to flarpin' overcome."
The Groundlings
Closed. Per a statement on their website: "Following the advice of local health officials, we have decided to cancel all shows at The Groundlings Theatre through March 31."
Hollywood Improv
Closed. An automated message informs callers to the box office that "from now until the end of March, Improv will remain closed."
Largo at the Coronet
Closed, announced via a meme (?!) that all shows through March 20 have been postponed and tickets will be honored for the new show dates: "To all of our friends, We are taking seriously the advice of California State government health professionals by closing our doors for the next week. At that point we will reassess the situation and make further decisions based on the latest understanding of the health scene. Even with halving our capacity down to 130 or so, and continuing our fastidious cleaning and disinfecting regimen of late we cannot assure a six foot circle around each patron — a scenario that doesn't sound like much of a fun night anyhow."
The Laugh Factory
Closed at all locations until further notice, per a statement issued on Facebook March 15. Prior to that, the club had issued a statement on their website that they were canceling some shows to allow time for cleaning, and limiting crowd size to 200 guests. "We also highly recommend that all staff & patrons follow the CDC guidelines, including regularly & often washing hands with soaps for at least 20 seconds. We also provide Hand sanitizers stations and welcome you to use them. Should someone be feeling under the weather or showing any symptoms of the disease, we recommend you to not attend the show."
Lyric Hyperion
Closed. Per a statement on their website: "It's with a heavy heart that The Lyric Hyperion Theatre has decided to go dark between now and the end of March due to growing concerns and California Department of Public Health advisories about the Coronavirus (COVID-19). However, the cafe will remain open with limited hours until further notice with reduced hours and an intensified strategy towards cleanliness and disinfection." They are also asking the public for donations.
The Ruby
Closed. In an email to Vulture, co-founder Lindsey Barrow wrote, "We have cancelled ticket sales for shows but have given the performers the option to stream their shows if they would like. We've also moved our writing classes to a virtual online classroom and postponed our improv classes."
Upright Citizens Brigade (Sunset and Franklin)
Closed. UCB shut down its theaters on both coasts, as well as its training centers, indefinitely. Most of its staff were laid off on March 17.
The Backline (Omaha, NE)
Closed. As of March 14 the club announced they were livestream only. Prior to that, in an email to Vulture on March 13, Backline explained: "Right now our plan is to have tonight be our last night of public shows and experiment with livestreaming. We will send the link out for free but asking for donations. If people give for a specific show and mention it when they pay day of the show, the show will get 50 percent so artists can still make a little cash and we can survive long enough to someday open our doors again."
Cap City (Austin, TX)
Closed. As or March 16, a statement on their website reads: "We ask for your patience while our team handles the repercussions of this unprecedented situation. The health of our patrons, staff, and artists is always of paramount importance! With that in mind, we will not be open for night time events through march 31st. If you have purchased tickets for a canceled show, you will receive a full refund." Prior to that they had planned to try and remain open, writing on their website: "As of this week our shows will be going on as planned. We will regularly update our website with any changes. The safety and health of our audiences, staff and artists have always been of paramount importance to us. We are following all recommended guidelines and we are well under the capacity limits set by the City of Austin."
Comedy Club on State (Madison, WI)
Closed. On March 13, the club issues a statement that they would remain closed until March 24 due to a county directive. Previously they'd announced on their website: "In order to ensure the safety of out staff, patrons & comedians we will be closed Wednesday, March 18–Saturday, March 21st. We hope everyone stays safe and healthy!"
Cheaper Than Therapy (San Francisco, CA)
Closed. Per their website: "In line with the directives from the state of California, we are unfortunately canceling all shows this weekend. This wasn't an easy choice: we run a small business and love performing for you. But this is the right call to ensure everyone's safety. We will continue to evaluate the situation each week and proceed according to guidance from the city and state."
Comedy Works (Denver, CO)
Closed. A statement on their website posted on March 16 announced that "For the safety of our guests, comedians & staff we have decided to temporarily shut down until further notice. Please check our website for updates. We'll be back soon! Please wash your hand and keep Laughing !" Earlier we'd reached out to them for further information and were still awaiting a response.
The DC Improv
Closed. Per a March 16 statement on Facebook: "The last two weeks have been a nightmare with the last two days putting the nail in the coffin. Here's the other side to the quarantine. Today I had to lay off almost my entire staff (50 people). Their worlds have been rocked and lives are forever changed. The DC Improv is closed for who knows how long. I have no idea if my business will be able to weather this storm and reopen. I have had to make some of the most difficult decisions of my life all while trying to keep it together and handle the anxiety of our customers and staff. I have never been so sad in my life. My heart breaks for all of my employees who I cannot help as I try to salvage the business I devoted close to 22 years to. I am grateful to the comedians who performed at the club this past weekend to give just a bit of relief to us during this chaos. I'm a survivor and have been through a lot in my life. I will do whatever I can to try to get through this with the goal of getting my crew back together again as soon as possible. This has been devastating but the one thing I know is that we need comedy more than ever."
Funny Bone
Closed. The chain of comedy clubs posted on March 16, via Twitter, that "all shows scheduled from March 17th through May 4th, 2020 will be cancelled and all charges refunded." Prior to that, they had posted a notice to Twitter that they were suspending their cancellation policy through April 3, but that they were also engaging in sanitization efforts and encouraging employees to stay home if ill.
Good Good Comedy Theater (Philadelphia, PA)
Closed. Per their statement on Twitter: "Shows tonight & this weekend are canceled. Ticket holders have been refunded. Going forward, we're taking things on a week-to-week basis as we await further developments regarding the COVID-19 pandemic. Be safe! We'll see you as soon as the earth is inhabitable again!"
Go! Comedy Improv Theater (Ferndale, MI)
Closed. In a conversation with Vulture, owner P.J. Jacokes clarified: "We actually just made the decision that tonight is it. Our local schools are closed through April 6th, so we're using that as our start date, but it's hard to know if that's remotely accurate. There were lots of 'sparks.' Everyone's health is paramount. Shutting our doors means that everyone that works here stops getting paid. It's a horrible position to be in to protect people while taking away their income, mine included, but it's the right thing to do. Plus, it's a state of emergency. This is all so weird."
Helium Comedy Club (Portland, OR)
Closed. Per a statement on Twitter: "Due to recent city & state restrictions, all shows this weekend have been canceled. All ticket holders will receive a refund. We apologize for any inconvenience but believe this is the best option to keep our patrons, staff, & comedians safe & healthy."
Improv (Brea, Irvine, Ontario, Oxnard, Pittsburgh, San Jose, West Nyack)
Closed. An automated message informs callers to the box office that "from now until the end of March, Improv will remain closed."
Improv (Chicago, IL)
Closed. The club issued a statement on their website over the weekend that they would be closed through the end of March. Prior to that, the person who answered the phone told Vulture it was "business as usual."
Improv (Raleigh, NC)
Closed. The club issued a statement on their website over the weekend that they would be closed through the end of March. Prior to that, they had not issued any statements.
Laughing Skull (Atlanta, GA)
Closed. On March 22 the club began soliciting donations. Previously on March 16 the club posted on Facebook they were making the decision to "temporarily stop all shows." They had earlier issued a (now deleted) statement on their Facebook page that they are remaining open but are "taking precautions by wiping down chairs, tables, and other heavy touch surfaces before every show. Our staff and comedians are also required to wash their hands regularly throughout the evening."
Zanies (Chicago and Rosemont, IL)
Closed. In an email update to Vulture on March 15, Zanies notified us that their Chicago and Rosemont locations would be closed through March 30. Prior to that, in a phone conversation with Vulture, publicist Rick Gieser stated they have no plans to close. "As of right now, we are open and we intend to remain open. Last night we had shows at both clubs and they were near sell-out. We have shows tonight in both locations and they are near sell-out. People seem interested here in going out still, so we would like to be able to provide them an opportunity to go out and be entertained." He went on to detail the steps the club is taking to ensure a good experience for customers, from providing more space between patrons, hand sanitizer, and disinfectant wipes upon request. Gieser also noted the clubs have employed an outside cleaning service to sanitize the facilities during the day.
Zanies (Nashville, TN)
Closed. In a statement on their website and Twitter on March 16, the club announced they would be "closed until further notice."
We're committed to keeping our readers informed.
We've removed our paywall from essential coronavirus news stories. Become a subscriber to support our journalists. Subscribe now.