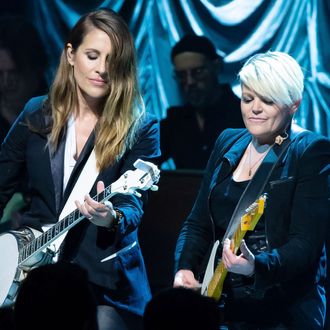 The titular chicks.
Photo: Suzanne Cordeiro/Shutterstock/Suzanne Cordeiro/Shutterstock
You don't need us to tell you again about how much we like the Dixie Chicks' new barn burner (and bed burner) "Gaslighter," their first official single in 14 years. We're not alone either: The single is behind only Demi Lovato's "I Love Me" on the iTunes Top Songs chart at the time of writing. Along with the music video's release, the group announced that their album of the same name will be out in May. On Friday, the band — Natalie Maines, Emily Strayer, and Martie Maguire — were featured in a cover story for Allure, in which they look back on their careers, the industry, and their dynamic with each other as a band. The one thing they didn't talk about, the article notes, is the new album Gaslighter itself, "due to ongoing legal disputes." But what, exactly, are these ongoing legal disputes?
It appears that they mainly have to do with the probable subject of the song, lead singer Natalie Maines's ex-husband, actor Adrian Pasdar. Amid divorce proceedings in August 2019, Pasdar requested that the judge give him access to hold all of Maines's unreleased music, arguing that any content or lyrics about him, their marriage, and their breakup could breach the confidentiality clause in their prenup. However, Taste of Country noted that the Heroes actor had previously suggested in the divorce proceedings, when arguing that he was entitled to financial support from Maines, that the prenup was invalid. Which one is it, Nathan Petrelli? The divorce was finalized on December 19, and in that light, "Gaslighter" is all the more potent a breakup anthem, including lyrics that seem specific to Maines's marriage, with references to moving to California, Hollywood, and "acting all above it when our friends divorced." Gaslighter's track list still hasn't been announced, but Allure revealed that the album "is partly the musical autobiography of the dismantling of [Maines's] marriage." On May 1, the Dixie Chicks' music won't be held hostage any longer.