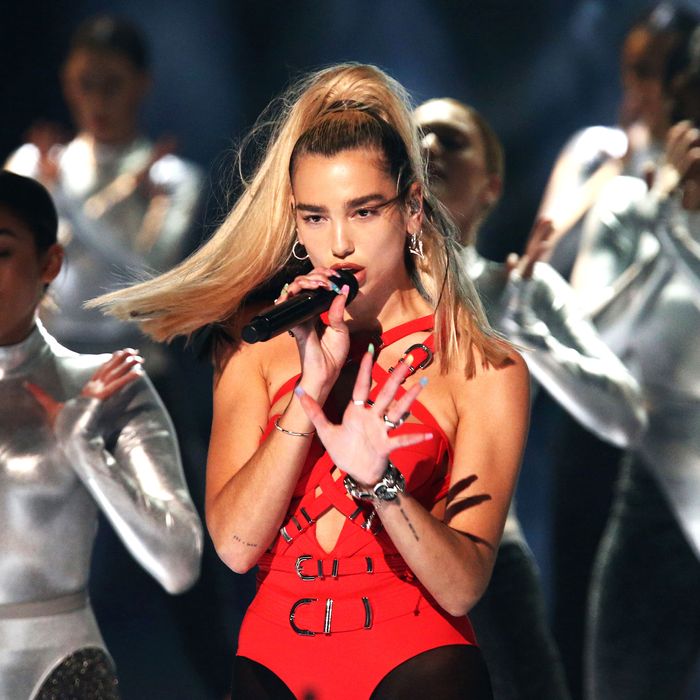 With
Future Nostalgia
, Dua Lipa easily beats both the Best New Artist curse and sophomore slump.
Photo: Tommaso Boddi/WireImage
The Grammy for Best New Artist is something of a curse. It's keen on capturing artists in a breakout year but not so good at guessing what happens next. For every good call — like the Beatles winning in 1965, or Mariah Carey in 1991, or Adele in 2009 — there's another that veers left. Betting on the conscious hip-hop collective Arrested Development after the 1992 smashes "People Everyday" and "Tennessee" was smart; there was no way to tell there weren't any more big hits in the well. Lauryn Hill was a sure bet in 1999, but we still haven't seen a sequel to Miseducation over 20 years later. The logic in picking Evanescence over 50 Cent in 2004 proved shaky in just three years. Fun won in 2013 and went on hiatus. Megan Trainor was recognized in 2016 but has yet to top the run of ubiquitous singles from her debut album Title.
Dua Lipa, 2019's Best New Artist, is playing the long game. Born in London to parents who emigrated from Kosovo before the war in the '90s, the singer-songwriter grew up determined to pursue a career in music. Lipa left home alone at 15 to seek out opportunities in London, a few years after a job offer brought the family back to the Kosovar capital of Pristina. She shacked up with a friend and made smart use of developments in streaming and social media, posting videos of herself performing covers of her favorite artists. (You can see raw talent in old footage of Lipa singing "Say My Name" by Destiny's Child and "No One" by Alicia Keys.) Assembling a makeshift family miles away from her biological one, while grinding in the service industry for work, gave Dua Lipa a message about friendship and perseverance that bleeds into her writing and glossy videos. Studying pop, dance, and rap music gave her a natural ear for hits.
2017's Dua Lipa came on like a tropical depression, building slowly to a tipping point where no one could escape the winds. "New Rules" and "IDGAF" rank among the most ecstatic kiss-off records in an era that produced haymakers like Rihanna's "Needed Me" and Beyoncé's "Sorry." Lipa is flanked in her videos by a detail of women standing in solidarity against whatever lonesome beau blew his chance. The sentiment has resonated powerfully. "New Rules" is only the second song by a woman to crack a billion streams on Spotify. Dua Lipa is the only woman listed in the service's top 20 most-streamed songs of all time. She won her Grammy over a formidable crop of nominees including newly minted country-radio star Luke Combs; Bebe Rexha, whose Florida Georgia Line collab "Meant to Be" topped Billboard's Hot Country Songs chart for a year; and gifted singer-songwriters like H.E.R. and Margo Price. Dua Lipa hasn't taken this windfall for granted. Work on a sophomore album began during the tour for the self-titled debut.
This week's Future Nostalgia is fair notice that Dua Lipa's no one-album wonder. Like the Weeknd's New Wave and synth-pop throwback After Hours, Nostalgia plays with sounds and samples from different eras but rarely falls prey to kitsch or hero worship. The building materials are familiar, but mixed and matched, they make new, slick, postmodern sound collages. The single "Physical" pairs a somber synth-pop groove with lyrics that nod to Olivia Newton-John's MOR workout anthem of the same name and a chorus whose melody carries more than a passing resemblance to Patti LaBelle's "New Attitude." "Love Again" mixes '70s disco strings, 21st-century nu-disco production, and a bit of "Your Woman," British-Indian artist White Town's Marxist alt-dance hit from 1997. "Break My Heart" recasts the memorable riff from INXS's "I Need You Tonight" as rubbery bass; "Levitate" revels in funky guitars, handclaps, and talk-box vocals.
This mix of multigenerational points of reference and modern sensibilities is a result of smart planning. Alongside the first album's wingman Stephen "Koz" Kozmeniuk, Nostalgia's long list of collaborators includes Stuart Price, who notably produced the majority of Confessions on a Dance Floor, Madonna's stellar middle-aughts love letter to house music; hip-hop regulars Jeff Bhasker and Take a Daytrip; and pop hit-makers Tove Lo, Julia Michaels, and Justin Tranter. Together, they attempt to make a timeless record by touching every demographic. When they're not bogged down by the obviousness of their influences, they make a reasonable pass at scoring one of the best pop albums of the young year.
Future Nostalgia calls its shot in the title track, which name-checks John Lautner, American inventor of the Googie style of architecture, a brand of space-age futurism — think The Jetsons — that scans to modern eyes as both iconic and specific to the mid-20th-century past. (Get it? "Future nostalgia"?) It's bold to promise your album will have legs in the first 30 seconds, but if you follow pop fans and frequented pop-friendly establishments since last fall's release of the killer lead single "Don't Start Now," you've been living with this music for months already. The songs are all sturdy; they have to be when the predecessors to this sound are transatlantic dance-pop titans like Kylie Minogue and Madonna.
As a writer, Dua Lipa is a straight shooter. Lautner line aside, Future Nostalgia is instantly accessible, a volley of tunes about falling for someone or kicking someone else to the curb. Fans of "New Rules" will delight in the snooty glee and self-sufficiency of "Don't Start Now" and "Good in Bed," a song about a physical attraction to a hot idiot that recalls the plaintive vocal and dismissive lyrics of Lily Allen's "Smile." The songs about crushes are euphoric. "Cool" is a worthy successor to the cheery Jonas Brothers and Gwen Stefani songs it shares its name with. "Levitating" and "Pretty Please" are flurries of pickup lines the singer knocks out of the park by conjuring anxiousness and sexual tension in her vocal delivery.
Album closer "Boys Will Be Boys" is the purest expression of everything Dua Lipa has been saying about feminism in her music and in public speeches like her 2019 talk at Cambridge University on the value and contributions of women in music or the quip in her Grammy acceptance speech directed at the former Recording Academy president Neil Portnow, who said women need to "step up" if they want fairer representation at award shows. "Boys Will Be Boys" voices experiences men don't worry about, the fear of walking home alone at night, the frustration of being talked over and treated as intellectual lessers, and the burden of hiding these discomforts. At the end of a record that delivers a second serving of the light, curt, breezy tunes that catapulted Dua Lipa to international notoriety, "Boys Will Be Boys" says she's only scratched the surface of what she's capable of.