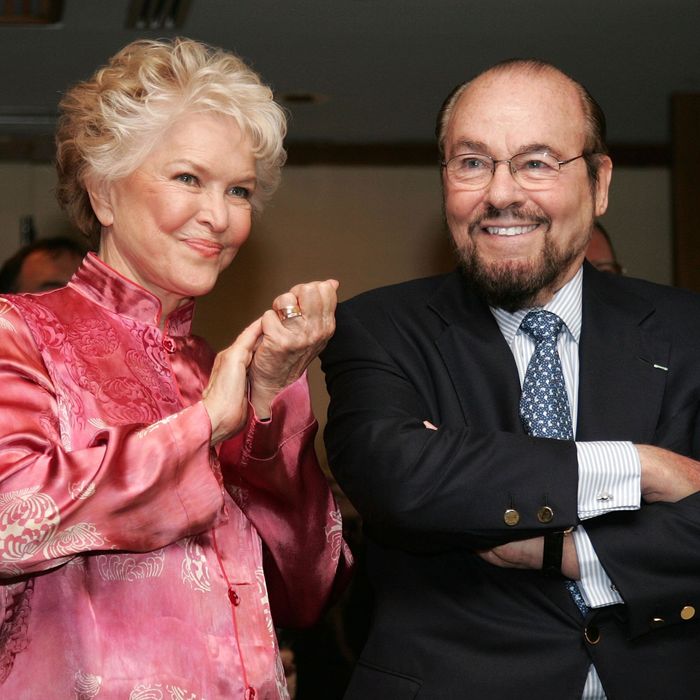 Ellen Burstyn with James Lipton.
Photo: Bryan Bedder/Getty Images
James Lipton, who died this month at 93, was a true renaissance man, working variously as an actor, writer, director, dancer, and bordello manager before settling into his long-standing association with The Actors Studio, a membership organization dedicated to the development of actors, playwrights, and directors. Lipton joined the studio in 1992, then went on to become a board member and create the studio's first master's degree program, which included interviews with accomplished actors and other artists that discussed their craft in detail and invited questions from students in the audience. Starting in 1994, these talks aired on Bravo under the title Inside the Actors Studio, with Lipton as host and executive producer.
Lipton's probing, cheerful demeanor, quick wit, penetrating questions and exhaustive research made him a star in his own right, as well as the object of parodies on Saturday Night Live, The Simpsons, and Mr. Show. The program's 24-year run with Lipton at the helm ended in 2018 with his retirement; it now airs on Ovation, with guest hosts replacing Lipton in the interviewer's chair.
I spoke with Actors Studio co-president and acclaimed actress Ellen Burstyn about her long friendship with Lipton — "Jim" to those who knew him best — from his pre-studio gigs through his two-plus decades as TV's most famous acting teacher. "There were many, many sides to him," she says. "To know Jim was to constantly encounter more."
Do you remember the first time you met James Lipton?
It was at the Actors Studio. I was familiar with him already because I had his book on my shelf, An Exaltation of Larks. It's a book that gives the plural word for groups of things. Not one or two, but a whole group.
Like a murder of crows?
Yes. And for larks, it's an exaltation. And so on.
Then Jim came to the Actors Studio to the playwrights and directors unit, and we met. Then we filled out the board and invited Jim to be on it. Now, you see, when [Actors Studio director] Lee Strasberg was around, he really was the board. A few of us, like Paul Newman and Shelley Winters, were on the board, but the decisions were made by Lee, and we were a cheerleading team. If we wanted something and Lee said no, then it was a no.
Well, one of the big topics in the period following Lee's death was the financial responsibility of the studio, because Lee had always taken care of that. None of us had ever had to think about how to maintain it, even though the studio was free to its members, because Lee had friends whose donations kept it alive. Occasionally we did a gala, but on the whole, money was never something the board was responsible for. But now we were.
Then Jim came up with the idea that we have a master's degree program. He said, "You know, many ballet companies will have the company, and then they'll also have a school, which supports the company and trains future members, ensuring that the organization continues over time." We thought that was a good idea, so Jim went and sold it to the New School, and then Jim and Paul Newman and myself and Arthur Penn and some other members of the board went to work on the idea. Once we got it together, Jim became the dean of the program for the New School.
How did Inside the Actors Studio come out of all this?
The original idea was that we would start having master classes featuring some of our well-known members, who could come in and be interviewed by Jim. Somewhere along the way, somebody, probably Jim, said, "I think we should be taping these." And then once we were taping them, Jim said, "I think we should put these on the air." And so, Inside the Actors Studio was formed and sold to Bravo. It became a very successful source of support for us and made us better known for people outside of theater.
What role did Jim's interviewing style play in the success of the show?
He was so wonderful as an interviewer that we quickly found that people all over the business wanted to be on the show. They loved bantering with Jim. But more than that, they loved focusing on their craft. That was the most important thing, don't you think?
Absolutely. It set him apart from everyone else who interviewed actors. Other people's questions tended to focus on funny stories about being on-set, rumors about whom they were dating, that kind of thing.
That's right. This show wasn't a gossip show. It was actually about the craft of acting, a discussion of technique with trained actors. And that was something that, until that point, hadn't had a national platform.
What was the public response?
It was so positive that the show became the backbone of our support for the next 20 years. Jim remained as dean for ten years when we were at New School, and then we transferred to Pace University, and after being dean for several years there, he decided he didn't want to do it anymore and preferred to concentrate on the show.
What was it like getting to know him over the course of several decades?
He was a wonderfully interesting, unusual person. He was very funny, very droll, and very erudite. He was knowledgeable not just about the theater but about a great many things. I had originally brought him into the studio as a writer. Then I discovered that he was an actor, too. And then I found out he had studied dance and had even been a ballet dancer. And then I found out he had been the producer of Jimmy Carter's inauguration special. He wrote another book, this one about the show, called Inside Inside.
How else did Jim surprise you?
There are so many examples I could give you, but one that stands out is the time I was visiting him and his wife at their home in East Hampton, and he said, "I'm going to the stables, do you want to come with me?" And I said, "Sure." I had owned a horse in the past, so I was very interested, but I didn't anticipate that Jim would turn out to be a truly expert horseman. [Laughs.] He was expert at so many things.
On the 200th-episode special, when he was the guest and Dave Chappelle was the host, he revealed that after he got out of the Air Force, he managed a bordello in Paris. Did he ever talk to you about that experience?
No. But you also have to remember that Jim was a performer. He had a rather fanciful sense of humor and a colorful way of telling a story in order to make it more entertaining.
Are you suggesting that Jim's account of this period in his life was embellished?
I can't attest to his bordello years. [Laughs.] There were many, many sides to him. To know Jim was to constantly encounter more.
I guess I shoudn't be surprised to learn that the information on those blue cards that he was famous for carrying onstage were researched and written entirely by him, not by a staff or by backstage pre-interviewers, as is usually the case with talk show hosts.
That's right. And that's one of the reasons he was so easy for guests to talk to — he had personally done the research.
You are also a person who does a lot of research before an interview — as I discovered last year when I interviewed you and ended up being interviewed by you — so I wonder if you can speak to the difference between doing your own research versus having someone else do it?
Oh, my God, it's hugely different. There are things that might interest you because your research uncovered something that sparked your curiosity or inspired you or tickled your fancy, and it's those pieces of information that lead to a memorable interview. It's so very different from just going into an interview with a list of facts about a person. Doing your own research allows you to really go into a question and follow it up. It gives you a deeper understanding of who the subject is, and a wider playing field in talking to them. And it's so much more interesting than just going down a list of facts, asking a question, getting an answer, and moving on to the next fact.
What's your favorite interview that Jim did for the show?
It's hard to choose. Robin Williams, for sure. I was in the audience for that one. It was truly amazing.
How did it amaze you?
First of all, Robin Williams was such an extraordinary talent. That thing where he took the ladies' stole, and he improv'd with it? That was extraordinary.
When I interviewed Tracy Morgan for the Vulture Festival a couple of years ago — another brilliant comedian with a mind that's all over the place — I thought of James Lipton interviewing Robin Williams, because he was so much better in that situation than I was. I wanted to give the conversation a semblance of shape, but it was trying to fit a tornado into a Tupperware container. 
You're probably being hard on yourself. How long was your interview?
About an hour.
Well, you know, Jim had several hours of footage to work with in each interview — sometimes more, in the case of somebody like Robin — and then he edited it down. That might be where the sense of shape came from. The final product was shaped by Jim and expressed who he was. He produced the show, he directed it, he wrote it, he performed it, and he oversaw the editing.
The one thing he did get criticized for was being too chummy and flattering. What do you think about that? Is there a possibility that, as deep as he got with his subjects, he might have gotten even deeper if he'd been more critical or adversarial, or spent more time on failures?
I think people opened up to Jim because they didn't feel they were in danger. I don't know if he would have gotten the results he got if he'd gone into the failures of their lives or work. It might have closed them down.
Can you name a quality that Jim had as both an interviewer and a person that stood him apart from everyone else?
His memory. He had a fabulous memory. He said something to me once that sounded like a quote, and I said, what was that? And he said, "You said it." It came from an interview that I had done ten, possibly 15 years before. I had no idea how he could possibly know or remember something like that. I never would have remembered had he not quoted it to me.
Are you referring to the answer that you gave to his question, "What sound or noise do you love?"
Yes!
"Bird songs in the morning and Rachmaninoff at night."
How do you know that?
Research.
Why did that phrase stick in your mind?
Because whenever Jim asked that question of his guests, they gave a single answer. You gave two — one for day, one for night.
Interesting. And you know, except for that one answer, I don't recall anything else from that interview, except that it was 150 years ago!
What's the most important thing for interviewers to remember when they're talking to actors about their process?
Realizing that most of it is internal. A lot of people make the mistake of assuming that it's all about what you see the actor doing. But what you see the actor doing is the result of an internal struggle, and it's hard to talk about because so much of it is mysterious. You go inside yourself. You're looking for something. You don't know what you're looking for, and then something pops up and you don't know where it came from. You may not know exactly why you did it.
The last time I interviewed you, you compared the benefits of acting to the benefits of therapy.
Yes, and I think that's true, in that you have to go down, deep down, into your … [pause] I don't know why the word "watery" comes to mind, but the watery depths of yourself. That's an intimidating place. You have to have a reason to want to go down there. The questions that are posed in therapy give you permission to go down there. That's where the richness is. And in acting, that's where the surprising answers come from.
In what way were James Lipton's interviews like therapy?
He asked deep questions that got revelatory answers.