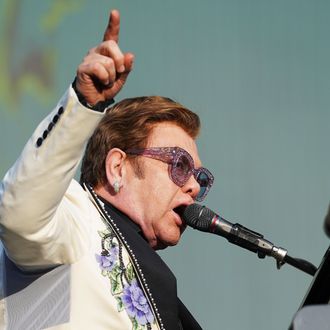 Photo: Kerry Marshall/Getty Images
As the coronavirus has kept us in our homes, celebrities have pivoted to making Content from their weird and wonderful homes, taking us from Patti LuPone's basement to Madonna's bathtub to Al Roker's kitchen. And now, Fox will air a real treat on March 29 at 9 p.m. ET, "Fox Presents the iHeart Living Room Concert for America," presented from many more celebrity homes. Elton John will host the hour-long benefit from his living room (not the snooker room), featuring performances by musicians like Mariah Carey, Billie Eilish, Billie Joe Armstrong, Alicia Keys, and the Backstreet Boys, all from their own living rooms. (Will the Backstreet Boys perform all in one living room or via Zoom? Time will tell.) The hour-long special will take the place of the canceled iHeartRadio Music Awards and be presented as a commercial-free tribute to medical workers, with viewers encouraged to donate to Feeding America and the First Responders Children's Foundation. It'll also stream for free on Fox's digital platforms — so listen to the celebrities and stay inside!
Update, March 27 1:00p.m.: Fox has announced Camila Cabello, Dave Grohl of Foo Fighters, H.E.R. and Sam Smith will also join its musical tribute, the only event that could bring such disparate musicians together.