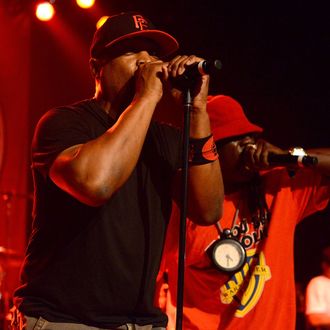 Chuck D and Flavor Flav performing at L.A.'s the Art of Rap Festival in 2016.
Photo: Scott Dudelson/Getty Images
Days after Flavor Flav attempted to stop the Bernie Sanders campaign from advertising a Public Enemy performance at the senator's Sunday night rally, the group has reportedly dismissed the longtime member and hype man. "Public Enemy and Public Enemy Radio will be moving forward without Flavor Flav," the group said in a statement Sunday, as reported by Rolling Stone. "We thank him for his years of service and wish him well."
The rapper and former reality TV star took issue with bandmate Chuck D's decision to perform the pre–Super Tuesday event under the name Public Enemy Radio, calling it "deceptive marketing," since it suggests Flavor Flav's endorsement, though he would not be in attendance, nor had he given his blessing.
"While Chuck is certainly free to express his political views as he sees fit — his voice alone does not speak for Public Enemy," Flav's lawyer Matthew H. Friedman said in a statement. "The planned performance will only be Chuck D of Public Enemy, it will not be a performance by Public Enemy." The statement concluded, "There is no Public Enemy without Flavor Flav."
Well, we've apparently got some bad news on that front, Flav. The hip-hop group might have just turned each other into private enemies, but Public Enemy Radio is, in fact, performing tonight in support of Sanders, alongside speakers Sarah Silverman and Dick Van Dyke, which you can see here.
In response to Flavor Flav's attempt to shut down the set, Chuck D took to Twitter Sunday. "I am a political artist of song that worldwide known I make myself heard & seen outside my ART -Music only to Make you make YOUR decision & NOT be a damn robot in 2020," the rapper wrote. "Here. I Aint a damn celeb. I aint sellin drinks. I impact with Art & Song-Pay Attention stop Playing Attention."
About the Flav drama, he later tweeted, "I gotta leave him at the crib so ya'll trying to fill his persona with some political aplomb is absolutely 'stupid.' Obviously I understand his craziness after all this damn time. Duh you don't know him from a box of cigars or me either." Lest you think the drama is entirely about Bernie, the pair has famously feuded over numerous issues in the past.
Update, March 2: Turns out, Chuck D had a lot more to say. After performing at the Bernie Sanders rally, he hopped right back onto Twitter to talk his talk. "If there was a $bag, Flav would've been there front & center," he wrote in the first of three tweets. "He will NOT do free benefit shows. Sued me in court the 1st time I let him back in. His ambulance lawyer sued me again on Friday & so now he stays home & better find REHAB." Strong words. He backed 'em up with two more tweets explaining why he created Public Enemy Radio without Flav and, yes, those tweets also contain an interestingly placed dollar sign.
Flavor Flav has now responded to his firing on Twitter (where else?) in a new series of tweets to Chuck D blasting him for breaking up the group. "You wanna destroy something we've built over 35 years OVER POLITICS???" he wrote, "all because I don't wanna endorse a candidate." He also denied Chuck's accusations of drug abuse, claiming he's been sober for ten years, and clarified that he did not sue Chuck or the group over their Bernie performance but "asked the Bernie Sanders campaign to correct misleading marketing" that Flav was involved. He continues, "I'm not your employee,,,i'm your partner,,,you can't fire me,,,there is no Public Enemy without Flavor Flav,,,so let's get it right Chuck."
Update, March 3: Somehow, this war of words isn't over yet. Public Enemy has released another statement, in response to Flavor Flav's tweets, clarifying that he wasn't let go over politics. They claim that he's actually been "on suspension" from the group since 2016 after failing to show up to a Harry Belafonte benefit following a series of other missed shows and work commitments. "He always chose to party over work," the statement alleges. It ends, "It's time to move on and everyone wishes Flavor well." Read the full statement below:
Public Enemy did not part ways with Flavor Flav over his political views. Flavor Flav has been on suspension since 2016 when he was MIA from the Harry Belafonte benefit in Atlanta, Georgia. That was the last straw for the group. He had previously missed numerous live gigs from Glastonbury to Canada, album recording sessions and photo shoots. He always chose to party over work.




Public Enemy Radio toured Europe and co-headlined with the Wu-Tang Clan in May 2019 without Flavor. They have also done numerous benefit shows without Flavor. While Public Enemy Radio was moving forward, Flavor Flav was starring on the reality show Growing Up Hip Hop New York, when an episode featured his children discussing an intervention and putting him into rehab.




It's time to move on and everyone wishes Flavor well.