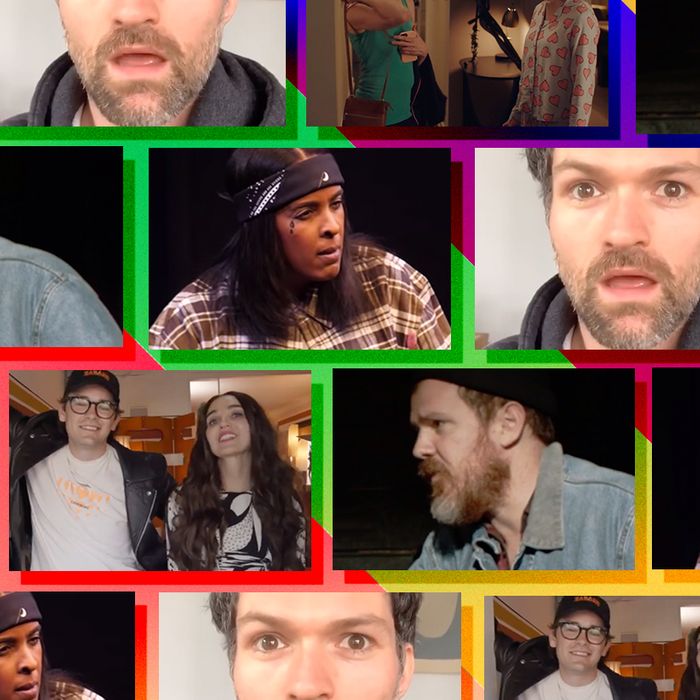 Each month, many funny videos are posted to every corner of the internet — from Twitter to Instagram, Vimeo, and sometimes other weird places we'll have trouble embedding. Because you're busy living your life, you might miss some of these funny videos and feel left out when others bring them up in conversation. Well, worry not! We're here to make sure you're not listening in on conversations but leading them … as long as those conversations are about funny internet videos. Here, our favorite comedy shorts of the month.
A note on this month's coverage: The below selections are in no way meant to trivialize the severity of the COVID-19 outbreak. It's a very serious, very scary time, but we'd like to try to distract you long enough to have a much deserved laugh. Be safe out there.
Architectural Digest Open Door: Quarantine Edition, by Chloe Fineman and Casey Thomas Brown
Chloe Fineman strikes again, bringing her long-brilliant talents back to the Instagram masses while on a forced coronavirus hiatus from SNL. She and Casey Thomas Brown team up as insufferable trust-fund "artists," allowing viewers a coronavirus-safe peek inside their home, parodying Architectural Digest's very real Open Door series. It feels impossible to list all the one-liners worth remembering.
Coronavirus, by Gmac Cash
This. One. Slaps. If Migos made a music video about the coronavirus, it'd be this. First put on my radar via my landlord (shout-out Rob!) by way of this lower-fi Facebook version, Gmac Cash has created something worthy of bumping on all our quarantine playlists. Also, the longer this lasts, the more likely Migos actually gives Gmac some unironic competition.
Devastatingly Intimate Sex Tape, by Patti Harrison
We'd normally never release someone's sex tape on Vulture, but given that Patti Harrison has already gotten ahead of it and "kept her power" by releasing it herself, we see no problem with boosting it here, too, no matter how devastatingly intimate it might be.
The Flu This Week, by Julia Shiplett
In this video from Julia Shiplett, the normal, washed-up seasonal flu vents about the novel coronavirus stealing her thunder. "I coughed so that bitch could sneeze," she sneers while swilling red wine to numb her bruised ego. I imagine the flu also wishes this pandemic would resolve itself quickly, though probably more for vanity than anything else.
I Made This Video So You Can Feel Like You're at a Party, by Richie Owens
We all miss people: being around them, etc. If you particularly miss the dizzying highs of socializing, Richie Owens has you covered with this POV video that puts you in the shoes of someone at everyone's favorite kind of party: the kind where you've retreated to the couch because you don't really know anyone there, and you also can't really hear what anyone is saying.
The Improv Guru, by George McAuliffe
In The Improv Guru, George McAuliffe and director Max Barbakow turn McAuliffe's popular Twitter account @improvguru39 into a bleak portrait of the Chicago improv scene and the kind of narcissistic personality who might take advantage of it. Picture Don't Think Twice recut by Paul Schrader. It's also really, really funny. The short has been released for free, and a fund has been set up to benefit the cast and crew, as well as staff at improv theaters across the country. (Watch it here.)
Is This Happening to Anyone Else???, by Henrik Blix
Quarantine, whether imposed by the state or oneself, is taking a mental toll on each of us in different ways. For Henrik Blix, it's manifested as a doppelgänger who seems to be hunting him down for not taking proper care of himself. Take the bitter with the better, I guess.
Josh Ruben's Instagram
We've been superfans of Josh Ruben's shortform character and impression work for ages, but anyone who's not following him on Instagram these days (and watching all his recent videos) is severely missing out. Especially if you're a Love Is Blind fan.
L.A. Gang Member Loves Astrology, by Corin Wells
We've certainly been on the UCB "Characters Welcome" tip in our last couple of monthly roundups, and there's a simple reason for that: The performances are almost uniformly really, really good. It's nice to see a return to character comedy (as opposed to scenario driven) in these times when we all just need a belly laugh without thinking too hard. Corin Wells's L.A. Gang Member Loves Astrology certainly gives us that.
Norm Macdonald Does Stand-up About the Coronavirus, by Norm Macdonald
On March 13, everybody in L.A. started taking COVID-19 seriously. It's as if we all kind of woke up that day and said, "Oh, shit. This is bad." Among those people were Norm Macdonald who, in what he jokes about as his last public appearance, performed a sold-out show at the Improv that very evening. There's no one like Normy Mac to sober us all to imminent horrors while still making us laugh. He even did a part two. (Watch it here.)
Self-Tape, by Rae Lynn Carson
With the entertainment industry grinding to a halt at the moment, performers of all stripes have been left to either submit work by video or simply hone their craft while in isolation. Rae Lynn Carson does both here, producing a singularly unexpected work of art we'll admit we did not anticipate would lift our spirits as much as it did.
Staydium, by GEIL Comedy
This sketch from GEIL Comedy was written and shot months before the pandemic happened but was released by Adult Swim just last week. In its depiction of a baseball game played and attended by literally no one, it ends up being eerily prescient. "One thing is for sure: This is baseball."
Waffle, by Katie Marovitch and Kerry Barker
Katie Marovitch and Kerry Barker wrote and star in this Carlyn Hudson–directed SXSW-selected horror-comedy about a pay-for-friends app gone horribly wrong. Smart and tastily original, this one deserves wide attention and acclaim. (Watch it here.)
Why Won't the News Show Us the Weird Stuff?, by Joe DeRosa
Joe DeRosa's appropriately searing thoughts on the American news cycle, COVID-19, and beyond, is a helpful reminder to take a break from the talking heads for a bit. Instead, give yourself permission to watch everything listed on this roundup and then start working back to all the months and weeks prior. By the time you're done, we'll be out of this thing … hopefully.
Like what you saw? Want to be on this monthly roundup? Show us your stuff! 
Luke Kelly-Clyne is president at Big Breakfast and a watcher of many web videos. Send him yours at @LKellyClyne.
Graham Techler performs at the Upright Citizens Brigade Theatre and contributes writing to the New Yorker. Send him your videos at @gr8h8m_t3chl3r.