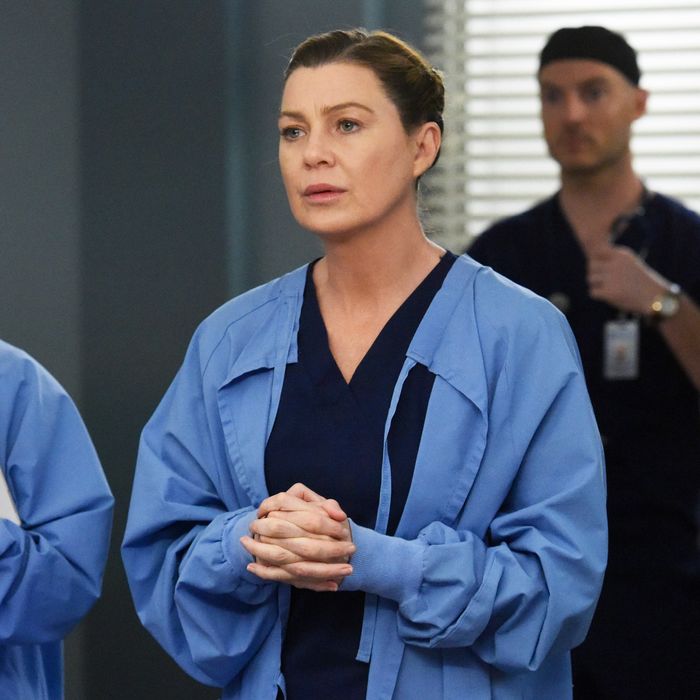 Oh, okay, so the DeLuca storyline just got kicked up several notches. Last we saw our troubled Chief Resident, he was getting a drink dumped on his face after disgustingly hitting on Jo Karev — excuse me, Wilson, er, I mean, she's just Jo for now — and making light of his Bailey-ordered counseling. Now, while Meredith is having her big 25-surgeries-in-12-hours Pro Bono Day, he's been relegated to the pit. The man is agitated. And then he gets a teen patient named Cindy, who's been brought in by her Aunt Opal because of a possible hernia, and things spiral. Fast.
Once DeLuca starts chatting with Opal and Cindy, he senses something is off. Opal is answering all of his questions for Cindy, and the teen looks nervous. DeLuca is immediately sure something besides a hernia is wrong here. He pulls a nurse aside — he wants her to pull Bailey out of surgery because he is positive this is a human trafficking case. Yep. DeLuca goes from "let's check your hernia" to "human trafficking" in seconds. When the nurse fights back a little, he tells her that he is the only person standing between Cindy and freedom and they have to do something about it.
If it sounds manic to you, good. DeLuca is all energy and fire and eventually, his "hunch" starts making everyone's day very complicated. When Bailey realizes she's been pulled from surgery because DeLuca is spiraling over a patient, she's not happy. He's not ready to be working and she wants him to go home immediately. Surprise, surprise, he doesn't listen. Instead, he attempts to hijack one of Meredith's ORs, which are scheduled down to the minute with the pro bono cases. Meredith is having a tough enough time as it is keeping all 25 of her patients happy and on time for their scheduled surgeries. Thankfully, she learns just how Tom Koracick got that Griffin guy to donate all that money ("I knew you were dirty, but not that dirty") and uses that information to her advantage: They extend the pro bono day until everyone can be helped, and Meredith announces that they're going to have a pro bono surgery day once a month. Tom might barf. But just because Meredith is still single-handedly trying to change American medicine, she still has time to be royally ticked off at DeLuca.
DeLuca may not have an OR — Helm makes sure he doesn't mess up Meredith's meticulously planned day any more — but he does have Cindy alone. He tries to get her to open up, but she responds that everything is fine except her pain. She wants to get this surgery and get out. Is she being shady or is this all in DeLuca's head? It doesn't much matter at this point, because as soon as DeLuca sees Opal coming down the hall toward Cindy, he makes a run for it. Right or wrong about the situation, that's definitely not good.
Not long after, a Code Violet is called. For those not up on your hospital codes, that means someone is being violent toward hospital staff. Meredith, Bailey, Carina, and pretty much everyone else in our main cast find DeLuca in a waiting room having a screaming match with Opal, who's crying — she just wants her niece back. DeLuca is out of his mind. He screams that he wants Opal arrested! They need to get security in here! They all know the protocol, that when there is a threat in the hospital, they join hands and surround the threat, they need to do that to Opal. You guys, the break in DeLuca's voice as he begs Meredith — Mer — to do this just about kills me. I am scared. I am crying. Oh, sorry, back to DeLuca. And then the other doctors do join hands, but they don't surround Opal, they surround DeLuca. Ugh. Friends. This was so heartbreaking to watch. He is standing up on the chairs, surrounded by friends, colleagues, and even his sister who is beside herself, and he's yelling that he's right and they don't see and then he's crying — it is a mess. Finally, Bailey tells him that if he doesn't walk off with security, he will never be allowed back in the hospital.
He walks off, still screaming that he's right and that Opal needs to be detained. After a meeting with Bailey, he quits. He storms off, only to be stopped in a stairwell by Meredith. All he wants to do is make a difference in people's lives, and the harder he tries to do that, the more everyone judges him and tries to stop him. When Meredith begs him not to quit, he tells her that he's not her responsibility — he doesn't work for her and he doesn't love her. "I love you," she responds. He saved her life and her career. She wants to help him. He makes a deal, he won't quit as long as she makes Bailey have Opal investigated. And then he's off. He speeds out of town on his motorcycle and his feelings. It seems like a very bad, unsafe decision.
Here's the thing: In all the melee DeLuca has caused, Opal grabs Cindy and drags her out of the hospital, demanding to know what she told the doctor. You guys, DeLuca was right. Bailey and Meredith learn this after Bailey calls her in and learns that Opal and Cindy are nowhere to be found. This episode is the most bonkers Grey's Anatomy has been in a while, and maybe it's the self-isolation talking, but I'm into it. I mean, he was standing up on those chairs, in a circle of doctors, screaming. You saw that, right?
The O.R. Board
• Welp, Teddy and Owen learn that Link is the father of Amelia's baby. Teddy is having feelings. Working with a veteran who has a brain injury doesn't help much either, but mainly, her feelings are all about her. She tells Tom the news, but says her feelings for him remain the same. Tom isn't into this at all. Good on him, he tells her that the one line he won't cross is sleeping with a married woman — he's been the cheated-on husband and he won't be the other guy. He tells Teddy to forget him and plan her wedding. I can't believe this has become a legitimate love triangle. Do I…feel bad for Owen Hunt? Someone save me.
• Link is being courted by the Mariners to take his old job back, for double the pay. Link says that sure, it's a dream job, but now he's going to be a dad and he doesn't want to be away from his family. Amelia has a hard time processing that people make sacrifices for their families and Link basically has to tell her how families work and I guess all of this is to say… she and Link are really good and happy?
• Schmitt's still getting dicked around by Nico — even Helm can see it, which is truly something — and when Nico happily tells his boyfriend that Link is recommending him for the Mariners job, Schmitt draws the line. This job would have Nico travelling for half the year and he didn't even think to have a conversation with him about it. Schmitt's done being the one who always compromises and sacrifices. And Nico's just done. If Schmitt can't get what he needs from Nico, then Nico wishes him luck in his next relationship. Nico's the worst, huh? How disappointing.
• Jackson gets saddled with a ridiculous "storyline" about finding someone to go to a basketball game with because now he's single and I guess, doesn't have friends? Maggie calls him out for not being able to be alone, which is always a treat, but the real standout moment of this weird runner is when he begrudgingly asks Jo if she likes basketball and she says, "Yeah! and not being invited to things as an afterthought." Eventually, he learns about Richard being depressed and invites his estranged ex-step-father along. Richard is enthused.
• So that whole "Maggie is getting sued" thing is wrapped up with one line of dialogue about Richard's brother agreeing to settle? That's…it?
• Jo and Schmitt are going to be roommates in the Apartment of Sadness. That could be fun. Maybe.
• Cormac tells Meredith he can finally see the dark and twisty part of her. How long until they smash faces? WE NEED THIS.
• Meredith, Savage Queen is back: "Did you have to pick today to start telling jokes, Hunt?"