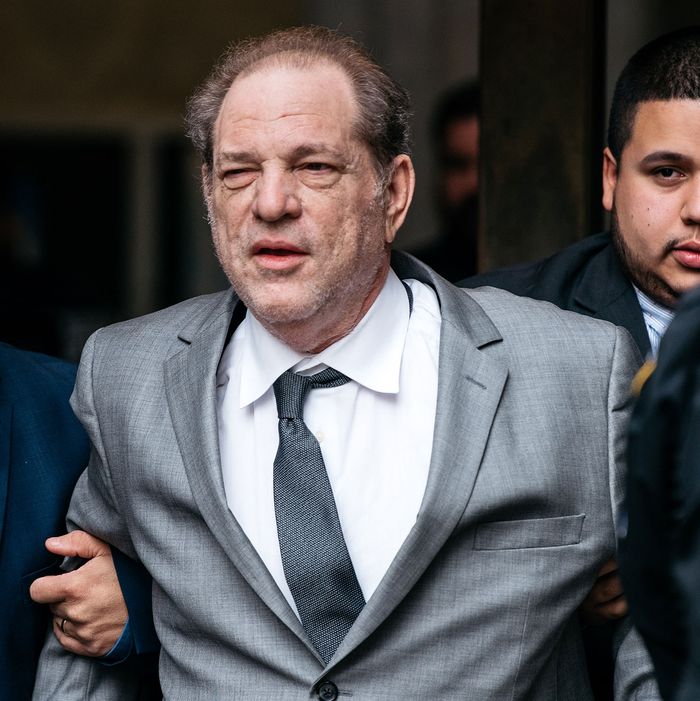 The contrast between what Weinstein was doing in 1997, and where he is now, underscores how appropriate his sentence is.
Photo: Scott Heins/Getty Images
This morning Harvey Weinstein was sentenced to 23 years in prison on charges of third-degree rape and criminal sexual assault for his attacks on three women: Jessica Mann, Mimi Haleyi, and Annabella Sciorra. That was not the maximum sentence that Weinstein — who has allegedly raped or assaulted nearly 80 women during his years as head of Miramax, and later the Weinstein Company — could have received. Guidelines permitted Justice James Burke to go as high as 29 years or as low as five. It would not have been surprising to see Weinstein receive something closer to that minimum. Somehow, anything more seemed like too much to expect, mainly because we've been conditioned to not expect much when it comes to holding bad, wealthy white men accountable for truly heinous behavior.
But even with other cases in California still pending, Weinstein, who turns 68 next week, got 23 years, which means that he will most likely die in jail. Stop for a moment. Think about that. The Hollywood producer whose abhorrent behavior galvanized the Me Too movement and became the quintessential example of what it looks like when men abuse their power at women's expense, will likely spend the rest of his life behind bars. That's significantly more than Bill Cosby's three-to-ten-year sentence in 2018 on three counts of felony sexual assault, a less serious charge than the third-degree rape count Weinstein faced.
To put 23 years in perspective, think about where Harvey Weinstein was 23 years ago. On March 11, 1997, Weinstein's studio had, a month to the day earlier, received 20 Academy Award nominations, more than any other studio in Hollywood. In less than two weeks, on March 24, Weinstein and his colleagues would collect 11 Oscars, buoyed by The English Patient, which won Miramax its first Best Picture statuette. Miramax's (and Weinstein's) aggressive lobbying tactics and its ability to spend money on ads and marketing, aided by the fact that it was then owned by Disney, were already becoming legend. "When it comes to pushing films for the Academy Awards," the New York Times wrote at the time, "nobody in the film industry is more zealous than Miramax."
Yet at this sentencing today, roughly 23 years later, Weinstein said, "I had no great powers in this industry. Miramax at the height of its fame was a small company … I couldn't blackball anybody." A small company, owned by the biggest one imaginable. He was outright lying. This man, who regularly bragged about how much influence he and his "empire" had over the entertainment industry — and about how he advanced the careers of women onscreen and off more than any other filmmaker — knew he was lying.
But that makes total sense, since Harvey Weinstein's life 23 years ago was a lie, too. While he and his staff were engaging in a full-court press to earn trophies for a glossy, World War II love story, he was regularly targeting women. By 1997, he had already tried to prey upon, among others, three well-known actresses — Gwyneth Paltrow, Rosanna Arquette, and Mira Sorvino — who had starred in his films and managed to slip away before he could engage in physical contact.
In the same year as those big Oscar wins, Ashley Judd says Weinstein tried to persuade her to watch him shower in a room at the Peninsula Hotel. Judd was able to talk her way out of the room, but, years later, she filed a lawsuit accusing him of defamation, sexual harassment, and intentional interference with prospective economic advantage. The sexual harassment part of her lawsuit was dismissed last year. Dismissed. It's what women are used to.
At the Sundance Film Festival in 1997, Rose McGowan says Weinstein raped her after inviting her to his hotel suite. McGowan was 23 when it happened, and not long after, reached a settlement with Weinstein and signed an NDA that she broke free from in recent years.
Asia Argento, as she first relayed to The New Yorker, was also assaulted by Weinstein in 1997 in the Hôtel du Cap-Eden-Roc in the French Riviera. She described the event to writer Ronan Farrow as "a horrible trauma." She has carried that trauma, and her misplaced guilt about not fighting harder to escape him, for 23 years. It's a long time to replay something in your head and live with the ramifications of it over and over.
When the details about what happened to these women and others first spilled into public view, first in the New York Times and then The New Yorker, Weinstein was finally called out in public for behavior that had been whispered about for years. But even then, it seemed like there might be a limit to how much punishment he would receive. In the months and days leading up to his conviction, Weinstein appeared to be laying the foundation for a comeback. Such a comeback didn't seem that far out of the realm of possibility. It does today.
After Weinstein was sentenced, his lawyer, Donna Rotunno, called his 23-year sentence "obscene." "I am overcome with anger at that number," she said. "I think that number is a cowardly number to give."
On the contrary, I think it's just right. Harvey Weinstein will have 23 years — maybe more depending on what happens with his California cases — to think about what he's done. He'll have 23 years to remember how much success and influence he had back in 1997 and the immediate years that followed, and how much he lost by sexually preying on women who he believed would be intimidated into doing his bidding. He'll have 23 years to revisit the things he did and know he can't change them now. He'll have 23 years to continue believing that what has happened to him is unfair, which is exactly what Asia Argento, Rose McGowan, and Ashley Judd have been forced to do.
Twenty-three years. It's what Weinstein deserves. After today, maybe it will feel more reasonable to expect that men with a track record of abusing women will get what they deserve, too.