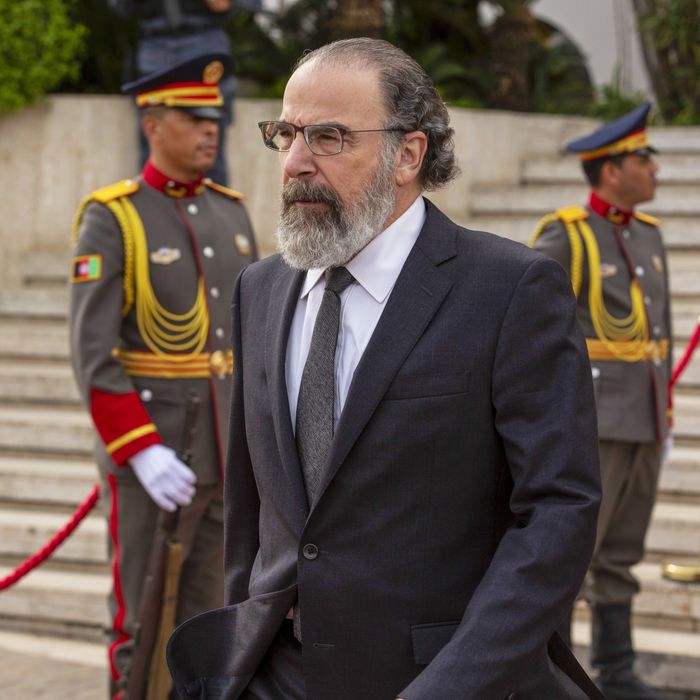 Photo: Sifeddine Elamine/SHOWTIME
No one thought that Homeland could end with peace in the Middle East, right? The writers dangle that possibility for mere minutes in the Showtime hit's final season only to pull it out from under everyone with a major event that would change the course of human history were it to happen in the real world. Can you imagine? A president killed by the Taliban behind enemy lines? The world would never be the same, and it almost feels like a show that has used 9/11 as such a major plot point wanted to bookend its run with an event of equally seismic magnitude. The credits contain the soundbite "This whole country went stupid crazy after 9/11." The world of Homeland is about to go stupid crazy again.
While murdering the president may seem like a cheap move on paper, it's handled very well in "Chalk One Up," particularly in the way it balances the "macro" of President Warner's journey to announce the ceasefire with the "micro" story of Samira Noori needing to be rescued by Carrie Mathison. While earth-shattering events are happening on an international scale, a woman is being kidnapped by the brother of her deceased husband, something that can now happen because tension has been eased with the Taliban, allowing their stricter lifestyles to quickly invade Kabul. To Samira's family, it is only natural that she now marries her brother-in-law, whether she wants to or not. Homeland is at its best when it balances human stories against a political backdrop, and that's the main function of most of this episode, while also allowing for what could be future troubles for our heroine.
There's really not that much to unpack in terms of plot this episode. The president comes to Kabul to announce the end of war in the region and his helicopter is shot down on the way back. Meanwhile, a woman struggles against her Taliban extended family and needs Carrie's help. That's really it if you think about it. So let's talk about what this all means for the future.
Of course, it's going to destroy any chance for peace in the Middle East. If a president was shot down in the area, it would not be long before the U.S. government destroyed that area with as many weapons as it can find. And the writers have already embedded that into the narrative via surly Vice President Ben Hayes, who clearly didn't support Warner's efforts for peace, and will almost certainly lead a call to escalate the war in the region. How can David Wellington and Saul Berenson possibly keep peace on the table now? And don't forget that in the final moments of the episode, everyone watches Taliban soldiers with an RPG, so there will be no hesitation as to who's behind this attack. Haqqani may have called for peace, but Hayes will almost certainly put him on the target list as well given how much he built up the culture that led to this day.
But who else falls? Let's think about the arc of Carrie Mathison, someone who is still highly suspect given her time in a Russian prison and recent interaction with one of that country's most notable assets — an interaction that her government is still working to decipher. She also told the president to come to the country to announce the ceasefire. She met with Yevgeny less than a week before he did so. It's been implied that information she gave Yevgeny before was relayed to the Taliban when her asset was killed. And she's been going out at night to who knows where, as shown in the opening scene. If someone chooses to break down her activity, which they almost certainly will for everyone in the region, then she's in serious trouble.
And then there's Carrie's itinerary on the actual day. She meets with the president at Bagram Airfield, and sees him board a chopper to go to the troops instead of to the political dignitaries waiting with Saul. So she's one of the very first people to know that the entire event is a decoy and to know Warner is going somewhere else. And then she goes off the plan for the day, choosing to rescue Samira instead of going back to Kabul immediately. She suggests the president come to the war-torn region, she finds out where he's headed, she deviates from the plan, and then he dies. How could this not become a problem for her?
All of this amplifies the most nagging question this season: What don't we know about Carrie Mathison? The assumption has been that Carrie is operating entirely above board and came out of her time in Russia mentally scarred but morally sound and loyal to her country. What if we shouldn't make that assumption? The writers have been setting up a narrative construct in which even she doesn't know what she said or did when she was in captivity, but what if they're also playing games with the information that they give viewers? What if Carrie remembers more than she's letting on and we just don't know it yet? What if she actually turned? Remember, this show opened with the arc of a good man having been turned into a double agent. Could it close with the same arc?
Final Notes
• Of course, we shouldn't discount the idea that G'Ulom and Qureshi, the two dignitaries in the region who felt the most betrayed by negotiated peace happening under their noses, somehow got word of Warner's location and conveyed that to Haqqani's son. This seems the most likely scenario, but expect Carrie to face some heat before everyone agrees on that.
• What's up with Max? Is the arc in which the soldiers where he was stationed consider him good luck just a funny one, or are we to take more from the fact that he stayed behind and didn't get on the helicopters shot down when the president dies? Is he really lucky, or did he know something and keep it quiet? It's hard to believe Max would turn — they haven't really hinted at that at all — but this show has pulled crazier stunts over the years.
• The moment in which Warner thanks Carrie for everything she sacrificed was a sweet and genuine one. Beau Bridges has a way of selling those warm beats that this show is rarely allowed to have. And it's poignant that it's one of his character's final moments.
• Has anyone else noticed that Homeland is getting shorter? This one was only about 40 minutes with credits and the previously on segment removed. It's a show that has felt long in the past, so it's nice to see it so purposeful and focused.
• Having said that, can they wrap up a new war in the Middle East in four episodes? That's all we have left in the saga of Carrie Mathison, and it feels like she's about to go through her toughest chapter before it's over.