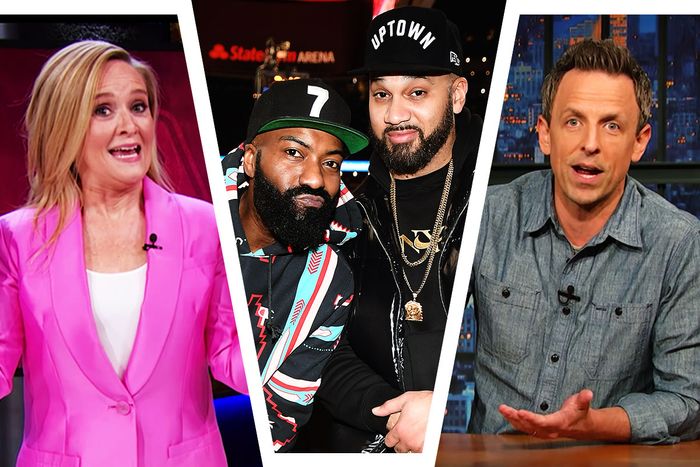 What a
week.
Photo: TBS/NBC/Youtube/Getty Images
Where to even begin describing this century of a week? Like everything and everyone the world over, late-night television was primarily focused on one thing and one thing only: the coronavirus. With so little to be sure of and, I cannot stress this enough, nowhere to turn for leadership or guidance, late-night television took it upon itself to try to educate the public about the coronavirus in a funny, entertaining, and somehow not utterly terrifying way.
To make matters even more complicated, the fate of these shows was in constant flux this week. At the beginning of the week, most of the late-night shows announced that they would film episodes sans audience for the time being, only for some to reverse the decision days later and announce that they were suspending production and going on hiatus. The entire week felt like some grand experiment where people self-quarantine themselves as they test out the hypothesis that love is actually blind late-night hosts had to continuously address a phenomenon that they didn't truly understand.
The results of this experiment were often dystopian and awkward in nature: Stephen Colbert running around an empty Ed Sullivan Theater, unable to high-five anyone; Pete Buttigieg subbing in for Jimmy Kimmel, performing an opening monologue for a nearly empty audience; Trevor Noah singing goodbye to his studio audience for who knows how long. In a moment where it feels like no one knows what the hell is going on, it seems, quite frankly, insane to rank one person's reaction to that feeling as better or worse than another. So I've made the executive decision to eschew rankings this week and let you be the late-night TV judge for once. (And I do mean once, as I truly love to rank things!) Most of the clips speak for themselves, so I'll let them do the talking going forward as we tackle the coronavirus's inescapable impact on late night this week:
The Late Show With Stephen Colbert
On Thursday night, Stephen Colbert began his show by running through his empty audience, hands flailing above his head — an almost physical manifestation of the anxiety that coronavirus has wrought. "We don't know whether it's a feather or a brick," Colbert admitted in his audienceless opening monologue. During the monologue, Colbert depicted a hazmat-suited rehearsal for West Side Story (unnecessary now that Broadway has been shut down until April 12) and coped with the eerie lack of a studio audience by drinking whiskey as Jon Baptiste tickled the ivories, which definitely beats my coping mechanism of drinking whiskey while listening to The Daily podcast. The Late Show is now on hiatus until at least March 30.
The Tonight Show Starring Jimmy Fallon
After a week filled with fun performances from the band Haim, The Tonight Show's Jimmy Fallon got serious when addressing his empty audience about the coronavirus. While the lack of an audience was rough for all of late night, Fallon's opening monologue was probably the most salient example of why a live studio audience is a fundamentally crucial part of the late-night television experience. Fallon then had Dr. Oz on to teach viewers how to surgically wash their hands. My 20-second handwashing song is the bridge and chorus of "Shallow" because I love Lady Gaga. I think she's a really interesting artist. The Tonight Show is on hiatus until March 23.
Late Night With Seth Meyers
Late Night With Seth Meyers devoted two "A Closer Look" segments to coronavirus this week before going on hiatus through the week of March 23. In Thursday's "Closer Look," Meyers rocked a casual blue button-down while talking to another mostly empty audience about Sarah Palin's insane performance on The Masked Singer, Trump's anxiety-inducing lack of leadership and middling speech, and the not-so-secret racism that are all wrapped up in the virus. "Our government is massively failing us at a time when the nation is looking for guidance," Meyers said at the end of his segment. "So now it's up to the media, public health officials, workplaces, and individuals to take this seriously, practice caution, and lead where the president is failing." On a lighter note, earlier this week Meyers's interview with supermodel and Bernie Bro Emily Ratajkowski was incredibly reminiscent of watching a freshman on the debate team try to talk to the cheerleading captain, complete with nervous stammering and an inability to hold objects.
The Late Late Show With James Corden
James Corden, who is known more for singing with friends while fake-driving cars than incisive societal commentary, stayed true to form this week by not going all-in on the coronavirus. While he did address the virus, it was more or less business as usual on The Late Late Show. One segment that stood out among the rest was the "Shock Therapy Quiz" Corden took with his Into the Woods wife, Emily Blunt. For a society that is about to learn the joys of social distancing, it was genuinely nice to see real friends hanging out together, forgetting their children's names and their hometowns, because honestly, who knows how long it will be before we are all able to partake in such a simple pleasure?
Desus & Mero
Desus and Mero have somehow, against all odds, found a way to make "dat rona" a.k.a. coronavirus legitimately funny. They went in on Trump for his "weak coronavirus bars" (His speech? Absolutely did not slap) and ended up remixing Trump's on-the-record, off-air comments about having a pen mark on his shit into a song that absolutely does slap. "I Got a Pen Mark" now streaming on Tidal.
The Daily Show With Trevor Noah
As previously mentioned, The Daily Show ended its week with Trevor Noah singing a song to his last audience for an indeterminate amount of time about all their annoying yet lovable habits. That was only the tip of the iceberg, as the show had plenty of coronavirus coverage this week addressing the Tom and Rita of it all (they seem to be doing just fine!) to the shutdown of the NBA. The most fun segment involved "Senior Health Expert" and former late-night TV ranking winner Jaboukie Young-White breaking down how to avoid catching coronavirus. Tired: shaking hands and bumping elbows. Wired: keeping your booty fingers to yourself!
Full Frontal With Samantha Bee
Full Frontal With Samantha Bee was the only show to address their show's lack of an audience in a humorous manner. The very few audience members in attendance are sitting far apart — not only because of coronavirus but also because they hate each other! To her credit, Bee was also one of the most comfortable late-night hosts under these extraordinary and unusual circumstances, delivering her punchlines with aplomb and impressively not shaken by the lack of an audience — the mark of a true comedian. As per usual, Bee managed to stay funny while keeping it real: The coronavirus is not an excuse to be racist. Got it? Got it.
Jimmy Kimmel Live!
While I already had the insane task of unpacking Pete Buttigieg's late-night hosting debut last night on Jimmy Kimmel Live, it must be said that the section of his opening monologue where he implored Americans to contact their representatives to help get the coronavirus aid bill passed was eons more inspiring and soothing than anything our current president has said regarding coronavirus. "Now, there is a bill right now in Congress that would provide free coronavirus testing for everyone who needs it, paid emergency leave, and unemployment insurance for workers who are laid off because of the economic shock" said Mayor Pete. "For the good of every worker, every family, every community that will be hurting, we need Congress to get that done." After his opening monologue, Pete played Star Trek trivia against Patrick Stewart, talked politics with former Veep star Tony Hale, and introduced musical guests Jhene Aiko and Miguel. Watching Buttigieg — who, for the record, was running for president less than two weeks ago — sit behind a late-night desk and tell jokes about how he was "40 years too young and 38 years too gay" to be president felt bizarre. But if we've learned anything the past week, the truth is often stranger than fiction.