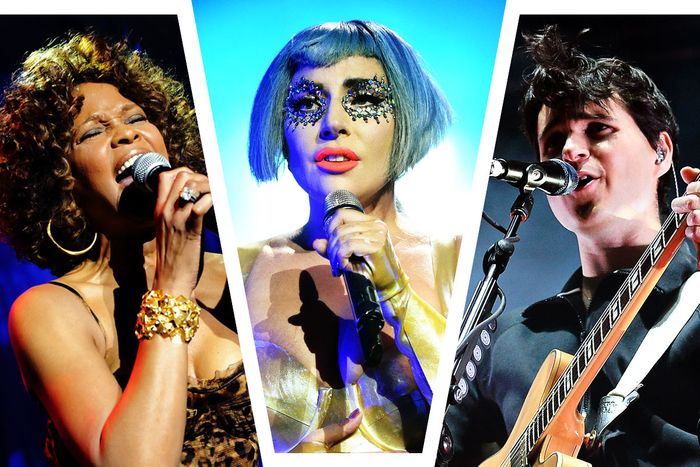 Welcome to my weird, fussy brain — my Bose speaker welcomes you to this chaos.
Photo: Getty Images
I'm never sure what day it is. I'm doing face masks at all hours of the day. I haven't been to Manhattan in weeks: My name is Hunter Yvonne Harris, and this is my life under quarantine. The only thing I'm doing right now is listening to music and watching movies, in between writing, and the hourly deep clean I do of my apartment. The only thing I care about right now is making sure people are healthy, and snooping about what they're watching/reading/listening to/thinking about. So here are my quarantunes, what I'm listening to and shimmying to in our newly socially distant world. These are not my favorite songs or the best songs for our current moment; these are just the songs that I have had on repeat. They're for feeling moody or for feeling frisky, or for dancing around your apartment. Welcome to my weird, fussy brain — my Bose speaker welcomes you to this chaos. Bone apple tea!
Cat Power, "Stay"
Like everyone else that spent too much time on Tumblr between 2008 and 2012, I love Cat Power. Her stripped down Rihanna cover is a moody, seductive song for our times: "I want you to stay / Want you to stay," she sings. Her voice quivers just enough to make it feel like a request and a command: Please stay! Don't leave! Limit your movements!
Steve Lacy, "N Side"
… And where are we staying, my friends? Inside! I have spent hours in my living room, at my computer, with this song on repeat. It's pleasant white noise with a little groove, and Steve Lacy could strum more than that guitar.
Lady Gaga née Ally Maine, "Look What I Found"
Never have the lyrics of Ally Maine (née Campana) ever been so relatable, as I am, literally, alone in my house. Under quarantine? It hits different! (Due to contractual restrictions, I am not legally allowed to include Scene 98 on one more playlist, however, rest assured that this fight is getting ample playing time on my Bose speaker.)
Haim, "Summer Girl"
I am 67 percent nicer in the summer. I'm kinder, more patient, I drink less, I smile more — warmth is good for my normally surly disposition. Now that we have no choice but to be inside (or outside but six feet apart) my fantasy is this Haim video: traipsing down sidewalks with my friends, peeling off our winter layers and revealing white tees and bralettes and bare skin. Until then, I'm beckoning summer and the idea of leaving to go outside without worrying about spreading or contracting a disease by playing this as loud and as long as I possibly can.
Whitney Houston, "Lover for Life"
There has never existed, and will never exist, a Hunter Yvonne Harris playlist that does not feature Whitney Houston. (We have the same birthday — I am contractually obligated to stan.) "Lover for Life" is one of my favorite Whitney deep cuts: a smooth pop ballad, where her voice is like a salve. This is the only life sentence I'll accept.
Whitney Houston, "It's Not Right But It's Okay"
Nothing about our current situation is right. Nothing about it is okay. But I'm going to make it anyway! Whitney Houston is technically talking about a cheating partner — "If six of y'all went out / Then four of you were really cheap / 'Cause only two of you had dinner / I found your credit card receipt!" — but what better rallying cry for people living under a president who has lied about this pandemic and continues to lie about this pandemic.
Ariana Grande, "NASA"
Upon the release of her breakup opus Thank U, Next, I applauded Ariana Grande for inventing space, a place for white people (Brad Pitt, Natalie Portman, Matthew McConaughey, and Ryan Gosling) to visit in movies. But actually this was an anthem for a pandemic, and Grande was ahead of her time. She is the patron saint of social distancing: "NASA," one of my five most played songs of 2019, is literally all about being distant — physically, socially, emotionally. (I have been practicing emotional distance, for better or worse, since my birth.) "I'd rather be alone tonight," she declares. "You can say you love me through the phone tonight." Can relate!
Monica, "Don't Take It Personal (Just One of Dem Days)"
I am a moody gal. In the morning I am always hopeful — I'll go on a walk! I won't spend all day scrolling through bad and worse news updates! I'll start a craft! — but around two or 2:30 I start feeling bad. Suddenly the day isn't something to conquer, it's something that has absorbed all of my plans and goals, and maybe I lash out or act a little too cold. Every day under quarantine is one of Dem Days, days where I feel hopeless and restless and perma-tired and perma-burnt out all the time. Monica understands: nothing is permanent or definite. Sometimes the only thing we can count on is that tomorrow might not be different but at least it will be fresh! This is the best four minutes and 18 seconds of alone time my Spotify can give me.
Junglepussy, "Trader Joe"
I'm? Messy, and have spent so much time in supermarket checkout lines. And this song? Appreciates a little drama, and is about going to the supermarket.
Doja Cat, "Cyber Sex"
The internet is a horny place and unfortunately the internet is all we have. Instead of seeing a virtual hookup as a last resort, Doja casts it as the ideal: Get freaky on camera, she suggests. "I wanna touch on you / You see me in my room / Wish you were here right now / All of the things I'd do." This song is approved by the CDC and the WHO — get freaky on camera and maybe get down a little bit too.
Megan Thee Stallion, "Cognac Queen"
There's no quarantine tie-in for this one. I'm just drinking and dancing around my apartment to this one.
Vampire Weekend, "Ottoman"
My specific, long-held affection for Vampire Weekend is (unfortunately) well-documented on this site. Something about "Ottoman" makes me feel so young and hopeful, probably because I encountered it through Nick and Norah's Infinite Playlist, a movie about being young and hopeful and running around New York City at night and falling in love. In lieu of putting on my clown makeup and barhopping around the Lower East Side, I will keep my social distance via Vampire Weekend.
Beyoncé, "No Angel"
"No Angel," the Beyoncé song that introduced me to the power of white nail polish, never got her due. For me, this has always been the self-titled album's most important song. This is a slinky, breathy, R&B-trap hybrid, with a gorgeous accompanying video. Now is the time to appreciate it, according to me and the direct line I have to Blue Ivy Carter.
Aretha Franklin, "Baby I Love You"
This is purely because I love Aretha Franklin and watched Goodfellas the other night and I mean my God! Ray Liotta lasering his peepers into Debi Mazar, Debi Mazar stumbling as they make eye contact — cinema! Quarantining with our without a significant other is a little bit more fun if we can [redacted].
Teddy Pendergrass, "Close the Door"
We are now in the section of the playlist that is for the grown and sexy. If you are not grown and sexy, or don't even know the Heart & Soul compilation albums that term refers to, then I ask that you please stop listening right here and now. Close the door, suggests Teddy Pendergrass, but consider that to honor social distance, you probably should not have left in the first place. I'm feeling homesick for my family in Oklahoma right now, and my favorite aunt is as in love with Teddy Pendergrass as every other black woman of a certain age.
Mary Jane Girls, "All Night Long"
Hold on …
Lionel Richie, "All Night Long"
Like I said … hold awn …
Mary J Blige, "All Night Long"
I never said I was a role model! I have the taste in music of a 40-year-old aunt that doesn't want you running around in her house. Nothing goes harder than the "All Night Long" trio of the Mary Jane Girls, Lionel Richie, and Miss Mary J. Blige. These songs are sexy, seductive, joyous!