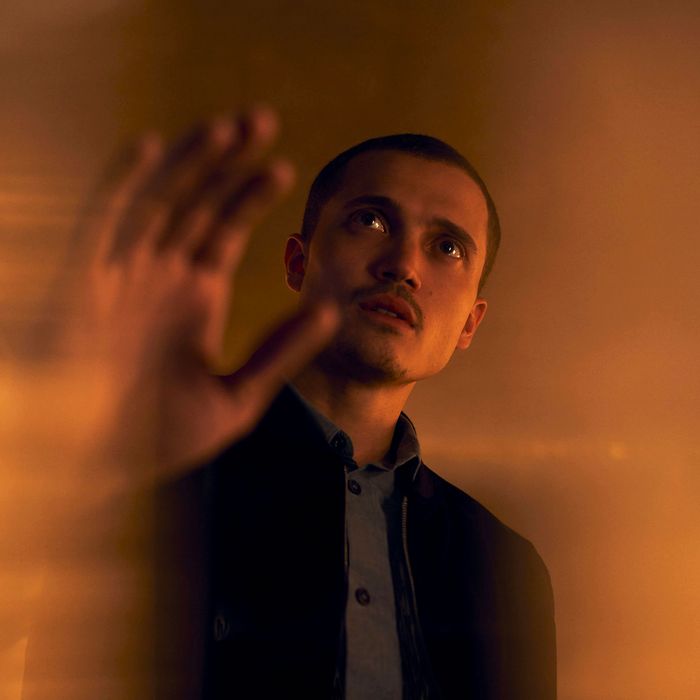 Karl Glusman in
Devs
, the first show released under the "FX on Hulu" branding.
Photo: Kurt Iswarienko/FX
For cord-cutters who've been searching for a way to get their fix of FX fare such as American Horror Story and It's Always Sunny in Philadelphia, there's now a simple solution: Subscribe to Hulu. As of this week, the Disney–owned cabler's current series now stream on Hulu a few hours after debuting on the linear network, while the Disney–run streamer also now houses the majority of past FX comedies and dramas. The new offering is being marketed as FX on Hulu, and it's great news for consumers, who previously needed an expensive cable subscription in order to (legally) watch in-season episodes of FX series. But there's a catch.
While any shows that air on FX will stream on Hulu, some projects developed by FX's creative teams will now skip the cable channel and instead be exclusive to FX on Hulu. This means FX cable customers who had been looking forward to the new Alex Garland thriller Devs, announced in 2018 as an FX original, will need Hulu in order to see the show when it debuts tonight. The same goes for the buzzy Cate Blanchett miniseries Mrs. America, announced in October 2018 as an FX original but now set to stream exclusively via Hulu in April. It's a bit of a bum deal for FX's cable viewers — but it's also the future.
FX on Hulu exists because the old cable universe, in decline for years, is moving closer to imploding altogether. The linear ratings that used to power cable and broadcast networks are in free fall. The total number of U.S. homes with cable dropped by a stunning six million last year, down 7 percent in a single year. In response, Disney, which took control of FX in 2019 as part of its deal for key elements of Rupert Murdoch's entertainment assets, is looking to give consumers a credible alternative by bulking up its streaming offerings. The first step was the launch of Disney+, which serves family audiences. Now Disney wants to make Hulu a lot more appealing, and putting FX content on Hulu is a major part of the strategy.
Given how much FX Networks chief John Landgraf has criticized the free-spending, ratings-averse world of streaming (especially Netflix), you might think he would be wary of even the possibility of diluting the FX brand he's cultivated so carefully for so many years. But during a 40-minute phone conversation this week, Landgraf was anything but: He sees FX on Hulu as a bridge to the future and a way to ensure FX's programming budget continues to grow. Vulture talked to him about how the initiative came to be, why he's not ready to give up entirely on cable, and why he still has no desire to turn FX into anything close to Netflix.
Tell me how you got to FX on Hulu. What were the discussions like internally at FX, and between you and your new colleagues at Disney and Hulu?
I think [former Disney CEO Bob] Iger was very specific, simple, and clear that this was a part of the logic for the Fox transaction. He was pretty clear about what he wanted to do, and why he wanted to do it. There was broad level agreement inside the company that [FX on Hulu] was the direction we were going.
No drama, then.
We have a lot of stuff that sits under the hood of [FX on Hulu] that had to be worked out. But frankly, I don't think there was a lot of conflict or a lot of debate about this.
How has it been working with Hulu on integrating the FX brand and their platform?
We're trying to bring a brand to that platform, and then we're also trying collectively to socialize the idea of a brand on a platform to the consumer. Obviously such a thing exists because Marvel is on Disney+ and Pixar is on Disney+ and Star Wars is on Disney+, but it's a relatively new thing. There isn't a brand on Netflix other than Netflix. There isn't a brand on Amazon other than Amazon. So the notion that a major independent streaming platform with its own brand would have another brand on it is a new thing.
But this really is two teams and two organizations coming together to bring the best that each has to offer. We don't run that streaming platform, we don't program that streaming platform, we don't understand the streaming business. They do all of those things. They have their own consumer brand, Hulu, that's very strong.
I mean, something kind of awesome that happened: We decided that we were going to send 500 cupcakes over to Hulu with the FX on Hulu logo on top of them, just to thank Hulu and celebrate getting here. And they sent back a hilarious response saying that they had contracted to have a giant wall of donuts brought to FX from Hulu celebrating FX on Hulu. So, literally the same instinct crossed in midstream. We sent them cupcakes, they sent us donuts.
Let's talk about how this will all work in terms of programming. Several of your shows will air on FX first, and then stream the next day on Hulu. Others, like Mrs. America, will only be on FX on Hulu. Why not have Mrs. America debut on linear first, too? What's the advantage of taking shows like it out of the cable ecosystem?
A few things. One, we decided that we didn't want to take anything away from any of the FX linear subscribers or FXX linear subscribers, meaning we didn't want to take a show that exists, like Sunny or Archer or Atlanta, and put it behind [a different] paywall. It is already behind a paywall called the [cable] system. People are paying good money for that.
However, we didn't want to create a situation where there were effectively two FX brands. So we needed a place where that entire brand could manifest and be visible, and by that I mean not only all of the current shows, but all the previous shows, all the way back to The Shield. That's Hulu, right? There's no methodology for unifying that entire 18 years of output on a linear channel. We needed to try to get as much as possible to Hulu.
Hulu felt that some exclusivity was really important for them in terms of customer acquisition. I think it's fair to say that the reason that Amazon, Apple, Netflix, and Hulu make original programming is to drive awareness and subscription. So a number of shows, at Hulu's request, [are] going to essentially be exclusive to Hulu to help drive subscriptions. But frankly, this wasn't really ever significantly debated.
So once you start doing FX on Hulu exclusives, will there ever be new FX shows which live on both FX and FX on Hulu?
As FX original linear shows finish, the plan is to replace them with new original FX linear shows that will also appear the next day on Hulu. The intent right now is, whenever Atlanta is done, replace it. Whenever Better Things is done, replace it. Mayans, Snowfall, American Horror Story, Sunny, Archer — we intend to continue to invest in and maintain the vibrancy of the FX linear brand for the FX linear subscriber. We're premiering Breeders and Dave on the linear channels this week. We're not abandoning our core business or our existing partners at all. But we don't have any way of doubling down or increasing our investment through that methodology.
You're not giving up on cable, but it's maybe not the future of the business.
We're as fully distributed as pretty much any basic cable channel in America, so it's not as if we make more shows then we're going to end up more distributed than the most distributed basic cable networks. You get to a point where you have a very healthy level of programming and marketing investment, you have built what people in the basic cable business and consumers regard as a great basic cable brand, you have very happy consumers who love the brand — but you can't invest more in it.
Meanwhile, you see Apple, Amazon, Hulu, Netflix, et al., and now HBO Max, radically increasing their investment based on driving subscription to the streaming services. If you think you have a brand that's worthy of investment, you need that investment to help drive the parts of the business that are growing. So, the goal is to maintain investment in the parts that are not growing, increase investment in the parts that are growing, [and] aggregate it all into a singular brand on Hulu, inclusive of the past, present, and future.
Until recently, there was some hope that the losses on the cable side could be minimized and that it was in everyone's best interest to keep the old cable bundle alive. Now, some analysts think that big companies such as Disney are going to do the very least they can to keep linear alive and will instead, in effect, be working to speed up the end of the bundle. Is this what's happening? You're putting your best shows on Hulu now.
I don't think anybody intends to hasten its decline. I just don't think that's accurate. The other thing you said is that the best programming will be on Hulu — I don't agree with that. I think the most programming will be on Hulu because they have the back library, and they have the preponderance of the FX linear shows.
But it was a little bit crazy trying to compete with these emergent streaming brands, not only in terms of their level of investment, but just the distribution mechanism. We still have a very healthy and a very sizable linear channels business. We have three channels: FX, FXX and FXM. We intend to maintain those channels and maintain investments in both acquired and original programming to continue to program those channels as the strongest channels that the [cable] system can sustain. But we can't make them any better, and we have a desire to make the brand better.
You said the strongest channels that the cable business can sustain. That seems carefully worded to me, and maybe a hint that you know that the cable system is about to shrink pretty dramatically in the next five years.
I don't have a crystal ball, Joe. But I can tell you that we're in fewer homes now than we were five years ago. I can't predict the future, but I can cite the past. I can say that I still think that the press really overreports usage on streamers and underreports streamers on channels. If you look at the totality of television consumption, you see the amount of it in America that occurs on channels still dwarfs the streaming system. And what's nutty is that Netflix got to, I think, 61 million subscribers last quarter. FX is in 84 million homes. FXX is in 81. So we're still much more distributed than the top streamer in the country—and Netflix's growth in America has started to flatten. Is there an inflection point where, maybe, at some point, there's more streaming customers than [cable] customers? Yeah, maybe. But it's a fairly long way off.
You don't want to be Netflix, though, right?
FX is not meant to compete with Amazon or Netflix. Those are the kind of utility brands like Costco or Walmart or Target or Macy's that are meant to be everywhere in the United States or everywhere in the world and provide everything anyone could want. That's not FX's job. You need a very, very big entity to do that. But Walt Disney Company, as it's been currently constructed, is absolutely a big enough entity. It's conditioned to do it better than any other entity on earth. And then FX can focus on what it specializes in. It doesn't have to worry about the larger problem. That's no longer our problem. Our problem is to make fantastic shows, continue to make the brand better, and put that brand to use not only on behalf of our continued [cable] customers, but now on behalf of Hulu.
Before you launched FX on Hulu, you tried something similar on your own with FX Plus. I'm wondering, in that limited experiment, what did you learn?
Are you familiar with the concept of a net promoter score?
I am not.
So, a net promoter score is a metric that is used to track people who genuinely love your brand. We track the health of the brand, and we also ask questions about all of our competitors. FX, for a while, has been at the very top end of the basic cable networks, but that top end of basic cable networks is much lower than streaming services or premium services. When we had FX Plus for that brief period of time, we did a net promoter score based on subscribers to FX Plus and it went up by 70 points. Now, some of that was a self-selection bias, but the point still stands: Streaming services just have way, way higher net promoter scores. So I would argue a brand that's seeking that kind of tremendous love would have to be on, or associated with, the mode of delivery that is beloved by consumers at this moment in time.
So basically, the FX Plus experiment underscored that streaming was the best way right now to connect to audiences.
We needed to try to get to consumers. Since The Shield premiered in 2002, we've been making branded original programming. We've never been able to put them all together in one place other than on FX Plus, which had a very limited footprint of availability. You can't reaggregate all of that work on a linear channel. You could run endless marathons on your linear channel of every show you've ever made, but that doesn't have a real utility for the consumer, even if the consumer that loves your brand.
Ultimately, what this initiative has allowed — and I can't tell you how grateful I am to Disney and to Hulu for supporting it — is to reaggregate pretty much everything we've ever done over the last 18 years, with a few exceptions, into a single place. We're unleashing an inherent potential that lies within the content and the brand that's been restrained to some extent by the distribution method.
You've got a great marketing team, but selling shows to streaming subscribers is a whole new ball game. How have you worked with Hulu to adapt? 
We worked incredibly closely with Hulu's brand marketing, on-platform marketing, show marketing, and publicity departments. They know all kinds of things, and they basically control the levers of many of these things in ways we don't. I sent 30 bottles of Champagne to executives at Hulu this last holiday season. They have brought an enormous amount to the table that we could have never brought to this process.
What's your programming budget going to look like two years from now? Is it going to be substantially more? Relatively the same? 
Substantially more, I think. This year, we're making more than we've ever made, and that trend will continue. What we tried to do is scale the quality of the FX brand as best we could. There is a most you can get to while maintaining that quality, and we don't intend to go beyond that. And frankly, the Walt Disney Company and Hulu don't need it to go beyond that, because they have a fantastic capacity for making programming through many, many different brands, including the Hulu original brand — which has made a lot of really good shows and will continue to make good shows.
From a creative point of view, how does FX evolve over the next few years, especially via FX on Hulu? You're going to have access to new viewers, and you're going to have more data about who watches your shows and how they watch now that you're streaming.
We're a young brand. We're still in the process of penetrating culture, and I think we're going to get to new audiences for the FX brand through Hulu that we no longer can get or wouldn't have gotten to through the linear channels. We will learn things, and maybe make shows that we wouldn't have made. We're very open to what they have to teach us about their audience. So far, there are no shows we made for Hulu that we wouldn't have made for FX linear channels, but who knows? Maybe we'll find there are shows that we should make for Hulu that we wouldn't have made for linear channels. I don't know.
Look, I tend to think that the beacon is really the brand. And what I'm really grateful for is that our new owner and its divisions have given us a really, really exciting pathway forward to continue to nurture the brand and continue to grow the brand. From my standpoint, we just got incredibly fortunate in being part of the Disney/Fox transaction and then through that mechanism, gaining this new partnership with Hulu. We need Hulu very, very much, and I'm optimistic that they will gain a lot from us as well.