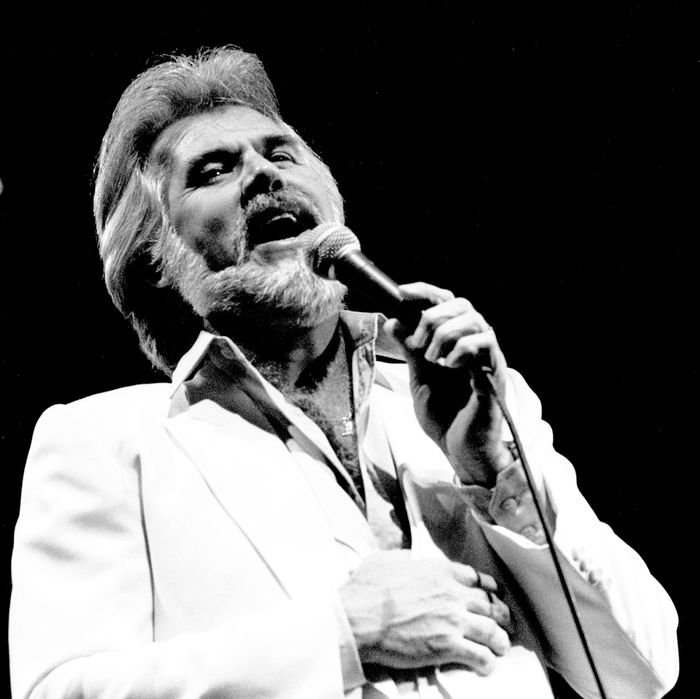 Photo: Paul Natkin/Getty Images
It's easy to forget sometimes, after four decades of hits on the country charts and a dozen roles in TV westerns, that there was once a time when Kenny Rogers, who died Friday at age 81, was seen as an unusual prospect around Nashville. The Texas performer came to country the long way, after years of short stints as a sideman in jazz and rock groups and a string of hits in the successful psych-rock/Americana group the First Edition. Rogers began his solo career at the cusp of 40, and this worried record execs, as the singer recounted in the prologue of his 2012 memoir, Luck or Something Like It. That passage, presented below, details the early pitfalls and eventual success surrounding his 1976 debut solo single, "Lucille" — as well as the tongue lashing he got from his mother, whose name was also Lucille, the first time she heard Rogers's tale of a barfly who abandons her family.
It's funny now, knowing the rest of the story, to think that anyone would ever doubt Kenny Rogers, or try to put him in a box and market him as any one kind of artist. He skated across country, folk, pop, jazz, disco, and psych with unnatural ease. It's testament to his dynamic range that the man who sang "The Gambler" also sang "Just Dropped In (To See What Condition My Condition Was In)," "Through the Years," "But You Know I Love You," and "Islands in the Stream," traversing disparate sounds with the same tender baritone and the same affable charm. Kenny Rogers condensed the music that preceded him into a leaner, more accessible sound, in the process paving the way for the pop-country hit parade that followed. May he rest.
"What in the world were you thinking, Kenneth Ray?"
My mom was on the phone. It was in the early months of 1977 and she had tracked me down on the road. Things had been moving so fast with the release of my new single that I hadn't talked to her in a while.
"The very idea! What are people going to think when they hear you singing about your mother leaving her family to run off to some bar?"
I couldn't get a word in edgewise. My mom was on a roll.
"And how dare you write about me having four hungry kids?"
The song was, of course, "Lucille." And as a matter of pure coincidence, my mother's name was Lucille. She had not been amused when she heard those lines coming over the radio airwaves: "You picked a fine time to leave me, Lucille, with four hungry children and a crop in the field."
"Mom, Mom," I said. "First of all, you have eight kids. Secondly, it's not about you. And thirdly, I didn't write it." I paused for a moment, and my mom jumped back in.
"Imagine what your father would say!" My dad, if he'd still been living, would've been having a good time with this one. He really loved to watch my mom squirm.
For a man who had lived a tough and often disappointing life, he could find something funny in nearly everything. My mother had a sense of humor, too, but I could tell she wasn't having fun with this song I'd recorded.
Earlier, I'd told her the story about the song "Ruby, Don't Take Your Love to Town," and how the country star Mel Tillis had written it about a real person. So as far as she was concerned, this new song might be close to character assassination for a woman named Lucille.
And she wasn't the only doubter.
Some of the label executives had questioned the song when they first heard it, thinking it was all wrong for a Kenny Rogers release. But then, the top brass at United Artists had considered me a long shot as a country artist to begin with. It wasn't surprising that a major label might question offering a country contract to a former jazz and rock musician who was closing in on forty years old. For that guy to make it in country, he'd have to beat some big odds.
In fact, Al Teller, the head man at UA, had told my Nashville producer, Larry Butler, to forget this outrageous idea of signing Kenny Rogers and instead sign some guy without a twenty-year history. Butler, being something of an outrageous character himself, said, "Read my contract, Al. I can sign anyone I want to." There was dead silence on the phone. "Hello?" Butler asked.
"You better be right," Teller snapped, and slammed down the phone.
That was the end of the signing debate, and after UA heard our first studio work, they jumped on the bandwagon. But over a year later, we still hadn't found the breakout song. Two singles—"Love Lifted Me" and "Laura (What's He Got That I Ain't Got?)"—had cracked the Top 20, but the one big release that would establish me firmly in country music was elusive. I agreed with Larry Butler that "Lucille" could be big. I did question the original ending, thinking it was a downer. But after some rewriting of the last verse, I thought we had a song that worked for me and would fly on radio as well.
When my manager, Ken Kragen, first heard the song, he burst out laughing. "This will either be written off as a novelty song," he said, "or it's going to be the biggest song in the country." It was a good thing he gave it at least a fifty-fifty shot, because, once again, the UA execs disagreed. They thought it was "too country" for what they considered my middle-of-the-road image. Of course, when I'd walked in the door, I wasn't country enough. I couldn't win. This time it was Kragen who stepped in.
"Release it," he said. And they did.
After one performance of "Lucille" on the Tonight Show Starring Johnny Carson, Butler got a call from Atlanta: "We just got a reorder for ten thousand copies of that single."
"What?"
"You heard right—ten thousand."
Butler called me and said, "It's exploding."
Seemingly overnight, we went from two shows on weeknights and three on Sunday in Las Vegas lounges to the main showrooms. Things moved fast. It seemed like just a couple of weeks earlier, our road manager, Keith Bugos, was having to get to our shows early to make sure someone hadn't mistakenly put up an old Kenny Rogers and the First Edition poster or gotten me confused with Kenny Loggins, who was just beginning a solo career separate from Loggins and Messina. Keith also had to deal with the fact that we only had the sound equipment for an audience of two to three thousand. Now the venues had overflow crowds of ten thousand.
"Lucille" changed everything. It went to No. 1 and stayed there for two weeks. It won a Grammy, the Academy of Country Music Song and Single of the Year, and the Country Music Association Single of the Year. In 1977, I was named the ACM Male Vocalist and in 1978 took home that honor again along with the ACM Entertainer of the Year. But maybe the most telling awards came from the jukebox operators, because jukebox sales reflect people going into cafés, drugstores, and bars, dropping their quarters into the slot, and paying to hear a song. It was listeners like that who grabbed ahold of "Lucille" and made it a monster hit.
Once "Lucille" became a worldwide hit, it didn't bother my mom that she happened to have the same name. It didn't have to be about a real person just because "Ruby" was. My mom was nothing if not pragmatic.
More important, she wanted me to be happy and to succeed at whatever I tried. She was never one of those people who drilled it into her kids' heads that they could do anything they set their minds to, but she did believe life was full of possibilities. You just had to be open to opportunity when it showed up.
My mom saw lessons in almost every experience. She had advice for nearly any situation, and it was one of the old adages she so loved that convinced me making music was the life for me: "Find a job you love … and you'll never work a day in your life."
One time a journalist asked her if she was proud of me, and she said, "You know, I'm truly proud of all my sons. My other boys had jobs Kenneth probably couldn't do … All that boy ever did was sing."