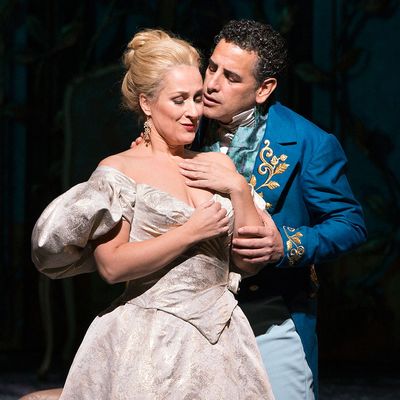 Diana Damrau and Juan-Diego Flórez in
La Traviata.
Photo: Marty Sohl/The Metropolitan Opera
Editor's note: This review was originally published in December 2018. We republish it today as the Metropolitan Opera, closed for the duration of the coronavirus pandemic, will be streaming video of this production tonight. It becomes available at 7:30 p.m. New York time and will be available for 20 hours thereafter. Full details here.
La Traviata opens with an act of renunciation: Violetta gives up glamour for the possibility of love. Verdi makes that choice a real one by giving each side of music memorable specificity. Michael Mayer, who directs the Metropolitan Opera's new production, makes the decision easier by making the sparkly life so unsexy and over-sugared that the last act's deathbed bleakness comes off as refreshingly spare.
Susan Hilferty outfits le tout Paris in Marzipan-colored costumes that Elton John might consider a little much. The only set, designed by Christine Jones, is a circular room with a hole in the ceiling that occasionally lets in snow or a chandelier that looks like it's made of Post-Its and chicken wire. Gilded floral reliefs give the room a rococo — make that three more cos — glitziness, until they detach from the walls for the second act to represent the lovers deluxe rustic retreat. Even as the locations change from one opulent parlor to another, a bed sits incongruously at the center of the stage all night, a dumbly literal reminder that Violetta has made her career there and will end her days there, too. As if anyone could forget the sexual undercurrent running beneath the opera or the pall of death hanging over it.
The theatrical team squanders a good deal of the opera's subtlety; fortunately, the conductor, singers, orchestra, and chorus patiently reapply it.
In La Traviata, Verdi condemns, and at the same time gets plenty of fun out of, a vacuous society that hums along on a steady diet of hypocrisy and mindless pleasure. In between the party numbers are scenes of heartbreaking intimacy. Mayer leaves it pretty much up to the soprano Diana Damrau to mark off the distance between two kinds of existence—between dalliances and deeper passion, between what society demands and what a strong-willed person can withstand. In her Act I soliloquy, Violetta's music toggles between wild runs and passages of sober introspection. Damrau negotiates these turns with simplicity and control, her voice passing from weightless glitter to a timbre dense enough to bear the weight of her self-pity. The character asserts more independence than she can actually live up, but onstage, Damrau is always in charge, one finger on the dramatic flow and another on the emotional thermostat.
In this she has a fine partner in Yannick Nézet-Séguin, a Met veteran who has just taken office as music director. In his last two sojourns, he showed himself a master of complex, high-drama scores, Wagner's Parsifal and Strauss's Elektra. Now, he's got the orchestra oompahing with flexibility and grace, and he also coaxes a cogent musical interpretation out of singers with radically different spirits.
When last seen at the Met, almost four years ago, the eternally boyish Juan-Diego Flórez was still confining his repertoire to Rossini and Donizetti, whose lyricism suited his fizzy, nimble tenor, his slender frame, good cheer, and penchant for leaping from tables. Now 45, he has kept all those qualities intact, but is also taking advantage of the shadow creeping into his voice. Alfredo's vocal lines brim with earnest yearning, and Flórez has to pretend to reach for high notes that in reality he could flick out at 4 a.m. after a boozy night. The voice is still relatively feathery, without the bulk that Verdi singers rely on to knock notes back to the farthest reaches of the Met's huge house. Flórez substitutes charm for volume, which often works. The famous first-act toast, "Libiam," sounds like a new kid's attempt to be popular, sweet and slightly hesitant, then blooming into confidence. And, like his petulant and clueless character, he seems mostly concerned with the figure he cuts in a long black coat or the seamlessness of his legato than than with any human relationships.
Fortunately, Quinn Kelsey, as Alfredo's father Germont, brings some petty-bourgeois sincerity to the stage. He arrives to exact society's terrible punishment for an unconventional love, and we, or at least Violetta, should hate him for it. But Verdi has given Germont a handful of moving, almost folklike tunes, which Kelsey sings with a big tuba-like voice and an air of regular-guy simplicity. He has mastered the art of not trying too hard — a skill that, in this production, anyway, has apparently eluded Mayer.