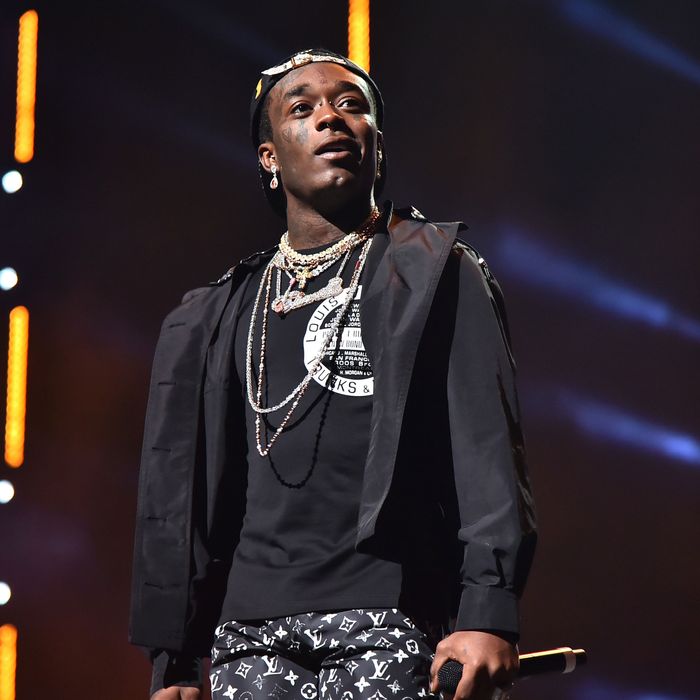 When the album's finished, it leaves you with the feeling all great major label rap projects do, the sense that the competition is off somewhere licking wounds and taking notes.
Photo: Theo Wargo/Getty Images for TIDAL
A lot of rappers say they love anime, but Lil Uzi Vert is the rare artist who deserves a series of his own. The Philly star is short in stature with a massive personality, a shit talker who's also in touch with his feelings, a sharp dresser with a flair for colorful hair. Like a Shōnen Jump hero, Uzi always wins in the end, even when the odds seem powerfully stacked against him. You screwed up betting on him being intimidated by Rich the Kid in their 2018 dispute. If you thought label woes could take him out, you were wrong again. When he's away, he's out improving his craft. After two years of frustrations with Atlantic Records and threats of retirement, Lil Uzi Vert is back this month with Eternal Atake, the sophomore album fans feared would never see the light of day. Atake is easily Uzi's finest work, and if sales go where the projections suggest they're headed, it'll also mark his most successful commercial release to date.
Eternal Atake is a space opera in three acts, each named after a separate Uzi persona with a unique skill set. Baby Pluto is a smart-mouthed street rapper so geeked to get his syllables out that he almost races past the beat. Cuts like "Lo Mein," "POP," and "Homecoming" fuse styles from different regions. There's a whiff of Future in trap mode filtered through lightning-fast trash talk reminiscent at once of Lil Wayne at his peak, Chicago drill technicians, and Philly spitters like Meek Mill and newcomers half his age. It's bratty, flighty, and funny, a laundry list of romantic capers and brand-name items Uzi knows you can't afford. He'll say anything to make a rhyme work, and — here's where Lil Wayne comes in — there's a gravity-defying success at the end of most every line: "Yu-Gi-Oh, Yu-Gi-Oh, you wanna duel? / Blue-Eyes White Dragon, no I will not lose." "Green shirt, bitch, I'm Steve, where is Blue? / … I'm an iPod man, you more like a Zune / … Versace drawers, bitch, you Fruit of the Loom." If you can yell the same word 15 times in a row and manage to make it an instant quotable, as Uzi does in the third verse of "POP," you have the juice.
Six songs in, Renji (or "Orenji," "orange" in Japanese) takes over, and the tone of Atake changes along with the character. The middle section scales back Pluto's hard bars and sparse Brandon Finessin beats in favor of stacks and stacks of human voices. A choir creeps up in the middle of "Bigger Than Life" that sticks around for the rest of the section, as Renji delivers the rude-ass secular gospel music Kanye fans missed when Yandhi became Jesus Is King. Uzi sings emotional lead at center stage, warning about the ways fame changes people on "Chrome Heart Tags," a dense Chief Keef production that lets whooping, humming voices carry the main melody while synths and high hats play burble underfoot. "Bust Me" works through trust issues as the vocal alternates between a sloshing, low-register drawl on loan from the classic Keef tapes and his trademark nasally lead. "Prices" matches busy, brooding production with a flow that recalls Luv Is Rage 2's "Neon Guts" and a baby-talk chorus that desperately needed Playboi Carti running point. Renji is the middle transformation on the way to Eternal Atake's final form, Lil Uzi Vert.
In its first dozen songs, Eternal Atake pries Uzi's rap and emo instincts apart and pushes each to its limit, with Baby Pluto imagining what he could accomplish as one of the best pure rappers on the drill circuit and Renji giving fans of Luv Is Rage's "Right Now" an entire mini-album worth of booming, gloomy beats and winsome melodies. Atake's closing "Lil Uzi Vert" section recoups on the promise of the Lil Uzi Vert vs. the World burner "Money Longer" in its fusion of tight rhymes, effective hooks, and video game synths. "Futsal Shuffle 2020" is more effective as a unifying statement at the end of this album than it was as a totally bonkers stray from an album that was starting to look a little shelved. "P2" plays sequel to "XO Tour Llif3"; it's upbeat and engaging if a little inessential, the only such instance in Atake's hour worth of music. "That Way" cannibalizes an old Backstreet Boys hit sweetly and miraculously without an ounce of cringe. When the album's finished, it leaves you with the feeling all great major label rap projects do, the sense that the competition is off somewhere licking wounds and taking notes. They might not get much time to breathe this time, though. To hear the artist tell it, this 18-song batch is only the first half of the final project. Could the rest be this good? Will Lil Uzi go platinum without (rap) features? Find out next time on Eternal Atake.