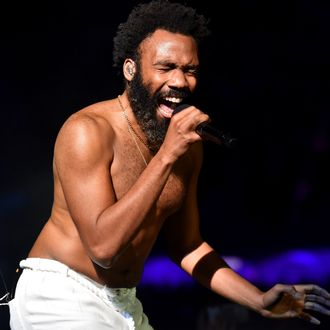 Photo: Jeff Kravitz/FilmMagic
Update Sunday 5:00 P.M.: In an extremely sad turn of events, Donald Glover Presents has seemingly been taken down from Glover's site, just hours after its sudden release.
In perhaps the best example of quarantuning yet, the ultimate multi-hyphenate Donald Glover dropped a surprise new album on Sunday. The former #YangGang creative consultant ditched his musical alter ego, Childish Gambino, for the new album, titled Donald Glover Presents. The 12-song LP includes previously released songs such as "Feels Like Summer," "Algorythm," and "Warlord," which he performed at Coachella in 2019. Ariana Grande, SZA, 21 Savage, and even his son are all featured on the album, which is currently streaming on loop on his website. The website contains no information about the LP, but displays a text-submission box whose purpose is unknown and a four-panel piece of artwork depicting a large crowd gathering, which clearly must have been drawn before the days of social distancing.