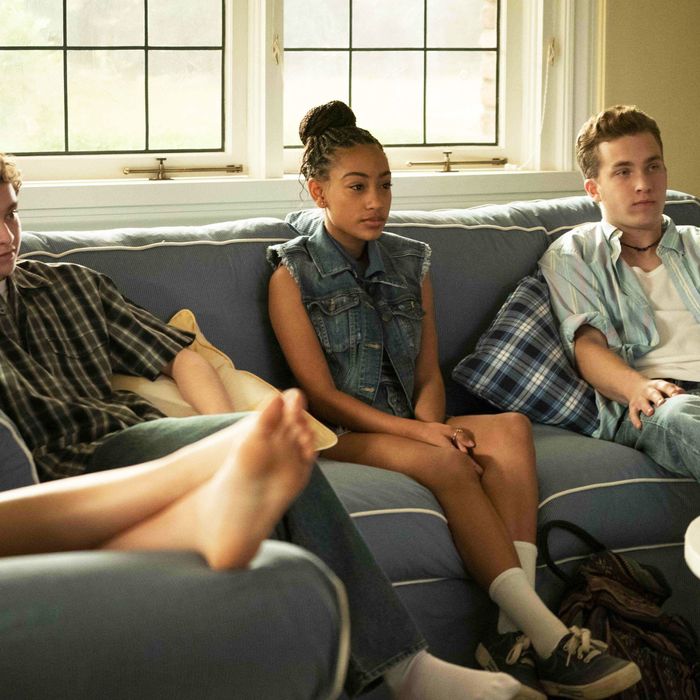 There's a line you hear a lot from therapists, or in parenting classes and books. It's that sometimes being a good parent isn't about giving your kids what you want for them; it's about giving them what they want, even if they don't know how to say it. This argument seems to be the thesis for the second episode of Little Fires Everywhere. Both Mia and Elena think they are good parents, but they are both pushing their daughters to become the kinds of young adults they want them to be — and, ironically, sending their respective daughters running toward the other woman.
Mia is insistent that Pearl not take anything from the Richardsons, even if it seems like it comes with no strings, like the bike Moody gave her in the last episode. She also waits until the last possible second before Pearl goes off to her first day at her new school to tell her that — surprise! — she'll be working in her new friends' home and will see her there after school.
Pearl is not okay with this, and not just because of the awkwardness of having her mother around to spy on her. She craves stability and is acutely aware of the class dynamic that separates her from most of her classmates. This public school is so well-off that it has a planetarium! And a computer lab with dial-up internet! (To any youths reading this: Trust when I say that this is a huge deal for 1997.)
It also comes with a racist guidance counselor who thinks that Pearl must be one of the kids who "commute[s] here from Cleveland" as part of an integration initiative. Because the Warrens have moved so much, he doesn't believe her when she says she's already taken geometry and wants to switch to Algebra II. His contempt is manifested even more when he learns there's no Dad in the picture and that Mom's an artist. He then accurately assumes she'll need forms to receive subsidized school lunches.
All of this would make most any kid run to an adult for help. But Mia, who would have no problem emasculating this jerk with one stare, tells Pearl that she must advocate for herself — which she does, by writing a letter demonstrating her cause and then asking Elena, a professional journalist, to read it and give her notes. Elena, flattered that at least one child she knows takes her job seriously, does Pearl one better and offers to talk to the counselor herself.
That the camera lingers on Elena's actual daughters, Lexie and Izzy, during this exchange is telling. For Lexie, Pearl's letter serves as an opportunity. She's struggling to think of a hardship she's overcome that would be interesting enough for the essay portion of her Yale application and, as her mother recently stated at dinner the other night, her parents have worked too hard to prevent her from actually having any hardships that the administrative board would find noteworthy (a conversation they surely would never have had if Pearl or Mia were in the house). So, because she's never had to ask for anything in her life, she helps herself to the story; literally picking up the writing from where it was left on the kitchen counter.
For Izzy, the matter is more complicated. It's clear something is bothering her and, as we learned from last week's episode, it's hard for Elena to know how to reach out to her. Now we get more details: LGBTQ acceptance was not as well-received in 1997 as many of us think — or at least as TV teaches us. Kids at school are teasing Izzy that she might be queer, taping Ellen DeGeneres' infamous "Yep, I'm Gay" Time magazine cover inside her locker and whispering about her in orchestra class, to the point where she lashes out at the already-unpleasant teacher.
Izzy's conveniently led to the principal's office just in time to see her mother emerge, all smiles from fixing another girl's problems, from a meeting with the guidance counselor (whom, of course, Elena knows on a first-name basis). But it's Mia who is waiting for Izzy at home after one of these attacks at school, supportively telling her that the drawings she found in her room are good and making her a snack.
None of this really helps the simmering power dynamic between the two mothers. Mia's initial unwillingness to appear overly grateful toward Elena for the apartment and the job opportunity continues at the beginning of episode two. She leaves her boss to clean up her own dishes and disregards her request for a brisket dinner in favor of making a meatloaf recipe that's superior to Elena's (the secret's in the Ritz Crackers).
This changes when she learns that Elena has had Lou, the police officer who will eventually be asking her questions during the arson investigation, run a criminal background check on her. Mia switches gears and panders to Elena's need to feel like she's doing good in the world, telling her she lied on her rental application because most people won't rent to a single black mom — but Elena did because she's a good person. Mia even goes so far as to cover for Elena when she stumbles over her discomfort in discussing The Vagina Monologues during book club. Of course Mia has read Eve Ensler's play and can intellectually destroy any prudish thoughts on the subject.
The two eventually bond over Ritz Crackers and Chardonnay, Elena showing her hurt that Izzy doesn't seem to love her like she did when she was little. Mia feels slightly superior that she has a good relationship with Pearl — until a wine-happy Elena shares that she helped Pearl with the guidance counselor mess. The evening ends with a drunken, giggling Elena holding a hand mirror and standing with a foot on the Jacuzzi tub in her bathroom (an Emmy nomination clip if there ever was one).
All of this math class drama isn't really because of Pearl's quest for harder classes, anyway. Sure, she's happy to get stoned with Moody, writing poetry on his arm and discussing their parents' views on sex. (The Richardson kids are aware of their parents' planned Wednesday and Saturday night sexcapades; Mia has taught her daughter that sometimes sex is just sex, maybe explaining why this episode opens with a flashback to 1983, when a young Mia was enjoying relations with a man in her car until her daughter woke up.) But the Richardson son Pearl's truly crushing on is Trip, whom she's now sitting next to in Algebra II.
But Mia and Elena aren't the only parents central to this story. While Mia left her daughter to fend for herself with the school administration, she was interested in helping Bebe, her fellow waitress at Lucky Palace. She immediately notices the other woman become distraught upon seeing a little girl in the restaurant and interrupts her meal with her own daughter to take over Bebe's shift. Mia, who has a knack for knowing when and how to press people on their secrets, quickly realizes that Bebe has a troubled backstory. In the last scene, Mia learns that Bebe also had a daughter. As to what happened to her? We'll have to wait until the next episode.
Burning Embers
• Elena tells Pearl to "get between the boys" when she's taking first-day-of-school pictures. See what they did there?
• It's unclear why the episode opens with the flashback to 1983. Are we supposed to judge Mia for the car hookup because her daughter was there? Wonder if she is, or was, a sex worker? Just note that the camera catches the Statue of Liberty chain on the rearview mirror and that the same accessory is one of the items that's on fire in the opening credits?
• I would not have taken Lexie to be alternative enough to watch Buffy the Vampire Slayer, but apparently she was into it and has a phone conversation about the second season premiere date.