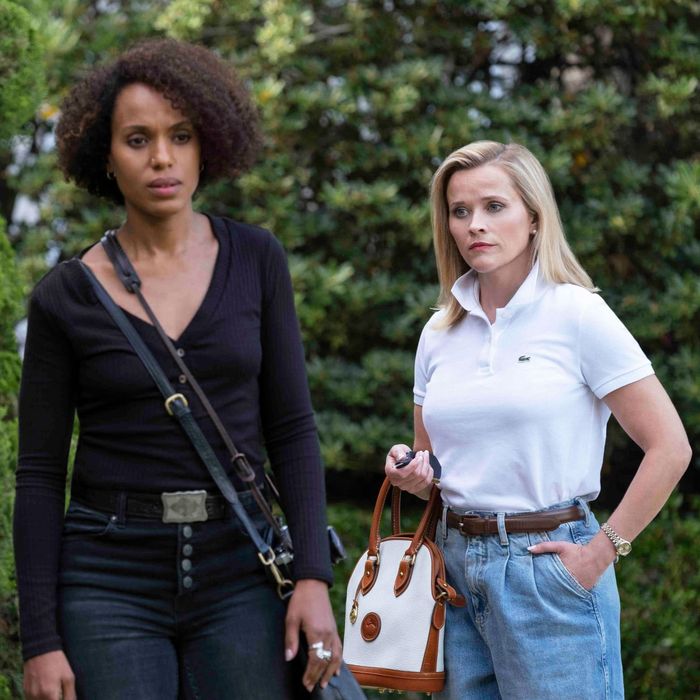 Making Mia (Kerry Washington) a black woman in the Hulu series was more than just a casting decision, says showrunner Liz Tigelaar. "Really it's a fundamental change to the story."
Photo: Hulu
Liz Tigelaar hadn't read Little Fires Everywhere when Reese Witherspoon's media company Hello Sunshine called her with the opportunity to adapt Celeste Ng's best-selling 2017 novel into a TV series starring Witherspoon and Kerry Washington. Lauren Neustadter, head of Film and TV for the company, gave Tigelaar the book and told her if she wanted the job it was hers.
"I was like, oh my God, what is happening?" recalls Tigelaar, who was the showrunner of Hulu's Casual and is a co-executive producer of Apple TV+'s The Morning Show. "I was really set up to like the book. But it also crossed my mind that, I hope I like this book, or this is gonna be horrible."
Luckily Tigelaar, who was adopted, loved the book. She connected with its mother-daughter themes, and its exploration of adoption, surrogacy, and birth families. Capitalizing on the decision Witherspoon had made to cast Washington, Tigelaar also saw a way to explore race and class inside the lens of motherhood beyond what the novel allowed. Witherspoon plays Elena Richardson, a wealthy perfectionist mother of four and part-time journalist; Washington portrays single mother Mia Warren, an enigmatic artist raising her teenage daughter on the road. Their worlds meet when Mia moves into the Richardsons' duplex rental in cookie-cutter Shaker Heights, Ohio — a Cleveland suburb where Ng once lived — and become even more dramatically entwined once Bebe Chow (Lu Huang), a Chinese immigrant who is also the mother of a baby girl, enters the picture.
When Tigelaar first met with Witherspoon and Washington, who are executive producers on the show, to discuss the areas of the book she wanted to tweak and expand, she found they were on the same page, especially when it came to the impact of making Mia black. Mia's race is unspecified in the book, but Ng told Vulture she pictured the single mother as a working-class white woman, after trying to make her a person of color didn't work.
"I wanted Mia to be a character of color, and I knew that I could write an Asian woman, but that seemed a little bit too neat because the story was going to involve this adoption story about an Asian-American baby," Ng says. "I also did not think that I was a person who could represent, or should represent, a black woman's experience or a Latina woman's experience. I just didn't think I could imagine fully what that is like. When Reese and Lauren told me they wanted to make Mia black, they had my complete trust, because it said to me that they were thinking about the project in ways that I would want the project to be done."
After meeting with Ng, Tigelaar honed the pitch to find a network home for the series; it eventually landed at Hulu, which released the first three episodes on Tuesday, with the remaining five dropping weekly on Wednesdays.
"I've never had a pitch where everyone comes to you and I have zero anxiety that it's going to sell," says Tigelaar. "But I found myself really emotional during the pitch. I would get to a certain point that I'd have to really dig my fingernails into my palms to not get choked up. I just connected to it in a really deep way and it felt so good to be working on something that felt so vital."
As the mother of a 4-year-old son, Tigelaar related to a line in the book in which Elena talks about how a child's need for their mother changes as they grow up. "It's like learning to live on the smell of an apple when what you want is to devour it to its core," she says, paraphrasing the novel. "I just love that because I feel that way with our son. I feel like he is an extension of me, and there's that feeling of wanting to do so well by your children."
Tigelaar wrote the pilot, consulting with Rosa Handelman, who was later hired and wrote the fifth episode, and playwright Tracey Scott Wilson. Then she hired the rest of the writers, which included several mothers and one father. Several writers were raised by single parents. Some were adopted; some had biracial children; and one had lived on the border of Shaker Heights. Their most daunting task — dissecting the entire book based on Mia being a black woman — felt like a master class on race, Tigelaar says. They began by reading Robin DiAngelo's White Fragility.
"It sounds like a casting decision, but really it's a fundamental change to the story," Tigelaar says. "That was a really exciting part of the adaptation because it gave us a real opportunity to tell the story of how Mia would feel about this white family, about the type of mother she is to her daughter, and how that might be different than how a white mother parents a white daughter. These were things I hadn't given much thought to as a privileged white mother with white parents. We wanted to explore the story of how white progressive women see themselves as open-minded people who are doing good in the world and are blind to their own biases and prejudices. So I had the wonderful gift of getting to be expanded in doing this, too. It wasn't always easy, but I loved it."
The first time Elena sees Mia in the series is an example of how profound the change is. In between homes, Mia and her daughter Pearl (Lexi Underwood) are sleeping in their car, which is parked on a tony Shaker Heights street, and Elena calls the police. "How differently would that play out if those two characters were not black?" Ng notes. "We have seen that in real life. I think the viewer is going to see that in a way that we don't always get to see on TV. It adds a whole other level, and that's what I really wanted when I agreed to have it adapted. I wanted the film version of this to be a slightly different thing, because in my mind that's how the best adaptations are."
The show, like the book, ponders whether some women merit motherhood more than others via the story of Bebe, an undocumented Chinese immigrant who works at a restaurant with Mia and shares with her that she abandoned her newborn girl at a fire station, an act of desperation when she could not feed her. Rosemarie DeWitt plays Linda McCullough, Elena's best friend, who has suffered several miscarriages, and is in the process of adopting Bebe's baby with her husband. When the story begins, Bebe doesn't know where her baby is, and the McCulloughs are not aware that Bebe is in Shaker Heights.
"We talked a lot in the writers room about this idea of who deserves to be a mom and how we decide that as a society," Tigelaar says. "And how much of being perceived as a good mother to your children is about having money. In terms of this custody battle, why does Linda deserve this baby? If she had two healthy children today, would she still deserve Bebe's baby?"
When she introduced the idea in the book, Ng didn't want to provide the answer. She had learned during pregnancy and while mothering her son, who is now 9, how much women are judged about parenting and used that as the kernel for the themes in her second novel.
"It just struck me how gendered and how impossible it is to satisfy everybody's expectations and what they think a woman should be doing," Ng says. "There are a lot of moments in the show where they show a very specific parallel between two different mothers and two different choices that are available to them, and that's something that I think about in my own life. There are so many different experiences of motherhood, and one of the really smart things they did in this show is try to show how many different ways there are of experiencing it."
Bebe's story was the only part of the adaptation that gave Ng anxiety. "There's not a lot of Asian-American representation on screen," she says. "It would be very easy to caricature her in a way that for many Asian-Americans would feel very familiar and very painful. But I think they worked really hard to not do that, as I did in the novel. I think she comes off as a woman who is really sympathetic and really strong and different from the stereotypes we've seen in other presentations, so I was really happy about how that came out."
Hulu bought Little Fires Everywhere as a limited series. But Witherspoon has already been involved with one book adaptation that started as a limited series, became a huge hit, and was extended to a second season. Ng doesn't think she has it in her to continue the Shaker Heights story, the way author Liane Moriarty wrote a novella so that HBO could green-light a second season of Big Little Lies.
Neither does Tigelaar. "I feel like the house burned down," she says with a laugh. "I know anything's possible, but it was such a powerful ending. To me, that's it."