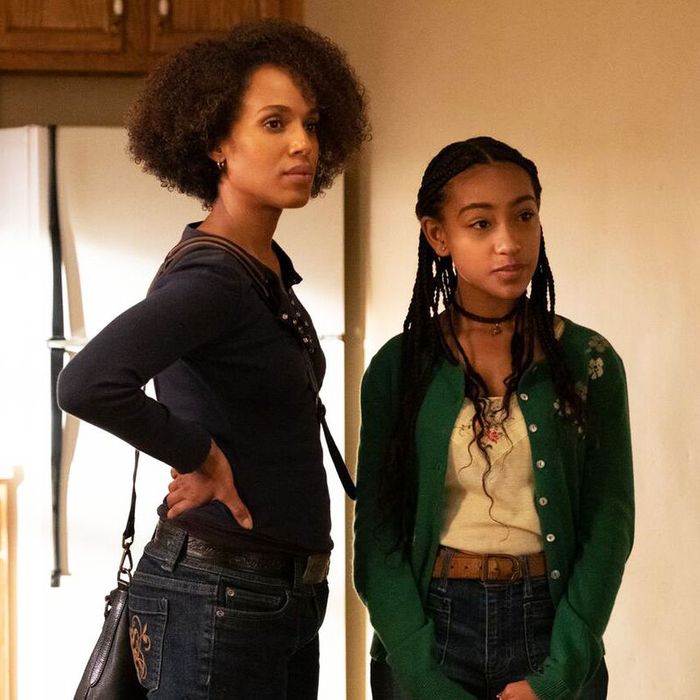 Author Celeste Ng's 2017 best seller Little Fires Everywhere was a piercing class commentary bundled up in a world of late-'90s nostalgia. While there was certainly a discussion of race relations and our mistrust of outsiders in the book, that remained more of a secondary story line to the simmering tension between vagabond single mother and artist Mia Warren and her landlord/object of her daughter Pearl's infatuation: Elena Richardson, a journalist and mother of four who masks her own insecurities under a thick veneer of suburban perfection. Now that creator Liz Tigelaar's Hulu miniseries adaptation has cast Kerry Washington as the steely Mia and Reese Witherspoon as domestic goddess Elena, there is no way to avoid how our own misconceptions and (suppressed) prejudices play into our perceptions of class, parenting, and privilege.
The series opens similarly to the book: a catatonic, soot-stained Elena stands outside in her pajamas on an early winter morning, staring up at the charred remains of her massive Shaker Heights, Ohio, home. The McMansion had been the crown jewel of all she and husband Bill (Joshua Jackson) have achieved in their rise to upper-middle-class superiority, where she gossiped over tea about how unseemly it was that they were reading The Vagina Monologues and their kids lounged in the TV room after school, eating cookies and watching Ricki Lake and The Real World. Now, it's a crumble of bricks and black smoke, exposing their family's secrets and imperfections to the world.
An investigator familiar enough with the couple that they talk on a first-name basis — an indicator of exactly how close-knit and insular this community is — asks who would want to burn down their home, especially with Elena inside it. He wonders if someone named Izzy might be a suspect. And although we don't know for sure who that person is yet, the urgency with which Bill points out that she's a minor coupled with mentions of her by the three wide-eyed teens sitting in a nearby car suggest that Izzy is the couple's fourth, and currently missing, child.
We then flash back four months to August 1997, when the Richardson house is a fully formed structure of beiges and pastels, and Elena's completing her morning routine of weighing herself, working out, and reading the newspaper — taking particular pride in seeing her own byline. We quickly learn that Izzy (Megan Stott) is the youngest of the Richardson children. Unlike the popular mini Elena, Lexie (Jade Pettyjohn), jock Trip (Jordan Elsass), and cinephile Moody (Gavin Lewis), Izzy is both particularly skilled at pushing her mother's buttons and an outsider at school where her black chokers and heavy eyeliner don't blend in with her classmates' love of faded denim and Gap T-shirts.
Feeling there's no way Elena — who seemingly hasn't stopped brooking for the Most Popular superlative since she herself graduated from that same institution — will understand, Izzy decides to go the activism route by declaring it cruel to eat bacon and demanding Pop-Tarts for breakfast. (Now's probably a good time to mention that I graduated high school in 1998. Give Izzy an interest in Daria, the Rent soundtrack, and swap out her violin lessons for debate camp, and I would not feel more seen. Nor, in this case, would my own mother.)
But, Izzy's no longer the only creative type to stick out among Shaker Heights' manicured lawns and trimmed hedges. We soon see Mia sitting behind the wheel of her dusty old Chevette, reading while her daughter Pearl (Lexi Underwood) sleeps. Or rather, Elena sees her car and almost immediately alerts the authorities when she gets into work, careful to mention that she never does this sort of thing and stressing that the suspicious driver is African-American.
The next scene is swift, but it exemplifies the just-under-the-surface racism in this kind of town and how aware of it Mia is. Preparing for the worst when she sees a squad car approaching, Mia awakens Pearl with a forced smile and an urgent warning to make her hands visible. The resentment gleaning in her eyes after the matter is handled suggests that this is a pill Mia is used to swallowing.
But Elena and Mia soon meet face-to-face. Turns out the Richardsons own the unit that the Warrens want to rent, and Elena's white liberal guilt is piqued when she recognizes their car. She renegotiates the conditions of the lease on the spot, giving Mia a bargain-basement deal and a month-to-month agreement without checking her references. The contract comes with a detailed welcome packet and the Warrens' very first chance to prove they're part of the herd: a bumper sticker reading "Mover & Shaker."
Elena doesn't see it this way, though. She pushes past how uncomfortable Mia made her feel and chooses to pat herself on the back for "helping" the less privileged family who didn't ask for her help, bragging about her good deed at dinner, and ignoring her husband's accusations that she rented "to a homeless woman." In fact, she's so proud of herself for her righteous actions that she tells Moody to introduce himself as well, since he and Pearl are the same age. It works and the two quickly become close, further intertwining the two families.
This will be the first many of Elena's awkward interactions with Mia. Running into her on the street a few days later, Elena cannot hide her horror that Mia is supplementing her art with a gig at a Chinese restaurant. In one of the episode's strongest moments, Elena stumbles over herself as she struggles to find the most politically correct way to offer Mia employment in her home. The locked-eyed, dead stare on Washington's face as she quiets the yammering by asking, "You mean like to be your maid?", almost as if it's a dare, is made all the better by Witherspoon's flapping and nervous teetering as her character finds a way to say, well, yeah, but like a cool maid. Mia eventually takes the job; not so much for the money but as to keep an eye on Pearl, who does not share her mother's distrust of the Richardsons, and instead sees them as examples of the sort of security and reliability that a kid who's spent a life on the road would crave.
With this, the series kicks off another running theme between Elena and Mia: Who wins the award for best mother? Is it Elena, who has the luxury of working part-time and can be home to make cookies, keep the family calendar in order, and cook a full dinner for six, plus guests? Or is it Mia, who has to work two jobs, can't always be home for dinner, and has therefore given her child trust and independence? Is it Elena, who later in the episode is so angry at Izzy when the girl causes a scene at her orchestra recital that she can't bring herself to come into her room and discuss the situation (but who will concede to buy her Pop-Tarts)? As someone who has ordered takeout two nights in a row and wrote this recap after her kids were in bed, I'm certainly not equipped to answer that.
The themes of parenting, trust, and race intertwine in the episode's climax. Moody and Pearl are caught trespassing and brought home by the neighborhood watch. Elena, who has known the official since high school, sighs and is able to laugh it off with him. Mia goes into a fear-rage spiral that scares and alienates her child. Is this a response borne of the feelings of overprotection and worry that many people of color would have in this situation? Or is it also about something else?
The final scenes of the episode suggest the latter. Like Elena and the lengths she goes to protect the image she wants us to see, there's a good reason for why Mia chooses to be a loner with trust issues. For the second time in this episode, we see Mia dream of a mysterious man in a trench coat watching her on the subway. But this dream sequence is different from the earlier one. Mia is again on the subway, but has her guard down enough to put her head on the lap of an older woman. (Her own mother? A lover? A stranger?) The man is there again, watching her. Except he repeatedly morphs into Elena, suggesting Mia may be getting closer and closer to being discovered.
Burning Embers
• Elena takes Izzy to get a haircut, suggesting to the stylist that she look like "Rachel from Friends." Well-played subtle The Morning Show plug there, Reese.
• Pearl tells Moody a punch line to a joke in Planes, Trains and Automobiles, a movie about a man who secretly has no real home.
• The full quote on the wall of Moody's secret bunker is "Three things cannot be long hidden: the sun, the moon, and the truth." Note that the camera has masked the final words.
• I'm not sure which song Moody is referring to when he says he can play "that one Toad and the Wet Sprocket" song, but "Something's Always Wrong" is featured in the Witherspoon movie Fear.