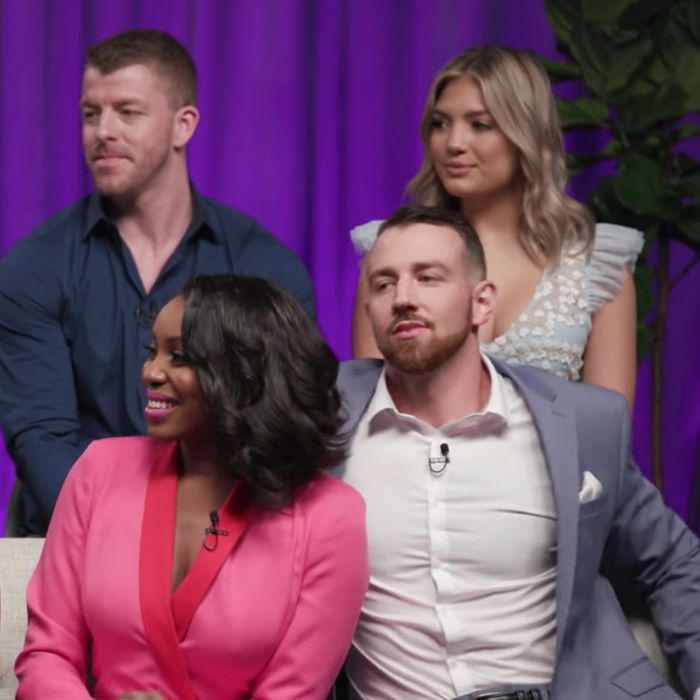 All six couples and the Lacheys reunited.
Photo: YouTube
Netflix's breakout reality dating show Love Is Blind took over the internet this month but was actually filmed over a year ago. That means the six couples who got engaged after ten days in pods have had a lot of time to process the chaos. While some couples, like Lauren and Cameron, are the picture of marital bliss, others, like Carlton and Diamond, had to seriously consider whether they wanted to be in the same room as each other. Hosts Vanessa and Nick Lachey came back to host the Love Is Blind reunion episode and try to convince us, once and for all, that Love Is Blind is a social experiment.
Oh, and they get the hot goss. Amber and Jessica finally have it out, Mark addresses his issues with Jessica, and Damian and Giannina … are Damian and Giannina. Here are some of the biggest moments from the Love Is Blind reunion.
Giannina and Damian got back together. 
They don't explain why, but Giannina and Damian have rekindled their incendiary relationship. It turns out that Damian's "I don't" was more or less a communication error. "When she said, 'I do,' I didn't expect that," he explained. "I thought that she was going to be the one to say, 'I don't,' and I was gonna say, 'Okay, well, I don't either. I'll walk with you.'" Even though Giannina and her flair for the dramatic had other Oscar-worthy plans, they both agree it was worth it to have each other now. Giannina even goes on one of her signature monologues about their enduring love. "Since the show, it's just been such an amazing journey with you to get to know you and see how we integrate with each other's lives, and my friends and family love you, and so it was just all these fears that were never there in the first place. I'm so happy." Queen of expressing herself!
Kenny finally found his Barbie (and it is not Kelly).
Our boy Kenny is the only Love Is Blind cast member who has found love outside of this "experiment." He is all booed up with someone new but still thankful for his experience with Kelly. "I think about all the takeaways that I went through on the show I've applied to my current relationship, and I've been able to be vulnerable, and I've received it," he shared.
Amber pops off on Jessica, thank God.
What is reality TV without girl drama? At least a little bit, as a treat? Amber finally got her moment to tell off Jessica for trying to steal her man. Let the tank girl at her! "To see her throwing herself at him in Mexico, bitch, you're sheisty," she pops off, zero to 100. "You're so fake. Coming to my face like we were cool. You were so fake. I think you're a really disingenuine person, and you know what? I hope seeing this, you do grow from it, because that is not what the world needs, is women that go behind people's backs like that. You were engaged to another man that you were leading on."
Carlton proposes to Diamond and, yes, it's awkward.
After reaching a mutual understanding, Carlton gets down on one knee in front of Diamond for, uh, what reason? "I'm not proposing to you again, before you like … She's looking at me like 'Uh, are you really gonna do it?'" he made himself laugh. "I wanted to get down on one knee and just apologize again, at eye level. And I hope that you take this ring again as, like, a significant piece of our friendship and the start of something beautiful without any type of like plan or 'this is our plan of action.'" Then he makes her put the ring on her finger. Even Vanessa Lachey is speechless, when she should be screaming, "See? Love is blind!"
Vanessa Lachey is still so invested in proving that "love is blind."
Does Vanessa Lachey, like, get a tax break for participating in a scientific study or something? Somehow pretty much every couple's conclusion is that love is blind, from Mark and Jessica to Lauren and Cameron all the way to Giannina and Damian. I'm just saying, Love Is Blind would not get a blue ribbon at the science fair. I don't care how fancy it looks.
Kelly actually wanted to date after her "I don't."
Kelly is so, so, so, so, so happy for Kenny now that he's with someone else. There's just this one thing, though. "I did love you, and I wanted to continue our journey of dating and getting to know one another, you know, and that didn't happen," she explains. "You know, and it's water under the bridge now, and I'm so happy for you and your relationship." So happy.
Jessica reckons with the replay.
Jessica can't even look at the screen when they play back her highlights from the season. She publicly apologizes for her behavior, even though she claims she didn't actually want to steal Barnett away — the whiskey made her do it. "Obviously, I was really uncomfortable and I was drinking too much and that was really disturbing to see play out," she said of her experience on the show. "Some of the comments that I made [were] derogatory, and that certainly wasn't fair to Mark, who is a fantastic person and obviously very, very attractive." While Mark is still upset about the way Jessica handled the Barnett situation, he has no hard feelings for her. He just wants the gosh darn Italian beef he was promised over a year and a half ago.
No one mentions the wine dog.
So, we're just not gonna talk about the dog with a sophisticated palate?
Lauren and Cameron have a baby!
Whoops, sorry, clickbait. They got a dog! "I was like, 'If we get married, we have to get a puppy,'" Lauren laughed. Even though Cameron had his hangups, he got that girl a puppy, and they named him Sparks because of their sparks. Love is not blind, Vanessa Lachey, but it has to be real.