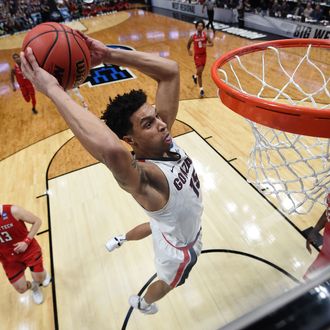 Say goodbye to this.
Photo: Sean M. Haffey/Getty Images
Mere days before the 2020 NCAA men's basketball tournament was scheduled to tip off, the NCAA has canceled the event — as well as every other championship in college sports — over fears surrounding the coronavirus pandemic. The moves come in the wake of multiple Division I conferences within the NCAA canceling their in-progress tournaments, and both the NBA and NHL suspending the rest of their regular seasons. The NCAA had previously attempted to salvage the tournament by announcing that games, which were scheduled to tip off March 17, would be played with "only essential staff and limited family attendance," but with schools like Duke, Kansas, and Arizona State announcing they would be suspending all athletic activity regardless, a cancellation of the entire dance became inevitable.
This is a breaking news story and has been updated accordingly.