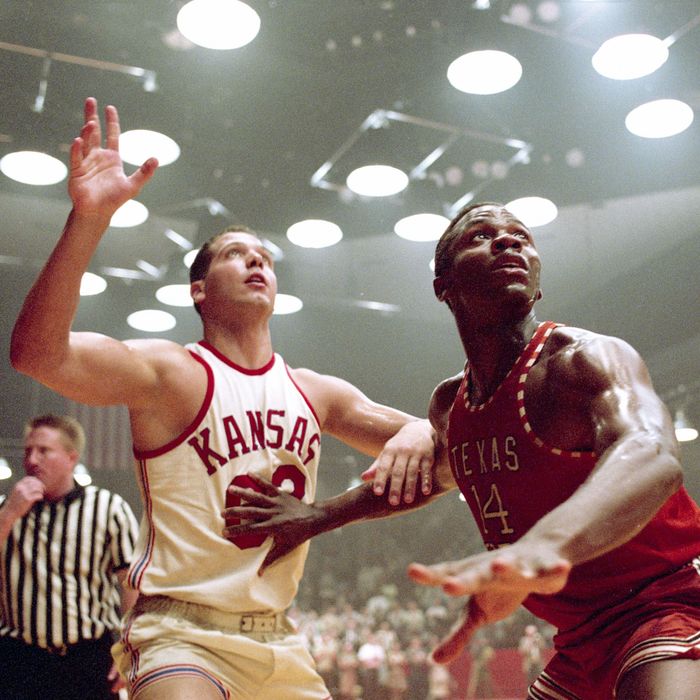 A scene from Disney's
Glory Road
.
Photo: Shutterstock
If we were living in normal times, many Americans would be spending their time filling out brackets and keeping track of buzzer beaters as the NCAA tournament got underway. But these are not normal times. Like just about everything else in society during this time of social distancing and quarantines, March Madness has been canceled.
Obviously, there are bigger things to be concerned about than not getting to watch Kansas or Maryland advance through rounds of a heavily hyped tournament. But it's understandable that those of us who love March Madness are feeling sad that our favorite annual sporting event has been wiped off the calendar.
To fill that gaping hole (and also provide more options to keep you entertained while quarantined), here are ten basketball-related things* to either read or watch that (kinda sorta) make up for missing March Madness. Oh, and also the lack of NBA games.
*I have not included the TV show The White Shadow because it's not streaming anywhere, unfortunately. Please know that if it were streaming, I would have.
Glory Road
It's amazing how few major feature films have used March Madness as a backdrop. This Disney film — based on the real story of coach Don Haskins (Josh Lucas) and his 1966 Texas Western College team, which featured the first all-black starting lineup in NCAA history — is one of the only ones, if not the only one, that has. Yes, it's a little formulaic, but a feel-good story may be just what the metaphorical doctor ordered right now. (The literal doctor is too busy to order Josh Lucas movies for you.) Plus, watching Haskins and his crew shock Kentucky and its racist coach, Adolph Rupp, played with zero subtlety by Jon Voight, is still very satisfying. (Streaming on Disney+)
Hoop Dreams
One of the greatest documentaries of all time, period, is also the best basketball movie ever made. Director Steve James trains the camera on two young Chicago high school players, William Gates and Arthur Agee, and follows their struggles on the court as well as off. It's a three-hour epic about the love and false promises that basketball offers these young men, as well as the economic and racial issues they face as poor black kids traveling long distances to attend private school. Every sports documentary since owes it an enormous debt. (HBO Go; Amazon or Hulu with HBO subscription)
30 for 30
ESPN's docuseries has multiple great installments focused on basketball, both college and pro. With not much else happening in the sports world, ESPN has been sprinkling installments into its regular programming, so check your listings. But you also can stream whichever episodes or shorts you'd like via ESPN+. A few relevant recommendations: Pat XO, the tribute to legendary Lady Vols coach Pat Summit; There's No Place Like Home, which follows the attempt to return the founding document of basketball, James Naismith's rules, to their home in Kansas; and the geniusly titled I Hate Christian Laettner, which explores the love/hate relationship with the former Duke star and Duke in general. (ESPN+)
If you've already read every John Feinstein March Madness book and are itching for another B-ball read, try this beautifully written memoir from the Prince of Tides author, which recounts his not entirely successful season as player for the Citadel in the 1960s.
Survivor's Remorse
This Starz comedy, produced by LeBron James, is an entertaining look at the life of Cam Calloway (Jessie T. Usher), a brand-new NBA player adjusting to life in the league and with a lot more wealth, something his extended family takes advantage of as well. The series ran for four seasons, so there are plenty of episodes to watch, and they get more nuanced as they progress. (Starz; Hulu and Amazon with Starz subscription)
The Fish That Saved Pittsburgh
This is the most absurd basketball movie ever made, and I love it madly for just that reason. Julius Erving and Stockard Channing star in this comedy about a flailing Pittsburgh NBA team that takes the advice of an astrologist (Channing) and tries to change their fortunes by only putting in players who are Pisces. It's the basketball-meets-horoscope, disco-soundtracked movie that literally no one asked for and that might be the most '70s piece of pop culture ever produced. (Available to rent on YouTube, Amazon, GooglePlay, Vudu, and iTunes)
The Heart of the Game
There are not nearly enough movies about girls and women who play basketball, which makes this 2005 documentary that much more of a gem. The film follows the Roosevelt Roughriders, a Seattle high school team, as they attempt to win a coveted national title, and focuses in particular on one of its star players, Darnelia Russell, who tries to get back into the game after having a child. Like most great sports stories, it's about more than just basketball, and it's guaranteed to induce some tears. (Available to rent on YouTube, Amazon, GooglePlay, Vudu, and iTunes)
Love and Basketball
A great basketball movie and a great rom-com all in one, the 2000 directorial debut from Gina Prince-Bythewood tracks neighbors and skilled basketball players, played by Sanaa Latham and Omar Epps, on their journeys as romantic partners and shot-makers seeking careers on the court. (Available to rent on YouTube, Amazon, GooglePlay, Vudu, and iTunes)
Serrano followed his The Rap Year Book with this book, filled with chapters that address important, nagging questions about pro basketball history, like "What Year Was Michael Jordan the Best Version of Michael Jordan?" and "If 1997 Karl Malone and a Bear Swapped Places for a Season, Who Would Be More Successful?"
Basketball or Nothing
An easy binge at only six episodes, the Netflix docuseries introduces viewers to the determined young men on the Chinle High School basketball team, located in Arizona's Navajo Nation. Its positive messages and TV-PG rating make it a good choice for those seeking things to watch with kids stuck at home during school closings. (Netflix)