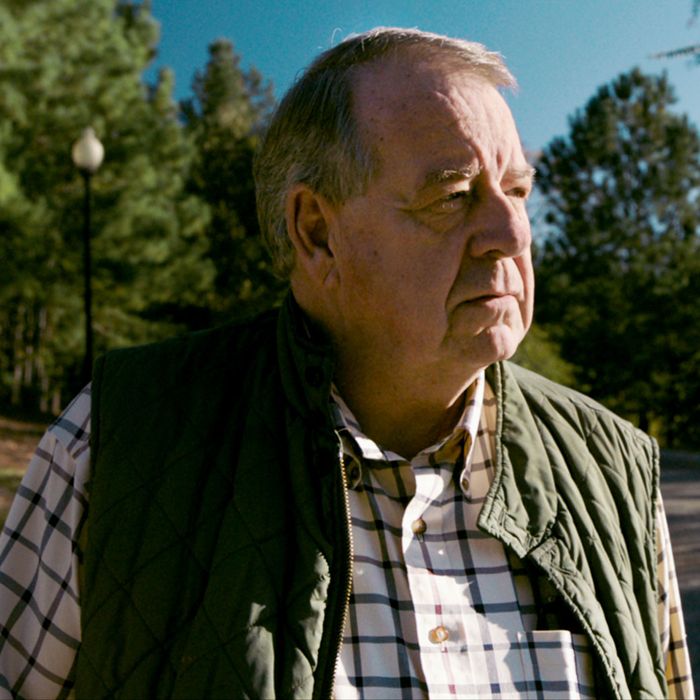 "There are no free lunches, but there may be some brownies hidden somewhere. Does that make any sense?"
No, that makes no sense. And I've been staring at it for 15 minutes.
So let's try this one, from Sam Elliott's opening narration in The Big Lebowski: "'Course I can't say I've seen London, and I ain't never been to France. And I ain't never seen no queen in her damned undies, so the feller says. But I'll tell you what — after seeing Los Angeles, and this here story I'm about to unfold, well, I guess I seen somethin' every bit as stupefyin' as you'd see in any of them other places."
That's more the spirit of McMillions as it starts to wind down with arrests, denials, and confessions and a mass reckoning the fifth episode. There is no moral to the story, despite the best efforts of Marsha Derbyshire, Jerry Jacobson's fourth ex-wife, to offer some hidden brownie's worth of insight. The truth is that white-collar frauds are perpetrated all the time and free lunches are consumed in broad daylight — look no further than the absence of prosecutions or consequences for Wall Street after the economy was blown up in 2008. And even when someone like Jacobson gets caught with brownie crumbs cascading from his mouth, the fallout is so wide-ranging in its collateral damage that you wonder if justice was served at all. It's a weird, messy, screwed-up case that defies any one explanation. Stupefyin'.
And yet it's not that screwed up, at least from the perspective of the professionals in Jacksonville who locked it down. Save for the astonishing mishap of faxing a 20-to-30-page summary of the case to the Greenville News, rather than the Greenville FBI office, there's no doubt the FBI locked down the evidence and coordinated arrests in an exceptionally methodical way. The coordination with McDonald's security paid off. The Shamrock Productions sting paid off. The wiretaps paid off. And finally, the surveillance of an actual money-for-game-piece exchange between Jacobson and Dwight Baker put the finishing touches on the case. They may not know how Jacobson stole the pieces, but there could be no doubt of his guilt or the guilt of others involved in the scheme.
The accounts of how all the different players reacted to their arrests are revealing of character. Of the "winners," Gloria Brown is perhaps the most sympathetic — a million-dollar winner whose cut of the loot was a measly $10,000 a year and the intimidation and threats of a bona fide New York City gangster. She's relieved to have unburdened herself and been rewarded the privilege of staying at home, rather than getting hauled off to jail. Jacobson and A.J. Glomb, who could both be described as career criminals, were bound to deny the charges or bottle up entirely until lawyers could mediate on their behalf. And then there's certified piece of work Robin Colombo, in prison for a separate fraud, showing absolute disrespect for the FBI ("You don't know who you're messing with!") until a change in her custody status has her singing like a canary.
Until now, McMillions has been a fabulously entertaining, news-of-the-weird-type story, with its ever-expanding spider's web of co-conspirators, dupes, and lowlifes and at least one extremely excitable FBI guy. And the question of who was really hurt by this scam made it go down easier: Are we to feel sorry for McDonald's, a corporation that made untold millions from the Monopoly promotion regardless of whether it was on the level? Or McDonald's customers, who surely never expected to win big against such long odds anyway? Outside of Brown and maybe George Chandler, is there anyone on the criminal side who's really drawing much sympathy here? It hasn't seemed that way, which has helped make the show such a pleasurable yarn.
But in this fifth episode, we learn that McDonald's naturally had to pull its business from Simon Marketing, the agency responsible for running the Monopoly game, in order to restore trust with its customers. And we also learn that Simon Marketing isn't some rinky-dink ma-and-pa operation but a global business of enough magnitude to get publicly traded on the stock market. When the FBI turned up to raid its offices and McDonald's severed all ties, the vast majority of its business and nearly all of its stock value were lost in an instant, which effectively shuttered the entire operation within a year. (Kraft and Philip Morris backed out of Simon, too.) Hundreds of jobs were lost due to one man's greed, and it's hard not to wonder if the world would be a better place had the FBI chosen not to open Pandora's Happy Meal.
But open it they did, and now the unraveling is happening in earnest. The only two big unanswered questions are these: How did Jacobson get the winning game pieces? And who's the informant? On the first question, Jacobson himself is giving nothing, which has the effect of putting additional scrutiny on the Dittler Brothers printing operation and its potentially lax security measures. On the second question, the documentary is teasing an answer it suggests it knows, leaving a cliffhanger for the final hour. Frank Colombo plays along by teasing out the fact that nothing would have happened without the informant. Robin Colombo isn't the type to be coy about anything. She thinks Frank did it.
Chance Cards:
Having Jared Jacobson, Jerry's son from his second marriage, offer testimony against his father isn't essential to the overall scope of the case, but it's a useful window into how Uncle Jerry operated. That Jared had any relationship with his father at all is owed to Jerry's failure to pay child support, which led him to spend a few summers with his dad up in Atlanta when he was a teenager. "This is definitely going to put the nail in the coffin for our relationship," says Jared. "And you know? I'm okay with it."
• Last week's tease of Dwight Baker's sister-in-law potentially fleeing with a winning game piece turns out to be a red herring. This type of misdirection can work in fiction features, but it feels cheap in the documentary.
• The FBI is extremely lucky that the Greenville News didn't report out on the story. A scoop that gigantic doesn't fall into a journalist's lap that often. (And why in the world would a newspaper be on speed dial anyway? How often does the FBI need to fax papers to the Greenville News?)
• Doug Mathews is the obvious breakout character of McMillions, but can a second spinoff documentary be produced about A.J. Glomb, too? He's like a character out of a Carl Hiaasen novel.
• "Jacobson has been given a Go to Jail card." What a gift this story must have been for headline writers and news broadcasters.