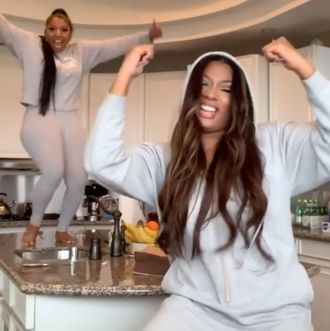 If anyone knows how to start a movement, it's Miss Hot Girl Summer herself.
Photo: Courtesy of @theestallion/Instagram
On March 10, Keara Wilson decided to post her original dance to Megan Thee Stallion's song "Savage" on TikTok every single day until it went viral. She ended it on day five. The 60-second-long dance has since been done by Charli D'Amelio, Keke Palmer, Normani, and millions more. It skyrocketed "Savage," from Megan Thee Stallion's new album, Suga, landing it at No. 1 on the iTunes Hip-Hop/Rap chart, unseating "The Box" by Roddy Ricch. And it quickly became a stuck-at-home anthem, thanks to the infectious dance. Right when millions of people need something to keep them active indoors, "Savage" took over.
After a few days of building up steam, the TikTok finally went viral when Megan Thee Stallion reposted Wilson's day-two video onto her Instagram account March 15. Thee Stallion herself is known for her online personality, posting twerking videos, dropping freestyles, and going live to her 9.5 million followers. On March 17, Thee Stallion posted her own version and captioned it "#quarantineandchill," prompting many to go, "Well, what else am I doing?" Meanwhile, on TikTok, internet superstars who haven't even been to prom yet Charli D'Amelio, Madi Monroe, and Addison Rae started sharing the dance with their combined 71.4 million followers. (This time, with proper attribution. The TikTok stars have already gotten in hot water for not crediting "Renegade" dance creator Jalaiah Harmon.) The dance and song got bigger with Keke Palmer, Marsai Martin, Ryan Destiny, and more joining in. Instead of dancing, Kerry Washington, Taraji P. Henson, and Gabrielle Union posted fan edits set to "Savage" on Instagram. "I don't have TikTok but I want to play!!!" Washington captioned her video. As of writing, "Savage" is in over 3.3 million videos on TikTok. The second-most-popular one, starring Addison Rae and her mother, has over 6.9 million likes. So, yeah, literally everyone and their self-isolated moms are doing it. Summer may be held indoors this year, but leave it to Hot Girl Meg to still give us a reason to dance.