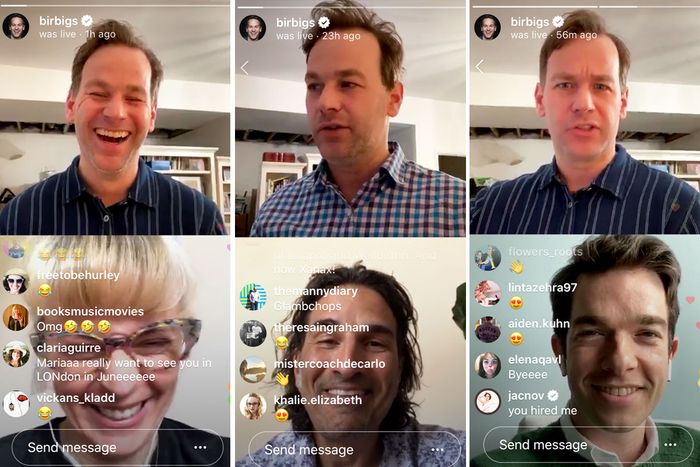 Birbiglia with Maria Bamford, Gary Gulman, and John Mulaney on Instagram.
Photo-Illustration: Vulture and Mike Birbiglia/Instagram
Like most comedians, Mike Birbiglia suddenly found himself without any upcoming gigs once the COVID-19 pandemic really hit the U.S. Since last week, he's been performing a show on Instagram every day called Tip Your Waitstaff, which raises money for comedy-club workers who've lost their incomes.
The show, which was co-created by fellow comic Roy Wood Jr., has a unique premise that offers fans a glimpse into the stand-up writing process. Each day, a comedian friend joins Birbiglia, and they tell three jokes that they would have been working on during their gigs, had the coronavirus not shut everything down. So far, the guests have included Wood, Gary Gulman, John Mulaney, Jacqueline Novak, Nikki Glaser, and Maria Bamford, with Sarah Silverman and SNL's Melissa Villaseñor coming up.
To learn more about Tip Your Waitstaff, Vulture called Birbiglia at his home in Brooklyn, where he's self-isolating with his family, attempting to homeschool his daughter, and broadcasting live daily at 2 p.m. ET. (The conversations are available to view on his Instagram Stories for 24 hours afterward so nobody misses out.) So far, Birbiglia and his comedian guests have raised over $60,000 for a number of clubs, and Birbiglia is hoping for much more to come. As he says, "It's really this grassroots thing to band comedians together to support people who have supported us for all these years."
How's it been going, balancing this with homeschooling your daughter?
Well, my office is attached to my apartment, so I can close the door and do these livestreams and then I can come back. I made a joke about it with Nikki Glaser — it's a little bit like Life Is Beautiful where you're like, "We're going to do some drawing and we're going to sing songs, and then we're going to dance and everything's okay!" And it's certainly not okay, but what are you going to do? Explain a global pandemic to your daughter who's 5? That's hard to do.
So how did this idea start?
Last week, I was heading to the Buffalo Helium Comedy Club and I was driving there. I wasn't going to fly 'cause the virus is out there, but they weren't canceling shows. Halfway there, I get to Ithaca, I have pizza at this place, and I sit at the communal table. There was this couple and they were like, "We thought this whole thing was overblown by the media until we listened to the Joe Rogan podcast today, and he had on this scientist. Then we realized, 'Oh, this is very real.'" There were two things I learned from that. One is that the Joe Rogan podcast is very powerful for affecting culture. Two, the two schools of thought which were going on at that point — "This is media hysteria" and "We're going to have a very serious problem on our hands" — those collided on that day. So, I literally just drove home. I drove four hours to Ithaca, drove four hours home, and I've been home ever since.
Then on the 12th or the 13th, I woke up to text messages from Mulaney and Roy basically saying, "What do we do to help out these clubs?" I was already going to try to write a check to the Buffalo Helium staff and the Bloomington, Indiana, Comedy Attic staff — that's where I was supposed to be the next week — but then I thought, Well, why don't we broaden this out? Then I just had this idea [for this format], because you can't really do stand-up in a vacuum in your living room for no audience, because it's an audience-interactive art form.
But, you don't need an audience of more than one. All you really need is one person laughing, not laughing, smiling, not smiling, and you get what's working and what's not. So, under any other circumstances, I really wouldn't let people into this part of the process. But because we're all sort of quarantined and it's for a good cause, I think a bunch of these comics and myself are all game to change the rules a little.
It's like you're sharing your training videos.
But it's even stranger! It's more like a novelist showing you their first draft of their novel, which is mortifying. It's mortifying to show people your first draft of anything.
I mean, we're really just figuring it out as we go. We don't know where it's heading. It's like a fire drill. We're making it up as we go. We may end up going with a media sponsor. We may locate the streams somewhere else — maybe on broadcast TV, maybe on someone's streaming service, maybe as a podcast. Really, in the short term, it's just to shine a light on the people who are really mostly check to check and don't have checks right now. And also, I'm going to run out of jokes. I mean, the premise is, they have three jokes and I have three jokes. At a certain point, I'm going to run out.
Do you have a plan for that?
No, I have no plan. I mean, other than I've gotta try to write some jokes.
How has this isolation been for you, creatively?
It's okay. I mean, I have a 5-year-old. Because I came out with a special where my daughter is born and then at the end of it she's 13 months old, people think that she's still 13 months old. But that's not how aging works. So, she's 5 and she will continue to age, as far as we know. So we're currently, like everybody else with children, homeschooling. Jen, my wife, is a poet, and obviously I'm a comedian, so we try to figure out how to buy time for each other to write. Right now, we're still working out the kinks.
What's it been like performing for that online audience? I've seen some people say, "That's not a joke. That's an observation," not fully grasping the concept that you're workshopping stuff.
It's pretty funny. Jacqueline Novak has strangely anointed herself the king of the audience commenters, which is absurd. She just showed up the first day in the comments and has wrangled the audience, encouraging them to use different emoji like bottles of lotion and various vegetables to express when people like jokes. Some people are snarky, but snarky people gonna snark. There's nothing you can do about that.
What's special about our show so far is that you're getting to see things that are half-baked. Gary Gulman had one the other day where the premise itself made me laugh out loud. He just goes, "When I used to work at Starbucks, if the line was too long, I'd just say, 'We don't have Frappuccino mix.'" I laughed so hard because sometimes, as a comedian, a premise is so strong that you can write the punch lines yourself. You know that you're in store for something great. This show, at its best, is that.
Mulaney had a few lines like that. He was riffing off one of my jokes about heartburn medication and he goes, "No one is happier than the people in antidepressant commercials at outdoor concerts." It's literally just the setup, and to me, it kills. He could do five minutes on that. Sometimes, just the setup alone is fun to be there for, especially for the incarnation of it. You're seeing John, one of the world's greatest comedians, coming up with something in real time. You can literally witness the glimmer in his eye of realization that he's onto something.
You've said you're looking for sponsors, and you've also called Domino's Pizza garbage. Would you take money from Domino's?
Oh my God. Don't … don't make me … don't make me evoke the movie Sophie's Choice. Look, I mean, we'll do what we have to do if we get desperate. Domino's and desperation run hand in hand, and it may come to that.