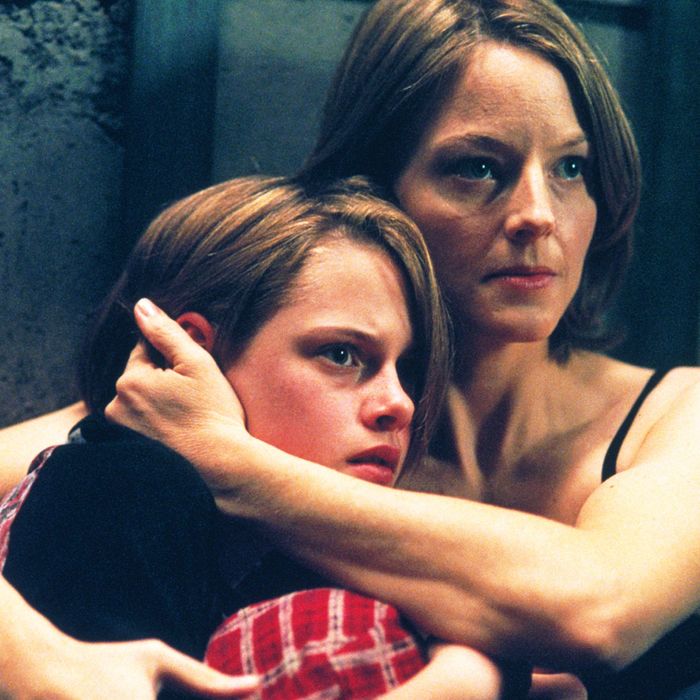 Panic
Room
Photo: Columbia/Kobal/Shutterstock
This weekend was meant to be the ramp-up for Hollywood's blockbuster season. Starting this week, we were going to be treated to a nearly weekly unveiling of a major event movie, including much-anticipated sequels (F9), new installments of beloved properties (No Time to Die), and the latest Disney live-action remake (Mulan). Instead, well, you're cooped up in your place trying to figure out what to watch while not going stir-crazy.
This is where we come in. On a regular basis, we'll be presenting "The Replacements": a list of five alternative choices for every big tentpole you'd been excited to see before COVID-19 changed our lives. We'll select movies that are thematically or narratively similar to the postponed blockbuster, offering picks that range from cool obscurities to certifiable classics to forgotten gems. For the time being, event movies are on hold. But hopefully our alternatives will help scratch that cinematic itch.
First up: A Quiet Place Part II, the sequel to the surprise 2018 smash horror hit. In the new film, also directed by John Krasinski, the remaining members of the Abbott family (Emily Blunt, Millicent Simmonds and Noah Jupe) struggle to stay alive, encountering new survivors (Cillian Murphy) and discovering fresh dangers beyond those terrifying aliens. How's the movie? We have no idea — but in the meantime, let us recommend five replacements that might tide you over.
Panic Room (2002)
This David Fincher thriller almost feels like the masterful director upping the level of difficulty on himself just for a fun challenge: Put a mother and daughter (Jodie Foster and Kristen Stewart) in an Upper West Side loft with $3 million hidden in a panic room, and sic three home invaders (Forest Whitaker, Jared Leto and a magnetic Dwight Yoakam) on them. No one can leave, and there's only so much space: It's New York City, after all. That physical limitation, not dissimilar to A Quiet Place's formal obstruction of silence, actually brings out the best in Fincher: You can see his mind whirring with all the corners he has painted himself into, and all the ways he can get out. And like Emily Blunt, Jodie Foster is a physical marvel in the lead role: She's a protective mother, but she turns out to be so much more. Available to stream on Crackle.
The Tribe (2014)
For his feature debut, Ukrainian writer-director Myroslav Slaboshpytskyi crafted an ingenious hook for a crime thriller: Tell the story of Sergey (Grigoriy Fesenko), a teenager attending a special boarding school for the deaf, but depict the dialogue all through sign-language, offering the audience no subtitles. Far from being hard to follow, though, The Tribe is instead startlingly immersive. For those who don't know sign language, the film (developed from his 2009 short Deafness) is both a gripping drama — Sergey gets sucked into the school's criminal underground, falling in love with someone he shouldn't — and a powerfully seductive game as we start to piece together precisely what is going on. Outside of A Quiet Place, The Tribe is one of the most silent movie experiences you'll ever have: You'll be so focused on what's going on that you'll hardly mind that no one's talking. Available to stream on Tubi.
Don't Breathe (2016)
A basic, simple premise: Three low-level young hoodlums try to steal $300,000 from the home of a blind man … but learn very quickly that they picked the precise wrong house. Co-writer and director Fede Alvarez keeps the narrative taut and focused, with each action spinning off logically from what happened before. The idea of a blind man being … well, what he turns out to be in this film is a smart surprise, working off the same tension that A Quiet Place built up so well. It also features two terrific performances, from Avatar's Stephen Lang as the man whose house is so rudely invaded and, especially, Zoey's Extraordinary Playlist star Jane Levy, who is both vulnerable and, as it turns out, more formidable than even she knew. Available to rent on Amazon Prime.
It Comes at Night (2017)
If you're not too scared off about the prospect of watching a postapocalyptic thriller in which humanity has been eradicated by a killer contagion, Waves writer-director Trey Edward Shults's superb second feature offers a similar family-in-peril drama to A Quiet Place. Joel Edgerton is excellent as Paul, a father trying to keep his wife (Carmen Ejogo) and son (Kelvin Harrison Jr.) safe as they stay quarantined in their house — but one day, they're visited by a family (Christopher Abbott, Riley Keough and Griffin Robert Faulkner) that swears they're not infected and beg to be let into their sanctuary. Much like Krasinski's film, It Comes at Night is a study of fatherhood in a horror-movie setting, testing Paul's limits as a protector and provider. There aren't a lot of jump scares, but the suffocating dread is plenty unsettling. Available to stream on Netflix.
Bird Box (2018)
We'll confess that we're not entirely onboard with this massive streaming hit (according to Netflix, anyway), but it's undeniable that its best parts jibe precisely with A Quiet Place's: the idea that you must face something elemental and terrifying without one of your primary senses. It's sight for Sandra Bullock's Malorie, and while the ending leaves plenty to be desired, Bullock sells it for all it's worth. Available to stream on Netflix.
Grierson & Leitch write about the movies regularly and host a podcast on film. Follow them on Twitter or visit their site.